The ease of retirement
Learning to enjoy personal freedom is a process.
I came home from our grand November adventure with a lingering cold, which, helped along by our flight home, produced a stopped-up ear (une oreille bouchée, in French). For the first week I only left the apartment for French lessons, and I'm still mostly stayiing home, resting, and taking prescription meds. So I've had a lot of time for contemplation.
Having worked full-time for 48 years, traveling weekly, and being "on call" 24/7 (along with raising a family and being a person), I never had a lot of contemplative time, so this is a fairly new experience for me. The sheer luxury of not HAVING to do anything is something I'm still not used to, after almost two years of retirement. And now that the newness of living in France has worn off a bit (although we still occasionally pinch ourselves that this is our life!), I can relax into a slower, more measured pace.
I'm learning, for the first time, to pace myself, to say no occasionally, and to fight my FOMO. I enjoy Thursday coffee with friends, but life goes on if I miss it now and then. Instead of venturing out in the cold with a cold to buy a Christmas tree, I ordered our tree and trimmings online. And you know what? It turned out fine, and it was fun to assemble.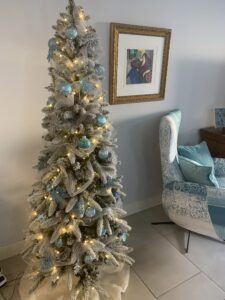 Smallest Christmas tree we've ever had, but it's the right size for our apartment!
We did manage to go out one evening with friends (to see the fabulous Callas Paris 1958 film), where we saw the giant Christmas tree in the Place de la Comedie, but as of December 9 we have not yet ventured out to see the Illuminations or to visit les Hivenales (the outdoor Christmas market). Normally I would have dragged Phil out for both on the first day, but now I realize there will be plenty of time to see everything–and it might be less crowded by the time we go.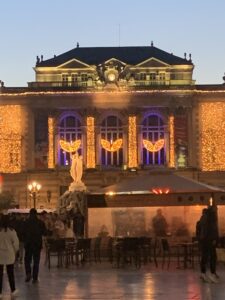 Holiday lights on l'Opera de la Comédie
Phil and I enjoy our loose schedule. I usually wake up first, have coffee, and catch up on emails, while he sleeps in. Late mornings are spent in parallel play, me reading or playing on my phone, Phil watching videos and enjoying his coffee and breakfast smoothie. We have French lessons and/or homework most days, and we run errands, do laundry, and chat, before Phil goes to his studio to paint while I read, work on administrative tasks, chat with my daughter, etc. Between 5 and 6 p.m. we reconvene for a cocktail while I make dinner, and we usually watch a movie over dinner. And several times a week we get together with friends.
I've recently begun learning to sleep late. For many years my internal alarm has gone off around 6:43 a.m., but since we got home I've slept until after 9:00 several times. I do occasionally have sleepless nights (apparently one of the lovely aspects of aging!), but when that happens I can take an afternoon nap!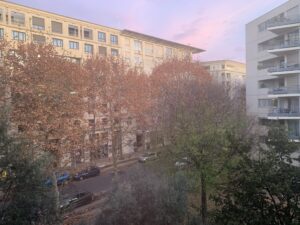 The view from our apartment this morning, after a night of little sleep. Lovely!
I'm still learning how to do retirement, and figuring out the ideal pace and routine will take time. I will admit to still having occasional work anxiety dreams (workmares, I call them). But the past couple of weeks of quiet have helped me realize how fortunate I am to be in this stage of life, and I plan to take advantage of every sweet moment of freedom!