. . .and now it's real!
Things are moving FAST!
My head is spinning, but I'm taking a break to provide this update. We never imagined things would proceed at such a pace! Our realtor met with us on September 10, we signed the listing agreement the next day, and on 9/12 the photos were taken. The listing was set to go live on September 14. Then came the big surprise: on September 13 we received a full price offer! We chose to interpret that as a sign from the universe and signed the contract. Now we had to figure out how to dispose of a lifetime's accumulation of stuff!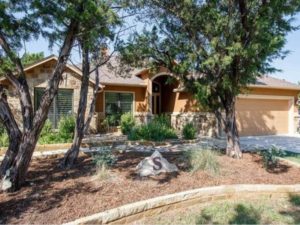 Our buyer's last name starts with an S so we're leaving this "S" stone!
We decided that we would not keep any furniture, instead only keeping things that were truly important to us: my mother's china, a few of Phil's paintings, off-season clothes and shoes we would need while roaming, important papers, memorabilia, and some beloved works of art. We limited ourselves to two boxes each of books; I dedicated one box to fiction and poetry and the other to cookbooks.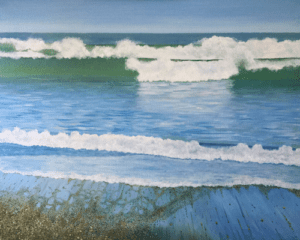 One of Phil's paintings that I can't part with
The next thing, the really, really hard thing, was finding a new family for Baxter. I made a bio with his photo and we shared it with friends and family. Our friends network came through! Baxter is now the CEO of Silo, a local fused glass studio, and the beloved pet of owners Elissa and Chester. They loved Baxter on sight, and he warmed up to them right away. Elissa kindly sent us pictures to show us how well Baxter was adjusting. He will love going to work with them every day, greeting customers, soaking up attention, and observing activity from his kitty condo that went with him. I cried most of the day he left, but after several days I feel ok and know it was the right decision for him.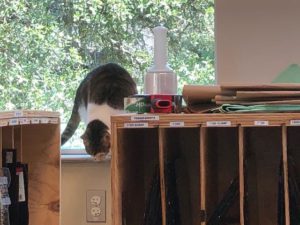 Baxter exploring his new office
You might be wondering how we're managing to dispose of everything that won't fit into a 5′ x 5′ storage unit. Just in case you ever have to do this, here are the steps we're taking:
Had our kids identify what they wanted. We're shipping a number of items to our daughter in Europe, and our son who lives close will pick up his things. We also gave away a number of things to friends in the area.
Made a list of everything to be sold, with information and pricing. We gave this to our realtor, and the person buying our home ended up buying a lot!
Listed the rest on Nextdoor. This resulted in several sales to people in our immediate neighborhood.
Listed on Facebook Marketplace. I've been surprised at how much has sold on this site!
Donations, donations, donations. We'll donate primarily to Habitat's Restore, where they sell items to raise money for home building.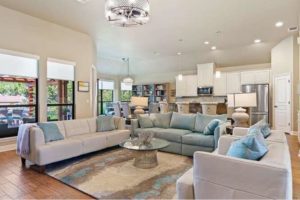 Our home buyer bought almost everything you see in this picture!
We decided against an estate sale due to COVID risk, and we were pleased that everyone who has purchased items has masked up. The big learning from this experience is that selling all your stuff can be almost a full-time job! Good thing it doesn't go on very long. Also, we priced everything at about 40% of retail, and most buyers paid full price. We discount things that don't sell quickly, as our goal is to sell as much as possible.
And now we have 2 1/2 weeks to wind up everything and hit the road. We've decided on Cape Cod for our first destination, with a three-week stop in Raleigh. We've booked AirBnBs in both locations, with a few hotel stops along the way. I'll be working, aside from a few vacation days, so we won't be spending long driving days. We've been pleased to see the extra cleaning our hosts (both AirBnB and Marriott) are doing to protect guests from COVID, but we'll be bringing along plenty of disinfectant supplies and masks.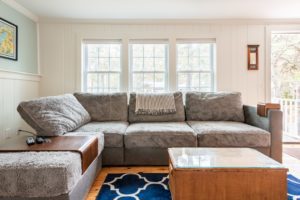 The cozy cottage that will be our temporary home on the Cape
Seeing our house emptying a little each day feels weird–not bad, just strange. And of course we miss Baxter (I haven't broken my habit of closing the bathroom doors to prevent him from playing with the toilet paper rolls!). And it's definitely stressful handling inquiries, keeping track of everything, and managing transactions with strangers (all of whom have been lovely so far!). But mostly? We're excited about this new experience. We're so glad we're taking this step. Here's to the next adventure!