Family
Lucky Roamers!
We are so grateful for our wonderful family–our own family, our "family by choice," lovely in-laws, and our ever-widening social circle. These connections are the best thing in our lives, and our new friends in France made us feel at home almost immediately.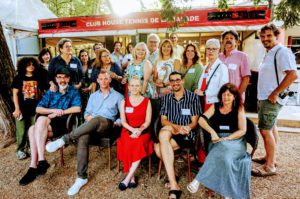 New friends at a recent outdoor dinner event
In late June Nancy and Tom spent a few days with us. They're our son-in-law's parents, so that makes us–family! We've often said that we'd be friends with them even if we weren't related; how lucky is that?!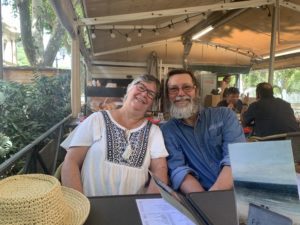 Nancy and Tom at an outdoor cafe before our museum visit
We set a nice pace for their visit: not too much walking (it was HOT!), a moderate amount of sightseeing, and plenty of time to catch up at home over cocktails and dinner. Oh, and petanque in our garden!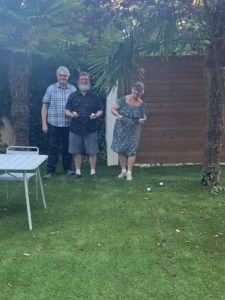 Nancy was the petanque champion
We enjoyed roaming the Montpellier streets, visiting the Musee Fabre, and seeing a wonderful photographic exhibit of Peter Lindbergh's work (he's the fashion photographer discovered by Anna Wintour who pioneered photos featuring the models, not just the clothes). The morning after Tom and Nancy left, it was our turn to travel: to Stockholm! Our daughter and her husband live there, and we hadn't seen them since October. Our flight was delayed in Montpellier, but we still had plenty of time at the airport in Paris to grab a bite and listen to a random piano concert.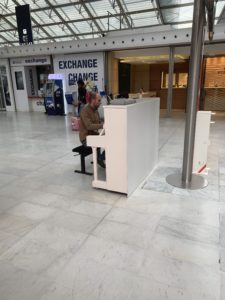 This traveler entertained us
We finally arrived in Stockholm, and our kids joined us at the hotel for a late dinner. By the way, I highly recommend the Marriott in Stockholm! Lovely room, bountiful breakfast buffet included, and a great location close to parks and public transportation.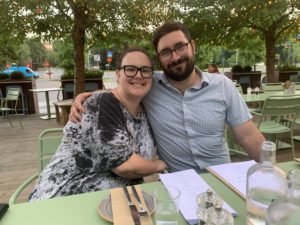 Our wonderful kids
The next morning I was treated to something I'd been looking forward to for months: spending the day with Amelia at the market! She is a jewelry designer, and one of her outlets is an outdoor market that runs from late spring through early fall. It was wonderful to hang out with her at her booth, enjoy the gorgeous weather, try out the food trucks, meet some of her friends, and watch her in action! I may or may not have done a bit of shopping. . .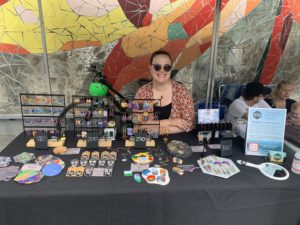 There was a bit less merchandise after my shopping spree
We were so excited to see the kids' apartment, which they bought over two years ago, in the "before times." It's on the top floor of the building, in a lush residential area, and they have put their stamp on it–great wall colors, plenty of memorabilia, and their unique, artsy vibe. We loved it!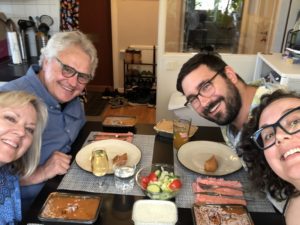 Indian takeout at the kids' apartment
There was a special reason for the timing of our visit: our daughter's July 4 birthday! She laid out how she would like to spend it, and that's exactly what we did: brunch by Nic, featuring eggs benedict and his home-made from scratch English muffins, along with mimosas by Phil. Then presents, followed by naps and video games. Next up was a video visit with son Grayson and his daughter, aka the cutest baby in the world. Soon it was time to start making dinner (me) and birthday cupcakes (Nic). Phil served up a signature cocktail to sustain our labors. I made twice-baked potatoes and Caesar salad, and Nic made chocolate cupcakes with rose hip buttercream frosting. It was such fun to cook together, and our dinner was just what Amelia wanted! We had so much fun I forgot to take any pictures.
After the market on Saturday and Sunday and our birthday celebration on Monday, our little group was free to explore. We used public transportation, which usually offered a weird, interesting, or artistic experience. The signs above the escalators cracked me up: I think the one on the right says "UP" and the one on the left says "NOT UP."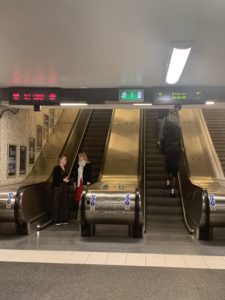 Up and Not Up
We had visited the kids in Stockholm once before, so on this trip we didn't do a lot of touristy things. Walking the streets, I was reminded how beautiful this city is. Flowers were everywhere, the buildings were interesting, and the people-watching was superb.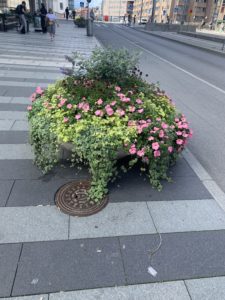 Lots of flowers on the sidewalks
One day we decided to visit a couple of museums. Most of Stockholm's museums are clustered in one neighborhood, near the water, in a beautiful park-like area. We had visited one or two of them on our last trip, so this time we did a couple of new ones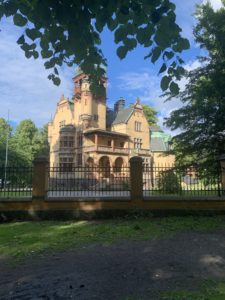 A historic building in the museum district
We decided to hit the ABBA museum first. Photos weren't allowed, so you'll have to trust that it was a cool experience. My favorite thing, at the end of the tour, was the collection of costumes. Simply amazing to see them close up! And, of course, the music. By the time we finished we were hungry, and some of us, who will not be named, were beginning to feel a bit hangry. After a couple of misses ("you can only eat here if you have a museum ticket" and "we're closed"), we finally found an open restaurant by the boats, where we enjoyed adult beverages and a tapas lunch.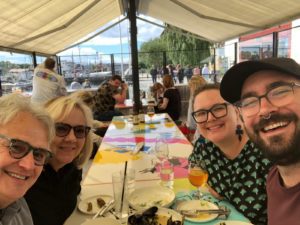 Hanger averted
After lunch we visited the spirits museum. It was fascinating to learn about the history and production of spirits in Sweden. And yes, they did offer a tasting after the tour.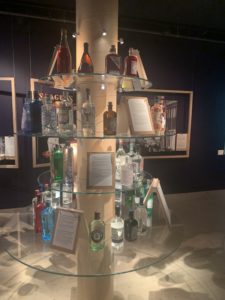 Part of the special exhibition on gin
We spent more time touring around, sampling Swedish foods (meatballs! potatoes! herring!), and simply enjoying our time together. I can't wait to go back and see more.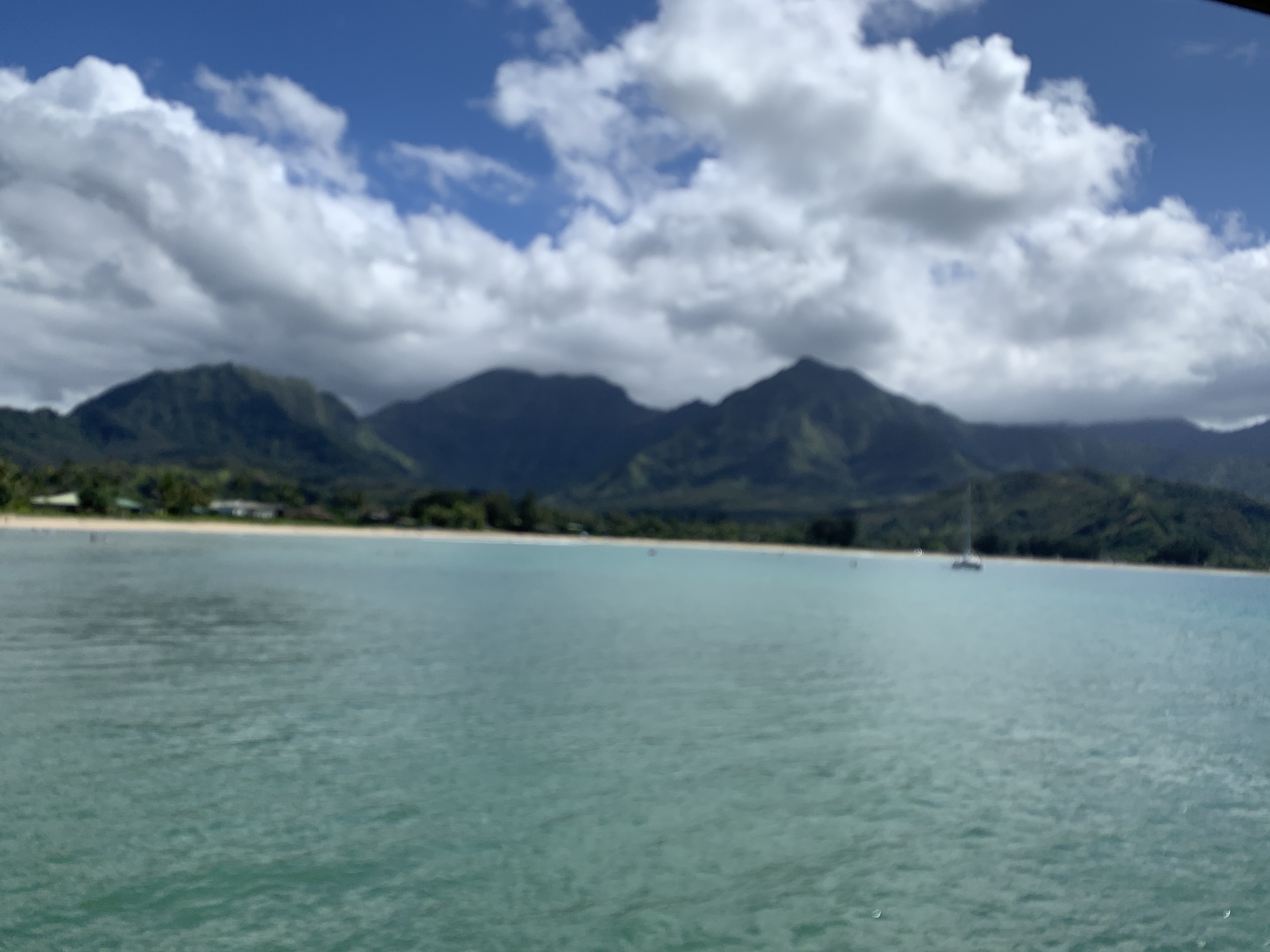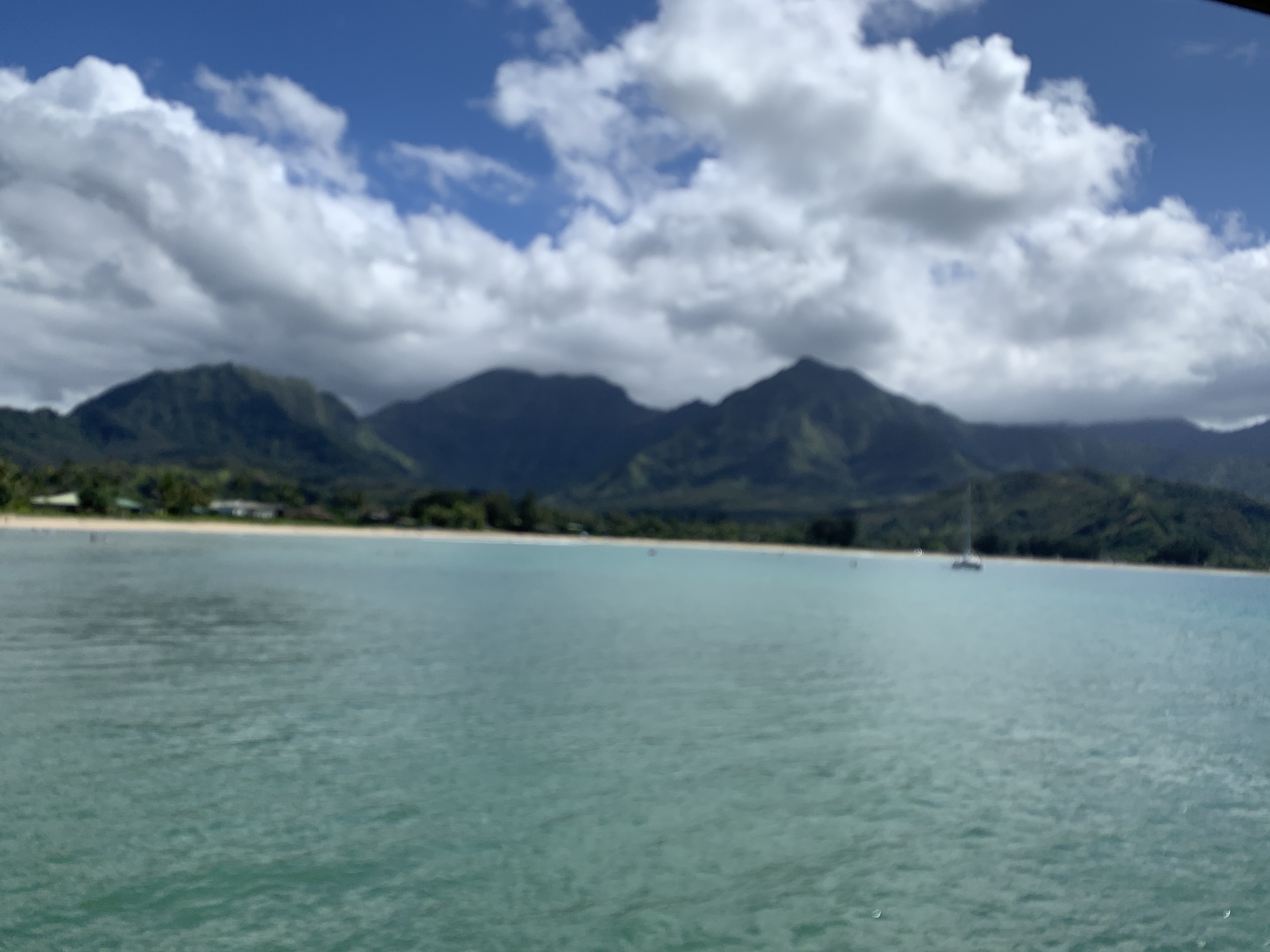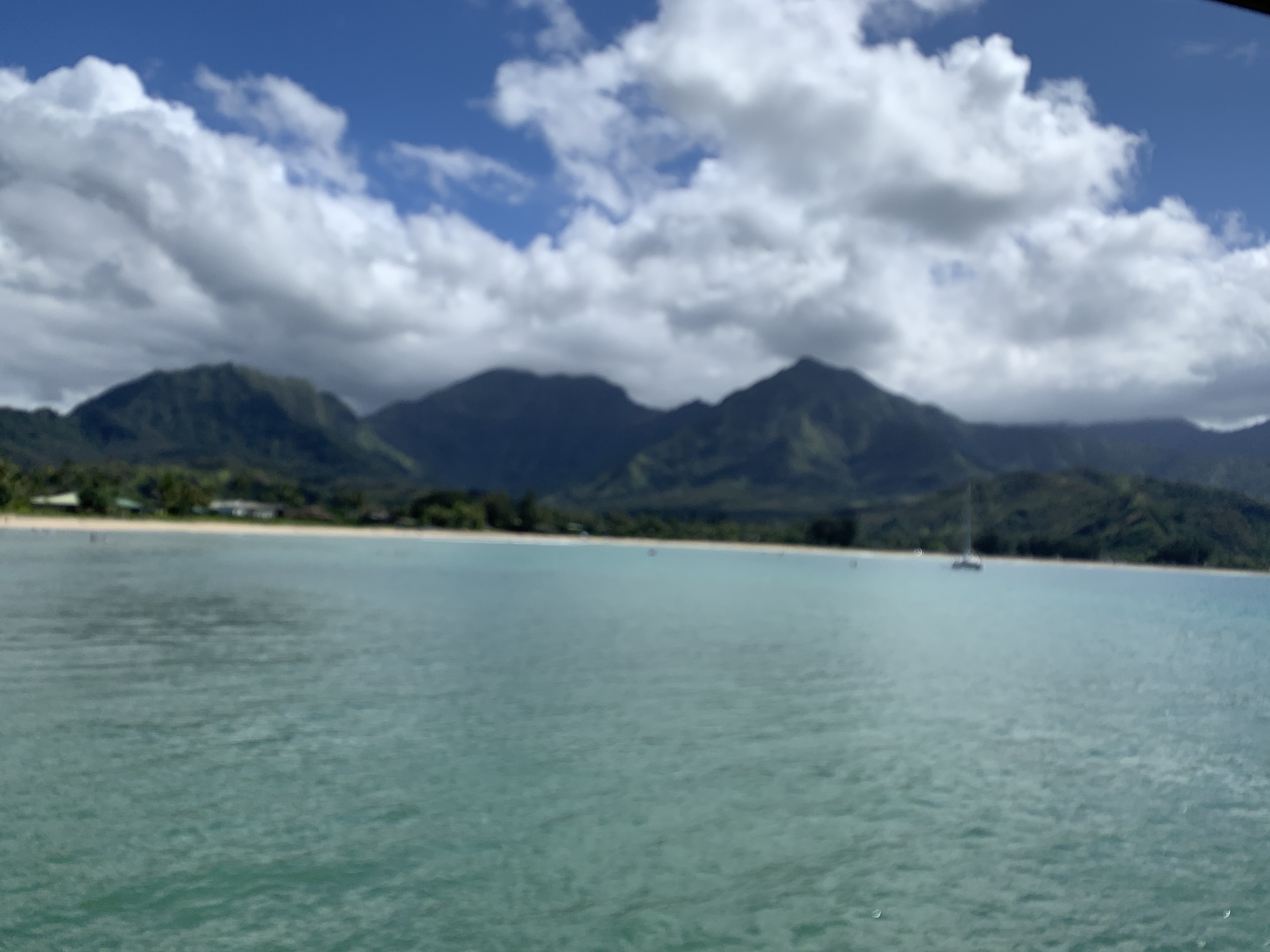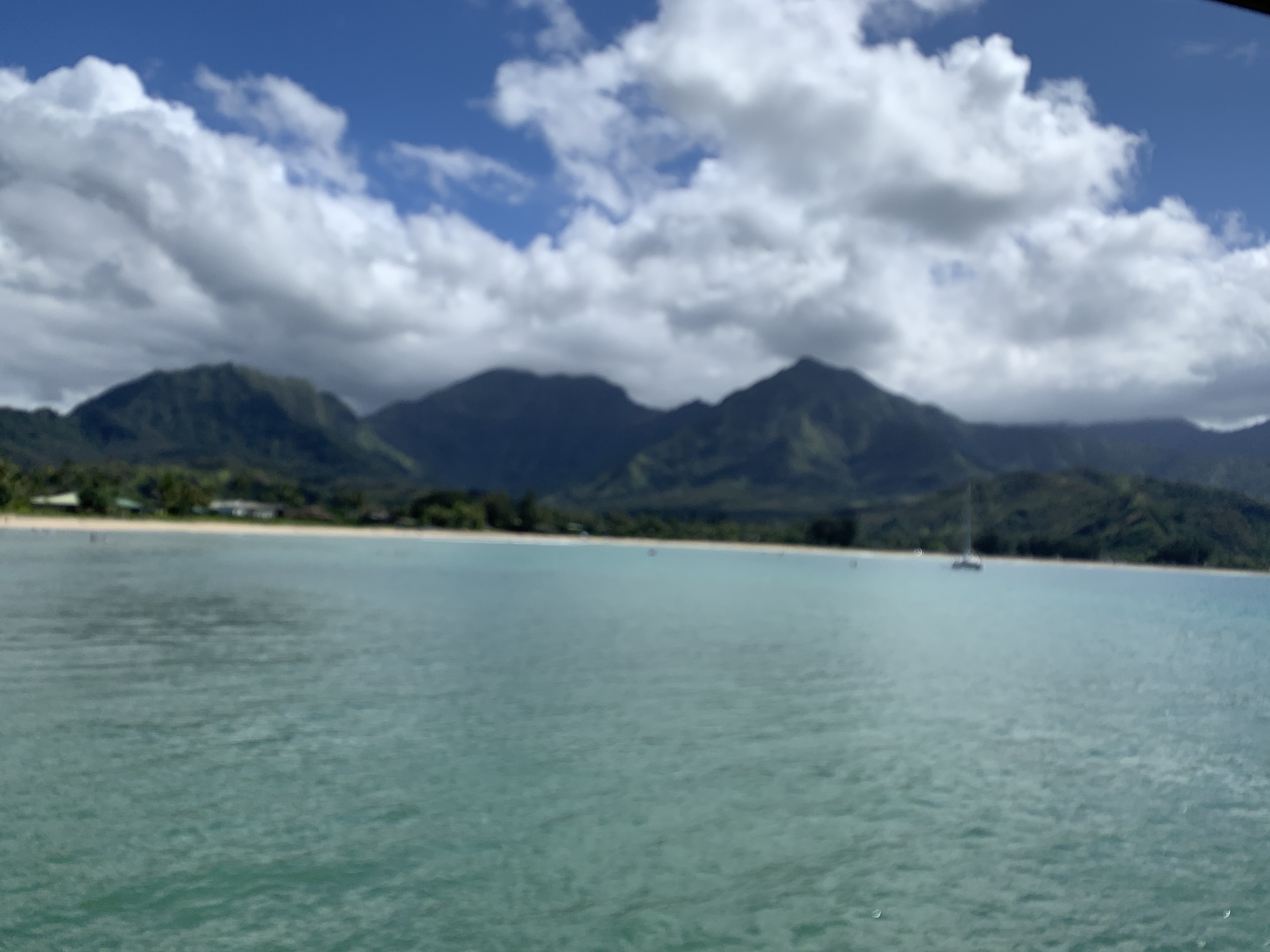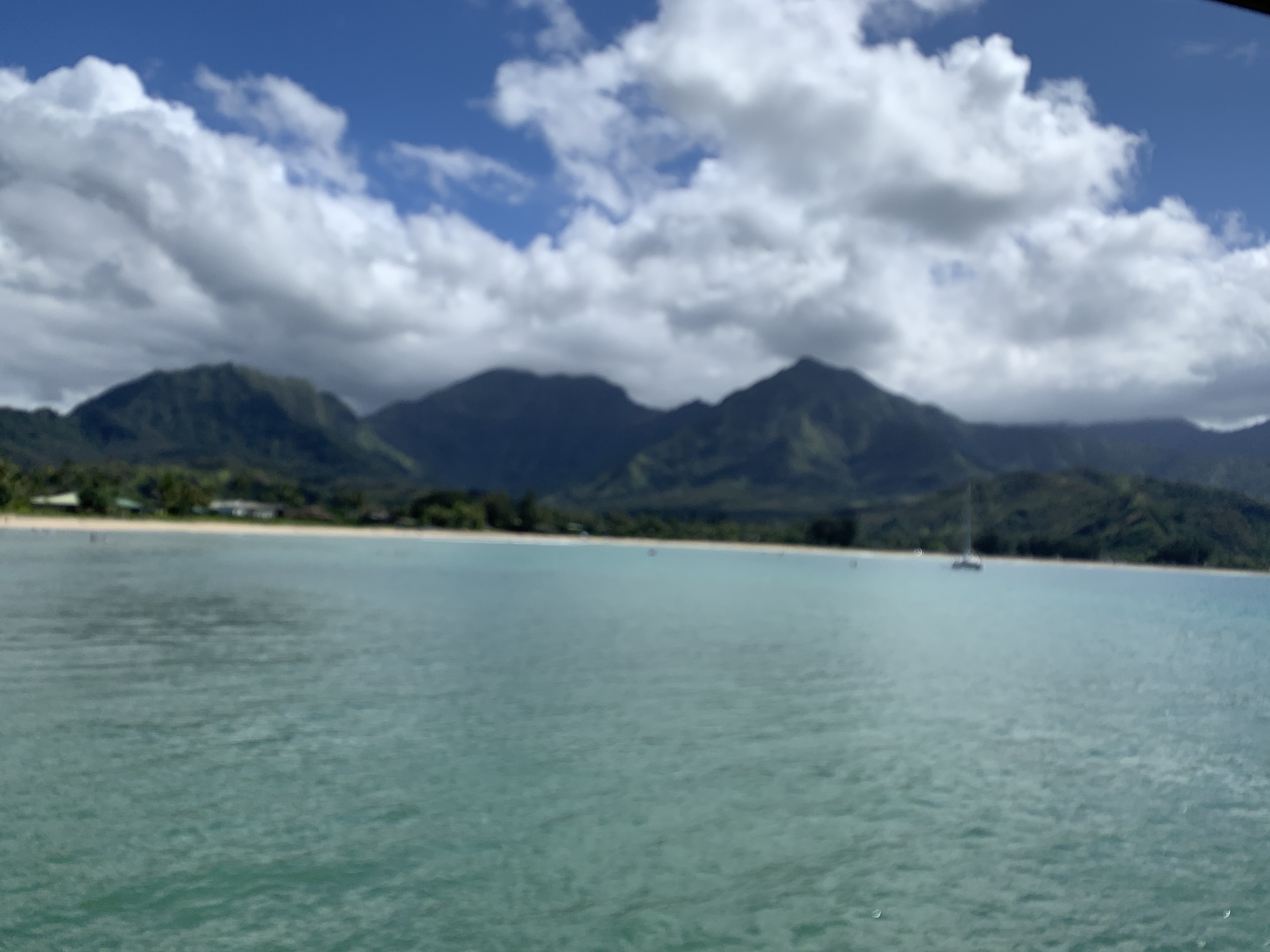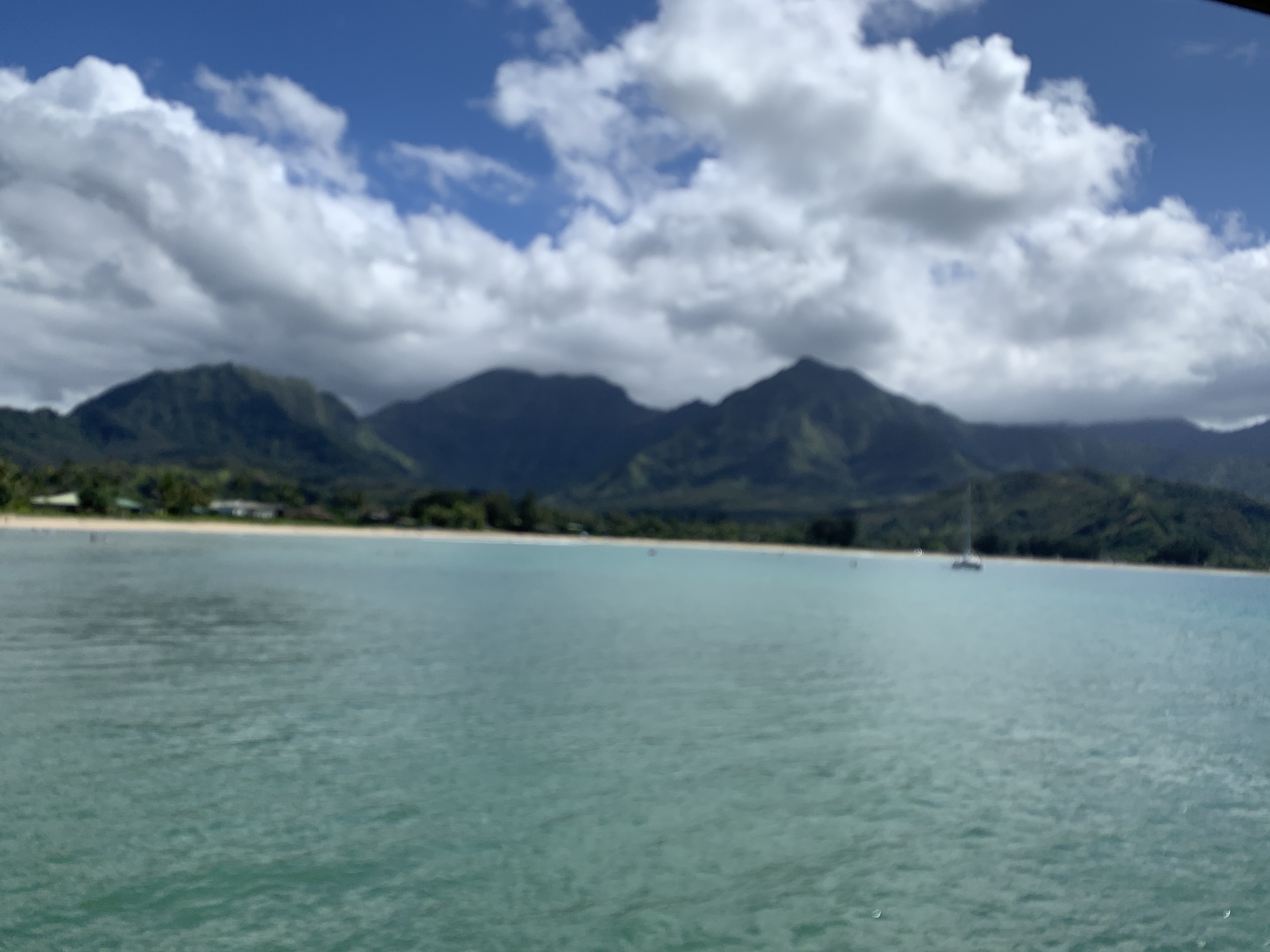 The opera house, where we saw a piano recital on our previous visit
On our last evening, we strolled through a beautiful pedestrian neighborhood, looking at all the menus before deciding on a restaurant for dinner. We had a wonderful time–oysters, fois gras, excellent wines, and more!

The guys at dinner
It was a perfect evening, and we headed back to the hotel for our last night. The kids joined us for breakfast the next morning and saw us off to the airport. I'll admit to being very sad to leave–but we'll see them again soon, no later than October.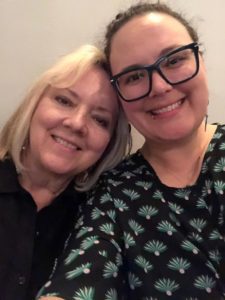 Mommy and Daughter
We made it home (our luggage decided to extent the trip by an extra day!), and I recovered from my sadness in time to enjoy our weekly coffee date with other English speakers, followed by lunch and my French class. It was nice to settle back into our routine after so much travel. And we closed out the week with a little dinner party! Our friend Gwen was back on her feet after struggling with knee problems, so we had to celebrate!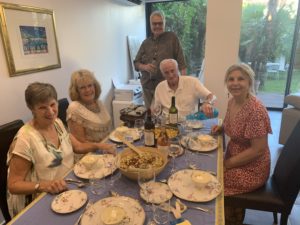 Dinner party
We are so very fortunate to have all these wonderful people–family and friends–in our lives! We are two lucky Roamers, for sure.