if you will open your eyes. . .
Paying attention.
Thirty years ago, on our first trip to France, we arrived at the Dijon train station, found our rental car, and began perusing the map (this was before GPS) to figure out how to get to the Chateau de Longecourt where we were staying. After trying for several minutes, we heard a rap on the window. It was an elegant Parisian couple I'd noticed on the train, and seeing that we were struggling, they offered to help. In French.
Between my few phrases of long-ago university French and the wife's few English words (her husband spoke no English at all), we managed to communicate. They apparently thought using a map was not the way to go. "If you will open your eyes," she said, "you will see the signs."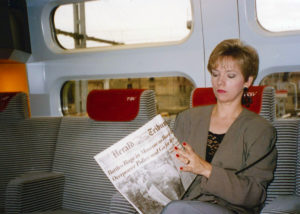 Riding the train on our first trip to France, 30 years ago
And she was right, of course. We ditched the map, followed her directions, and made sure to look at all the signs along the way. Looking back after thirty years, I realize this was an important lesson: open your eyes.
Now that our French dream is a reality, I have made it a daily practice to "open my eyes," and I've been rewarded with wonders, both simple and profound. Each day offers something new; this morning while I was walking to my French lesson, I passed a man standing on top of a four-foot-tall box. I think he was an electrician, and the box was something electrical–but how he got up there, and how he balanced on a spot barely big enough for his shoes, is beyond me!
People-watching aside, there are sights to be seen around every corner. One example: doors. There are gorgeous doors everywhere in France.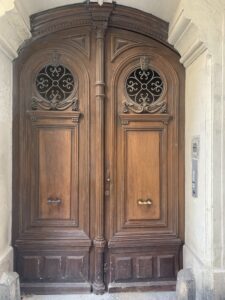 Isn't this door beautiful?
And, of course, not just doors; I see beautiful buildings, sculptures, fountains, paths, mini parks (like the one our apartment looks into), and so much more. Recently we joined friends Jo and Dennis at a wonderful restaurant in a tiny village near their home. The food was amazing, the company superb, and even the beams on the ceiling were worth a look. I wondered how old they were, what trees they used to be, and what the workers who constructed them were like. There is a story in everything.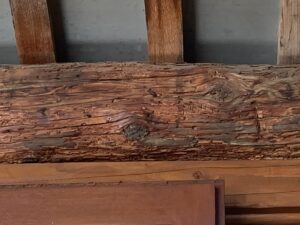 Beautiful restaurant beam
Graffiti is another thing I never tire of seeing. There is so much street art in Montpellier where I live, and most of it is done with great talent, and it often carries a message.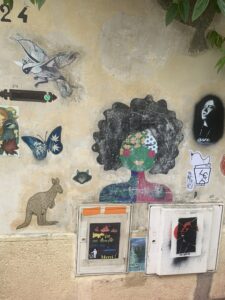 An amalgam of street art
We have an artist in Montpellier who makes art from bicycles. His name? Monsieur BMX. We first noticed his art on our reconnaissance visit in 2020, and now we see it regularly.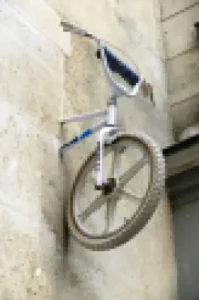 Looking for Monsieur BMX art would make a good scavenger hunt!
There is also an abundance of trompe d'oeil art in France. On a walking tour, our guide told us that the tradition derives from wealthy French families wishing to conceal their wealth, so they often did not have windows facing the street. Many years later, these facades were turned into astonishing trompe d'oeil scenes!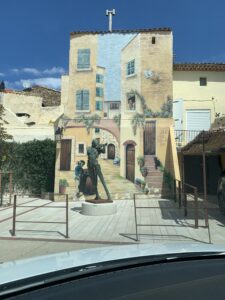 One example of trompe d'oeil art
Sometimes opening one's eyes yields delighted laughter, like the time my friend Brecka and I turned up at a party dressed almost exactly alike! We had a lot of fun wathing people notice our ensembles.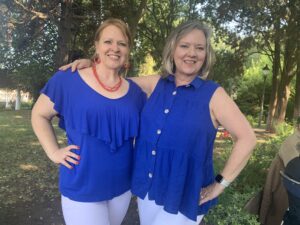 Unintentional twins!
I didn't get a picture of this, but it cracked me up: recently Phil and I had lunch on the terrace of a Turkish restaurant next to the marché (outdoor market). There were lots of pigeons around, looking for scraps, and we noticed one aggressive guy who hopped up on a nearby table to munch on the leftovers. When we finished our lunch, while Phil was inside paying, this same pigeon suddenly flew up onto my plate, knocking over a wine glass (fortunately, it was empty!), causing me to squeal in surprise, and giving everyone nearby a good laugh.
We love going to the marchés, as well as the weekly brocante (flea market) near us. There are so many wonderful things to look at, and even if we buy nothing it's entertaining. One morning I strolled over to an inside farmers' market (these markets are called les halles) and bought some produce. I was so busy looking at the gorgeous fruits and veggies that I forgot to put the celery root I'd purchased in my bag! Oh well, I only paid ten euros and still got great value, even without the celeriac.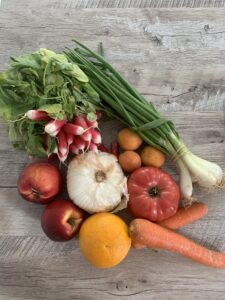 All this for ten euros–plus a celery root I forgot to take!
There are always interesting, beautiful, curious, or amazing things to look at–in France and, I suspect, everywhere. All it takes is opening one's eyes and taking the time to savor this life we're so privileged to be living. I will always be grateful to that lovely Parisian woman who urged us to open our eyes!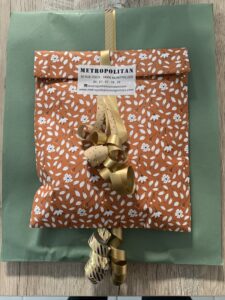 A beautifully wrapped housewarming gift from friends Margi and Michael