Time to say goodbye
You know it's been good when it's hard to leave.
Our time in Sunny California is coming to an end, and we are SAD! This has been a wonderful month, filled with family, friends, gorgeous scenery, great food and wine, and beautiful weather. We leave tomorrow, and while no one will feel sorry for us (after all, we're heading to Hawaii next!), we're a bit sad and nostalgic. We'll be taking the sense memory of this magical place with us, along with even deeper connections to people we love. We've spent time in San Diego in the past and thought we knew the area, but our time here in North County has expanded our appreciation of just how special this place is.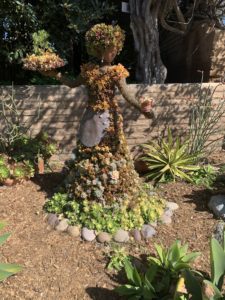 At the San Diego Botanical Garden we met this beautiful topiary woman.
We've spent lots of time with our cousins–wineries, picnics, dinners–Karyl even took me to get my first pedicure in 13 months! We had a lovely Ocean Beach lunch with "friend who is family" Travis and met his three-year-old son Forest for the first time. We met dear friends Gracelyn and Ralph for a 56 degree outdoor dinner at Dana Point (brr!), and spent the next morning with them on a long walk and lovely (warm) outdoor lunch.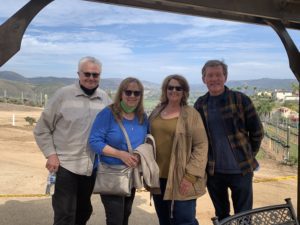 Visiting wineries with Karyl and Matt!
We've spent quite a bit of time just driving around, soaking up the beauty, and walking in some gorgeous parks and gardens. We even took a hike one day, something we've been meaning to do more of! Everywhere we go, there is something beautiful to look at.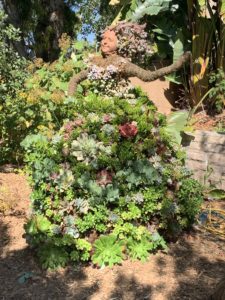 Topiary dancer. Isn't she beautiful?
A special highlight of our time here was when Beth and Wade visited. They spent six days with us, but it seemed like six hours. Beth and I have been besties for 50 years and hadn't been together in a year and a half, so we had lots of catching up to do. And–bonus!–we got to celebrate our birthdays, which are four days apart, together, along with Beth's friend Susan, whose birthday is between ours. On St. Patrick's Day. along with Karyl and Matt, we celebrated with green beer (green wine for non-beer-drinking me) at local landmark Prohibition Brewery, followed by a surprise birthday cake at our Airbnb. We're all vaccinated, but for extra safety we "blew" out our candles by fanning them with our plates.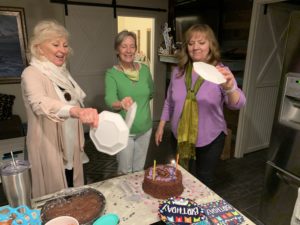 Birthday Birthday Birthday!
One challenge of the Roaming lifestyle that I haven't yet mastered is using up all the food. Despite some actual planning (I don't normally plan meals at all), we always end up with uneaten food. For our last dinner at our Airbnb I did my best, making mashed sweet potatoes topped with frizzled lunchmeat turkey, plain yogurt, cheese, and toasted pecans–accompanied by roasted cauliflower with leftover homemade tomato sauce, and a side of roasted beets. I had leftover homemade shortcakes and whipping cream, but only three strawberries, so I added some supremed orange segments for strawberry-orange shortcake. Surprise! Everything was yummy. Alas, we still ended up with lots of cheese, brussels sprouts, and oranges that we couldn't use.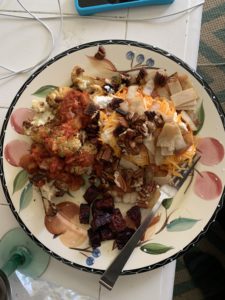 It may not be pretty, but it tasted pretty great!
On our last day here, at our Airbnb host's recommendation, we visited the Grand Tradition Estate and Gardens, one of the most beautiful venues we've ever seen. We had a wonderful brunch, followed by a stroll on the grounds. Boasting a large pond, two waterfalls, and breathtaking flowers, this place proved to be a highlight of our time here, and a wonderful place to spend part of our last day.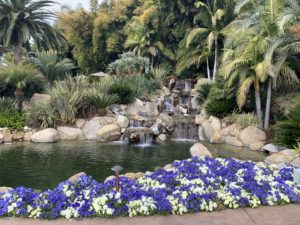 Just one of the waterfalls at Grand Tradition
The Veranda restaurant on the grounds was a treat, with exceptional service, delicious food, and reasonable prices. I had the Wellington Benedict (unusual, delicous, and rich!), Phil had a great omelet, and we shared a lemon berry mascarpone cake that was outstanding. If we were getting married, that would be our wedding cake.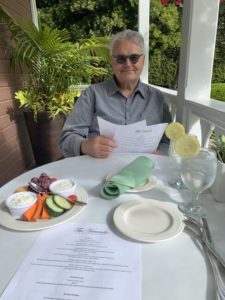 Antici………….pation!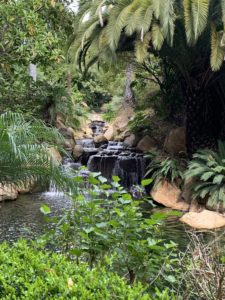 Second waterfall!
We are spending the rest of our last day doing laundry, pre-packing organizing, and cleaning. This afternoon we'll virtually attend the wedding of Kristin, daughter of our dear friends Cara and Steve, followed by a last dinner with the cousins. Tomorrow morning, after a birthday video call with our kids, we'll head out to the LAX area, where we'll have dinner with Kuzin Dafid, and Monday morning we'll be off to Hawaii for our next adventure. We will leave California with hearts full of gratitude for wonderful family and friends, good health that allows us to travel, and beautiful places to go, but we'll also leave a bit of our hearts here.