Organization
The Roamers' Daughter Lends a Hand
Our daughter Amelia has always had a gift for organization. From early childhood, her room was neat and orderly, with her beloved stuffed animals neatly arranged on her perfectly made bed. She always had her homework done on time, and I started assigning her linen closet organization duties when she was eight or nine years old. Recently, when we cat sat for Dakeeti (Amelia and Nic's cat), she had cleared out room for our things, left detailed instructions (including maps to places we'd enjoy), and succeeded in her goal of making our two weeks in her home "the best Airbnb experience ever."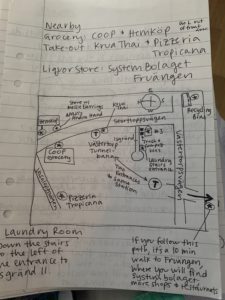 One of many pages of notes, maps, suggestions, and instructions!
Amelia is also multi-talented, to the point that it's difficult to settle on just one area of expertise. As a generalist, she has: worked as an online marketing executive, been an au pair, started her own business, created beautiful jewelry and home accessories, provided Tarot and spiritual readings professionally, and much more. So on a recent chat when she said, "I love organizing and decorating and think I might be able to turn that into a side gig," I raised my hand to be her first client.
Our cellier was the one area of our new home that had not been updated or refreshed. Sure, we'd added a washer and dryer, and our contractors had painted it, but we'd left the existing shelving as it was and just piled stuff in. I gave Amelia a quick video tour of the space, and she agreed to take on the project, along with reorganzing Phil's studio space.
Cellier before: messy and ugly.
Within an hour of our phone call, she had created a spreadsheet and developed a model for the reorganization of the storage room off our kitchen. She included links to recommended purchases (wine fridge, bar cart, etc.), along with photos, and a proposed budget for everything.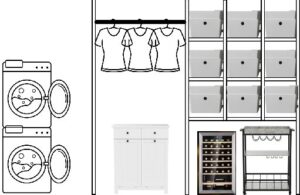 Amelia's model for one side of the cellier
We ordered several items in advance: a wine fridge (yippee!), bar cart, and laundry unit featuring "his and hers" hampers, drawers for supplies, and a folding table surface. Once Amelia arrived, she took detailed measurements and created a shopping list for storage units and other items.
All of our local shopping was completed at Ikea and Castorama, and we kept receipts so we could return anything that didn't make the final cut. And then Amelia worked her magic. She would be staying with us for eight days, so we had plenty of time to have fun–shopping together, enjoying coffee, lunch, and cocktails with various friends (our friends love Amelia!), and even hosting a "mommy-daughter" luncheon for three of my friends and their daughters (more on that later).
So without further ado, below are the before and after photos of our cellier!
I keep opening the cellier door just to look at how neat and orderly everything looks! The trick will be keeping it that way (I'm talking to you, Phil!). And the next day our wonderful contractors, Benoit and Mehdi, came to repair and paint the walls. We still have to hang a rod for clothes drying, but aside from that it's all done.
Amelia also rearranged Phil's studio area (he uses the second bedroom, which doubles as our guest room), a very tight space. Amelia couldn't magically create more room, but she made the existing space more efficient and comfortable. And she organized some drawers, offered advice, and generally made our lovely home homier.
When Amelia and I were chatting at lunch with our coffee group friends, we realized that Linda's daughter and Sandi's daughter are close in age to Amelia and that they have a lot in common. So I invited them to bring their daughters to lunch chez Shroyer. The luncheon was simple–just salads–but we had the most wonderful time. After lunch Amelia did a spiritual reading for each of us, we all solved the problems of the world, and most importantly, our daughters formed a bond that I believe will be lasting. Oh, and the lunch lasted SEVEN hours! Our recycling bin was quite full of glass items afterward. . .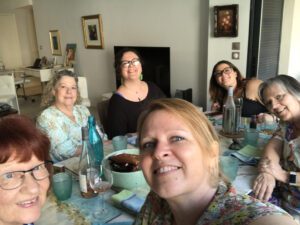 Mommies and Daughters
All too soon, the visit was over. We're not sure when our next meeting will be, but we probably won't see Amelia and Nic until next year. We're sad, but we have wonderful memories to savor, and we are so very grateful.