A perfect day
On Sunday as we enjoyed our coffee, we had the inevitable conversation: "What do you want to do today?" Realizing we only have one more weekend in Savannah, we wanted to make the day special. And we succeeded! Here's how we spent a perfect day.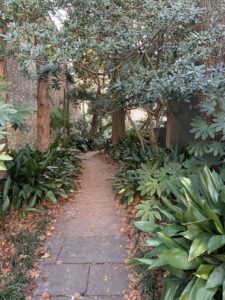 On the path to a perfect day
On a previous trip to Hilton Head we'd driven through Bluffton, SC, which even in the dark appeared to be a charming town. Later Phil heard that Bluffton has some great restaurants; that's all we needed to hear! We decided on Cahill's Market, a working farm, market, and restaurant that's been in the same family for three generations. Cahill's was honored as Best Breakfast in Bluffton, so we knew it would be a fun choice.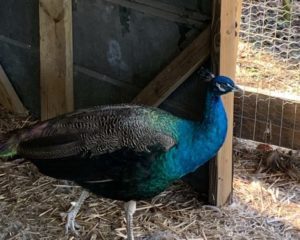 Cahill peacock
We arrived and were immediately seated outside after greeting one of the Cahill peacocks. Phil had the second-best huevos rancheros of his life, while I opted for eggs with a "chicken biscuit." Both were great! After breakfast we headed into the market to pick up country ham and Cahill eggs.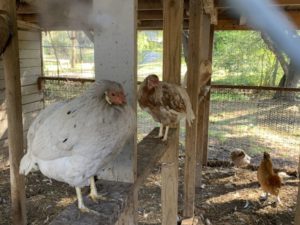 These chickens provided the eggs for our breakfast!
Full and happy, we headed to Bluffton's Old Town, where we walked off our breakfast, peeked into a few galleries, and enjoyed the sunny day. Bluffton is a charming town, with lots of art, beautiful parks, and a cherished history. We were reminded of our former hometown, Wimberley, Texas. Where Wimberley has "Bootiful Wimberley," with huge boots scattered throughout town and decorated by local artists, Bluffton has oversized oyster shells decorated similarly. We felt at home as we strolled across town and into the waterside park.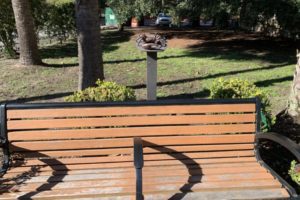 Blufftonites who are feeling a bit crabby can relax on this bench.
After our walk we hit the road, heading to Charleston for a final visit. We parked near the historic market and walked over to Harry's rooftop, where we split a crabcake sandwich and enjoyed the best cocktail ever–a boozy limeade! Next up was a walk through the market, where we picked up a sweetgrass basket and some local items for a gift. We then proceeded to walk the city for hours. Unfortunately, we were too late to tour the Unitarian Church, the oldest UU church in the South, dating back to the 1700s, but we saw too many gorgeous churches to count. Charleston is a beautiful city, with wonders everywhere. We walked eight miles, with Phil taking pictures of churches and street scenes he plans to paint.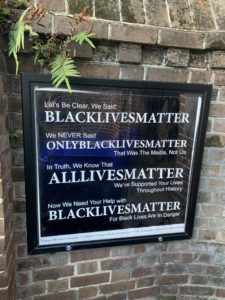 The sign at the Unitarian Church
By 5:30 our feet were tired and it was starting to get dark. As we looked out over the water, I asked Phil, "Do you really want to drive home tonight?" "Not really," he replied. And within minutes I'd used Marriott points to book a room at the Renaissance. We giggled as we explained to the hotel desk clerk that we'd need an amenity kit, since we hadn't planned to stay over. We checked in and immediately headed out to dinner at Magnolias, a restaurant serving upscale southern cuisine. We didn't have a reservation so opted for a socially-distanced hightop table in the bar, where Phil had bouillabaisse with a southern twist (it had okra!) and I enjoyed parmesan crusted flounder.
The next morning I showered, washed my hair (didn't even have a comb so it was "au naturelle"), and put on yesterday's clothes. We walked to La Patisserie for coffee and pastries, then headed back to the car for the two-hour drive home. We'd had a perfect day, and we were grateful.