aloha!
The Shroyers have invaded Oahu
I have to confess, we've been so busy having fun that I'm a bit late posting a Hawaii update. This place is magical!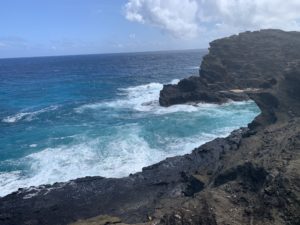 One of the gorgeous scenes from our first island drive
It felt a bit strange boarding a flight–after flying several times a week for many years, I hadn't set foot on a plane in 13 months–but we felt very comfortable, especially since Delta was still blocking middle seats. The flight from LAX was about six hours, and we arrived eager to explore this new wonderland. We picked up our Turo car (saved at least $500 over the rental agencies' offerings) and headed straight for Waikiki Beach.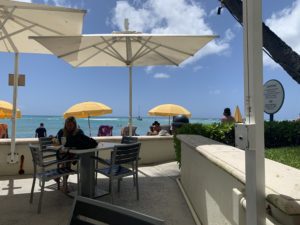 Cocktails at Waikiki
After sipping our first Hawaiian mai tai (Phil) and pina colada (me), we tore ourselves away from Waikiki to discover our home for the next month. On a dead-end street across from a stream, our third-floor apartment offers a view of the mountains, the sounds of birds and roosters, and a lovely breeze that enables us to keep the windows open all the time. With three bedrooms, two bathrooms, and a wonderful kitchen, it's our favorite temporary home so far! We book at least a month in each Airbnb to get a significant long-term stay discount, so while this was a bit of a splurge we've stayed within our budget for the first six months of Roaming.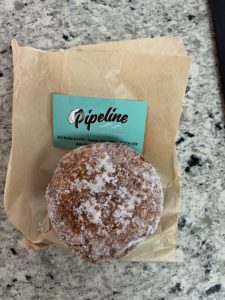 Malasada, the Portugese donut
The unexpected and delightful bonus of this home is our neighbor, Kai, who owns the building and lives below us. On our first full day here I ran into him and invited him up for cocktails–and he arrived with a bottle of homemade limoncello! Kai has been the most wonderful host, friend, and advisor. For example: he has gifted us with warm malasadas from his favorite bakery, homemade chocolate banana bread warm from his oven, and a slice of mixed berry pie from his favorite pie shop; he's joined us for several dinners, including carryout from his favorite Chinese and traditional Hawaiian restaurants; at his recommendation we have visited a breathtaking botanical garden, a tropical tree farm that sells its fruit (including our new favorite, mangosteen, and also durian, which we didn't buy; so, so stinky!), and a beautiful waterfall. Roaming sometimes doesn't allow for much of a social life, and Kai's friendship and generosity have been a highlight of our time here.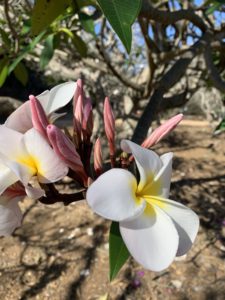 Plumeria at Koko Crater Botanical Garden, one of Kai's recommendations
While working from Hawaii means that I have frequent 4am or 5am video calls (UGH!), it also means that my work day ends early, providing the opportunity for afternoon outings. We have taken advantage of those to visit farmers' markets, enjoy beaches, and take drives around this beautiful island.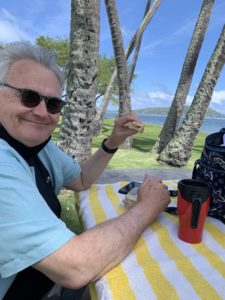 Phil enjoying our first beach picnic
The beaches are spectacular and photos don't do them justice. I'm fascinated by the color of the ocean, ranging from bright green to turquoise, to blue, to purple. And the flowers! And the trees! And the mountains! This is called paradise for a reason.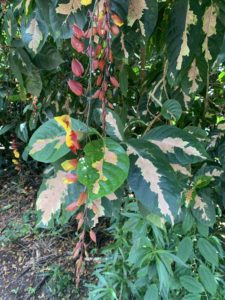 These leaves look like they've had paint splashed on them.
We've also enjoyed long walks–on the beach, in downtown Honolulu, in parks and botanical gardens, in Chinatown–always marveling at the sights and sounds (and the people). Sometimes the things we see crack us up, like the faux police car that pulled up beside us.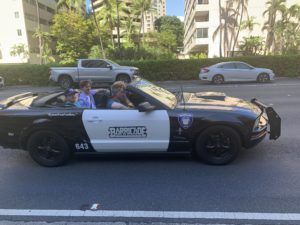 This caused a double-take!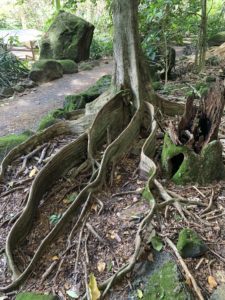 Can you believe this tree?!
There is so much more to share–weekend trips to the Big Island and to Kauai, more beaches with HUGE waves, a visit from dear friend Patricia, and amazing water athletics (none of which were performed by us). I'll get to that, but now it's time for a quick stroll before cocktail hour!