And we're off!
Phil and Sandy have left the building.
Wow! It's been a very hectic and exciting few weeks. After our house closing date was confirmed, our next task was to get rid of almost everything we owned, empty the house, confirm our initial roaming plans, and prepare to embark on this big adventure. We had three weeks to get all this done.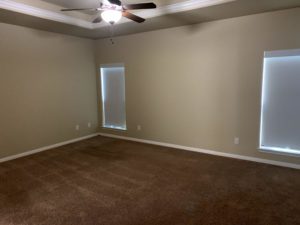 Empty bedroom
I tried to be organized about it, I really did. I set up my office closet for the "keep in storage" items and the guest room closet for the "take" items. I made to-do lists and checklists, sometimes adding items just for the pleasure of crossing them off. But as the date drew closer, all bets were off. Every spare tote bag was filled with partly organized/partly random stuff. We sold our two cars and bought a slightly newer hybrid. I sold most of our furniture on Nextdoor and Facebook Marketplace. We engaged our son, aka our car butler, to help us figure it all out. In the end, we managed to store all our remaining worldly goods in a 5×5 storage unit and our new hybrid sedan–the latter due entirely to our son's Tetris prowess. We closed on our house, made a final visit to Baxter, who was so happy in his new home he hardly noticed us, and we were off.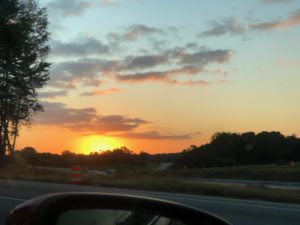 Sunset on the road
We spent our first night in Houston with our dear friend Patricia, who treated us to adult beverages and an elegant dinner. Early the next morning we headed to our first stop–Laurel, Mississippi, of "Home Town" fame. We wanted to see the charming town Erin and Ben Napier had shared on their hit home renovation show.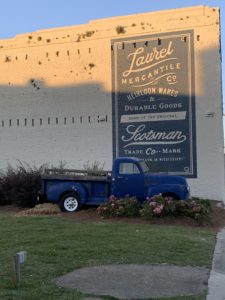 Laurel! Ben and Erin's store! Cute old pickup!
After exploring the quaint downtown and taking a drive to see some of the beautiful homes in Laurel, we were starving. As so often happens when we're on the road, we happened into a restaurant that turned into a memorable experience. The local Italian and pizza joint made the BEST bruschetta we've ever had! We celebrated with a toast, of course.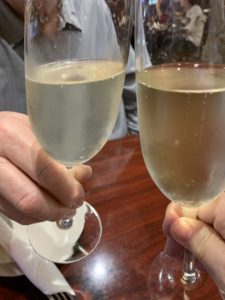 Prosecco toast
After a night of tossing and turning in our hotel bed, we grabbed giant coffees and headed to our next stop, Atlanta.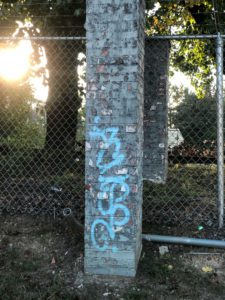 I thought this random side-of-the-road graffiti was beautiful.
There we had a wonderful dinner with our friends Philip and Erin, who were the most charming hosts. They served a fabulous salmon (topped with a mix of mayonnaise, Dijon mustard, and lemon and roasted in the oven–I'm totally copying it!), followed by chocolate cake and ice cream. What a treat, both the dinner and the company!
The next morning we headed to our much-anticipated, first temporary home in Raleigh. How we ever got all this stuff in our car is a mystery. Instead of fully unpacking, we headed to the grocery store! Our first dinner started with heirloom tomatoes and buratta. And wine. Always wine.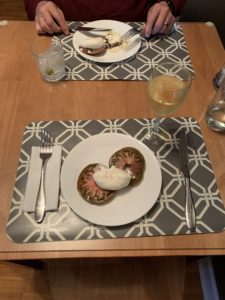 First dinner in our little (let's be honest, it's tiny) apartment in Raleigh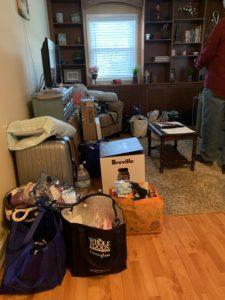 What a mess!
So here we are, on the road, settling in to our temporary home, and enjoying our new neighborhood. It doesn't hurt that there's a wonderful bakery just a ten minute walk away! We hope to see a few friends while we're here, socially distanced of course, but mostly we're just excited to explore our new surroundings and see what we'll discover on this first part of our journey. We packed our optimism, openmindedness, and excitement for what will come. Stay tuned!