Art in Aix
The Roamers pause their time-out for a trip to Aix-en-Provence
Welp, we couldn't quite make it a whole month without entertaining or travel! On Friday we celebrated the break in the canicules (heat waves) with petanque and dinner in our garden. Friends Ann-lii, Frederick, Jo, and Dennis joined us for a wonderful evening.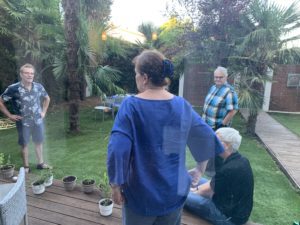 Petanque without sweating!
The next morning we caught a train for Aix-en-Provence, a wonderful city I'd first discovered reading MFK Fisher (my favorite writer), which we'd visited on our first trip to France in 1993. It's changed a bit since then (so have we!), and we couldn't wait to explore. Our first stop after checking in to our hotel was, of course, lunch, followed by a visit to the Hotel de Caumont, a renowned art museum.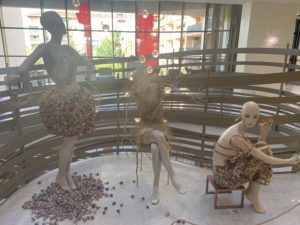 Art exhibit in our hotel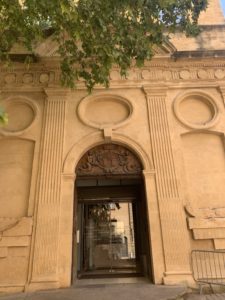 Hotel de Caumont
The catalyst for our trip was a Raoul Dufy painting I saw on Facebook. Unfamiliar with his work, I did a little research and found that there was a rare exhibition of his work in Aix, which is about three hours away by train. Off we went!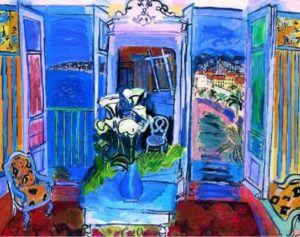 The painting that inspired our trip
Located in an aristocratic mansion that is an art exhibit in itself, the Hotel de Caumont displayed room upon room of Dufy paintings. We spent well over two hours there.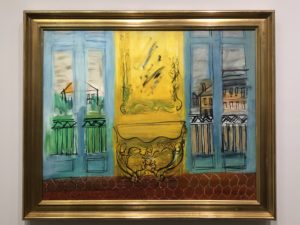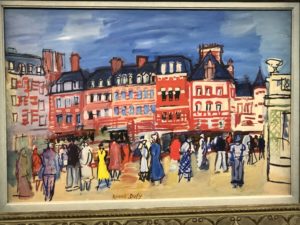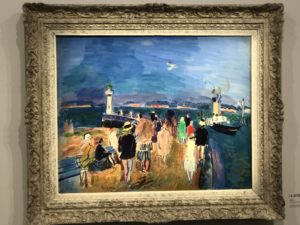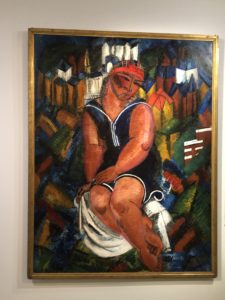 Several of my favorites from the Dufy exhibit
While at the Caumont we were able to see a couple of rooms that have been restored to their original splendor. The bedroom below overlooks the courtyard garden.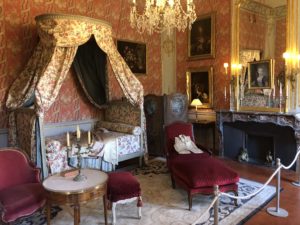 Bedroom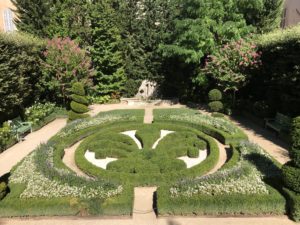 Courtyard garden
We strolled back to the hotel via the famous Cours Mirabeau, a wide thoroughfare designed in the 17th century. It's a thriving, plane-tree-lined street offering plenty of cafes, bars, and shops.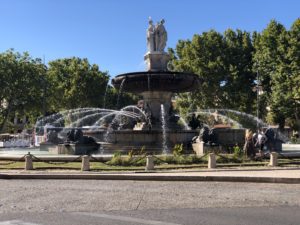 Fountain at the Cours Mirabeau
Then it was back to the hotel for a rest before dinner. Phil decided to enjoy an adult beverage, which was pricey (17 euros!) but delicious. Yes, he gave me a sip.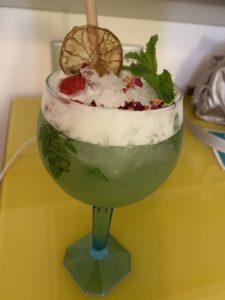 17 euro cocktail!
For dinner, we chose a restaurant mentioned in the Michelin guide, Les Inseparables. Nestled in a lovely courtyard surrounded by trees, we enjoyed the degustation menu and an excellent bottle of wine. As in virtually ever restaurant in France, American music was playing.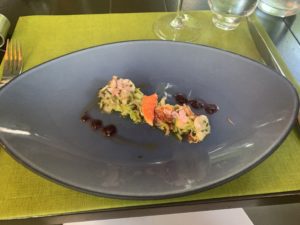 Lobster tartare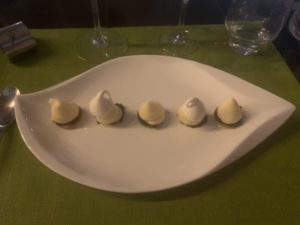 My favorite: interpretation of tarte citron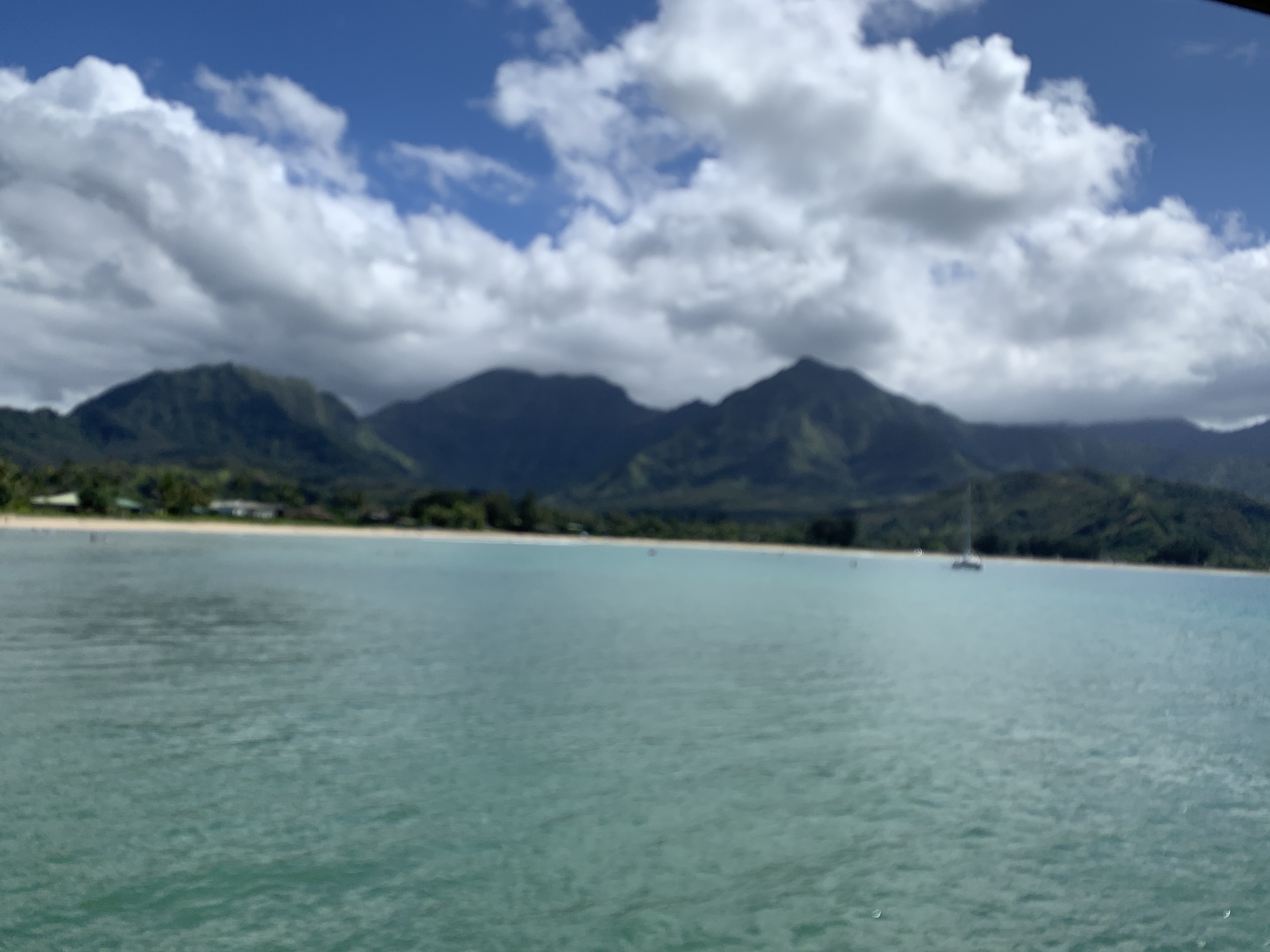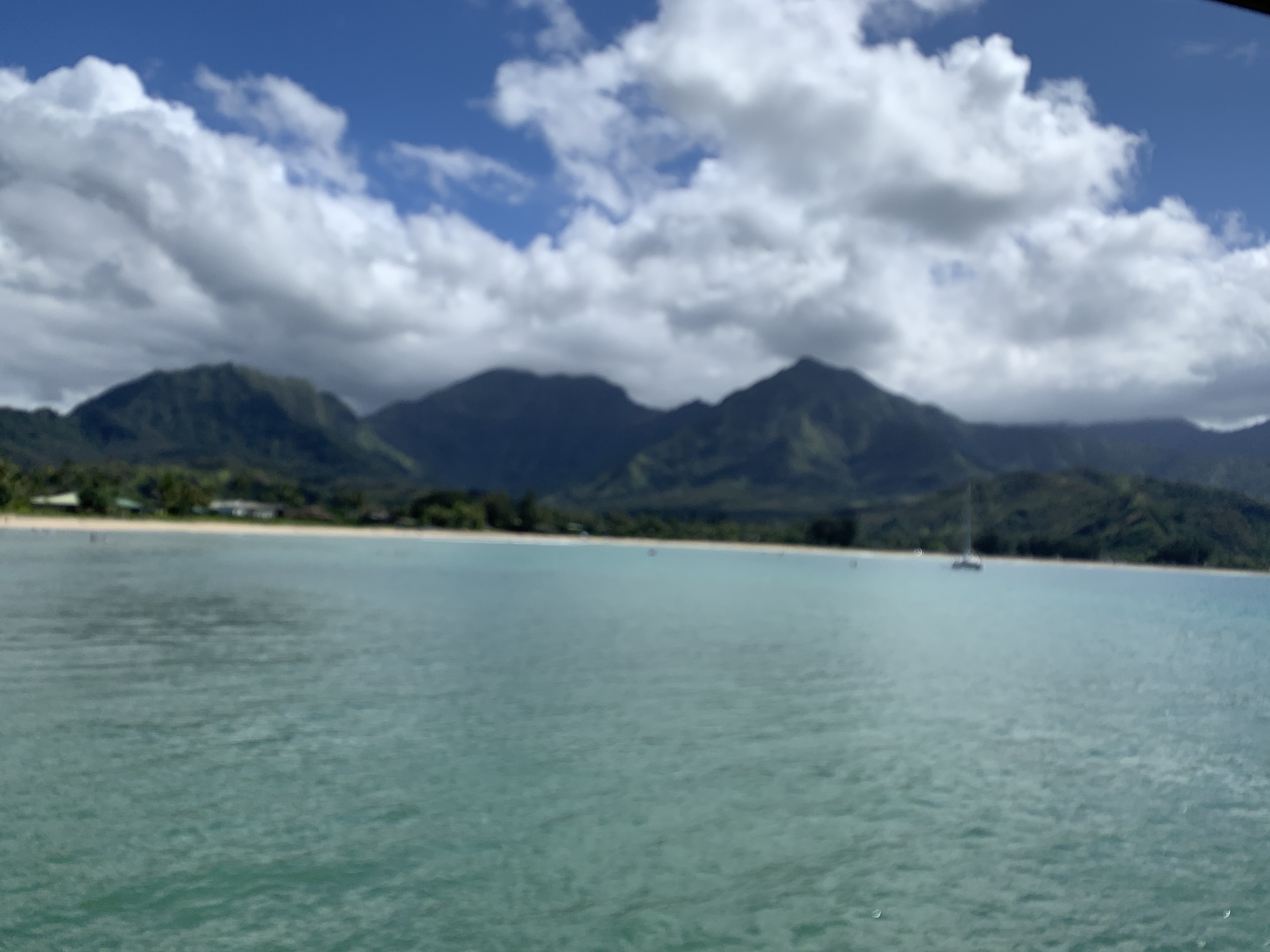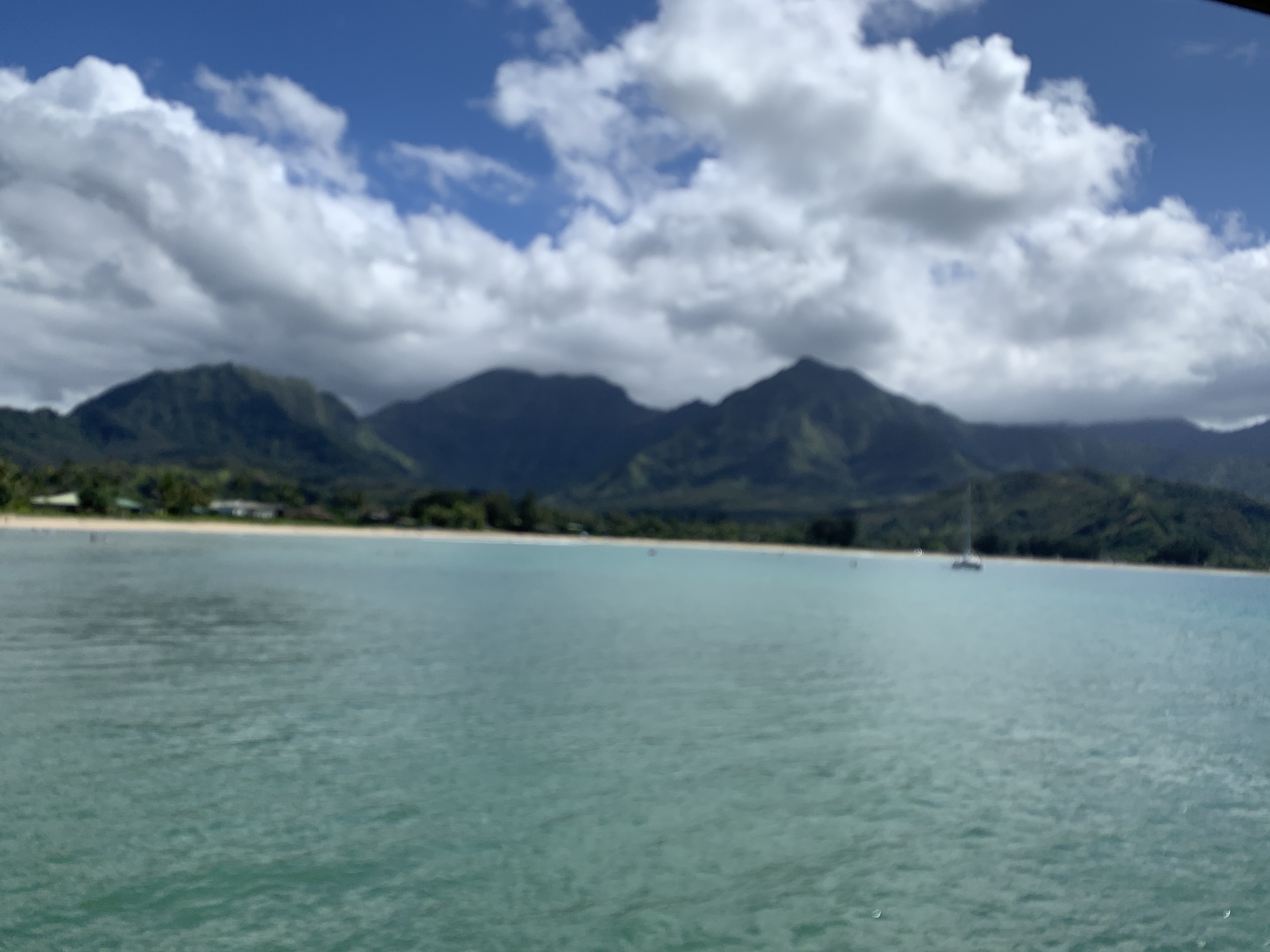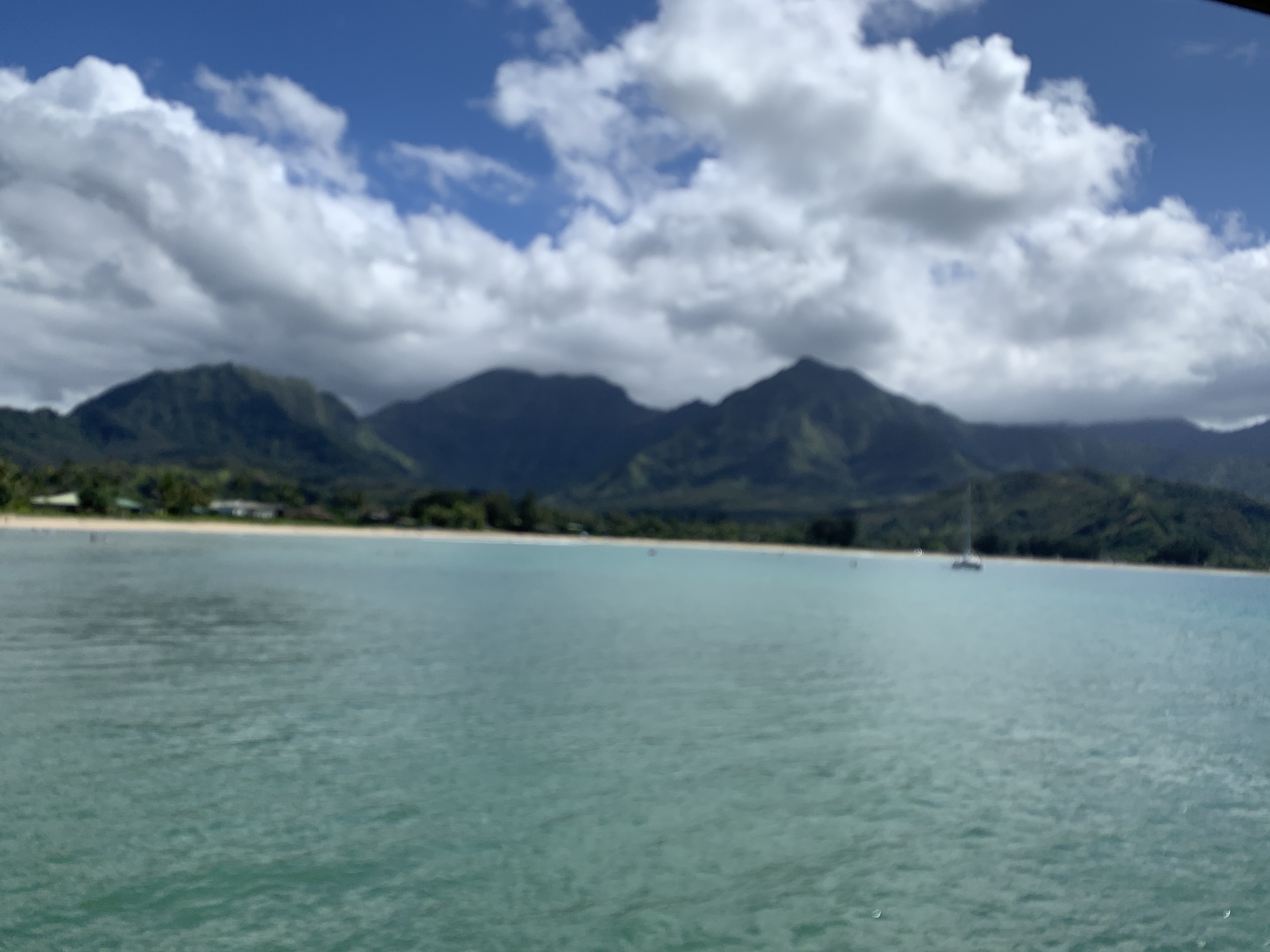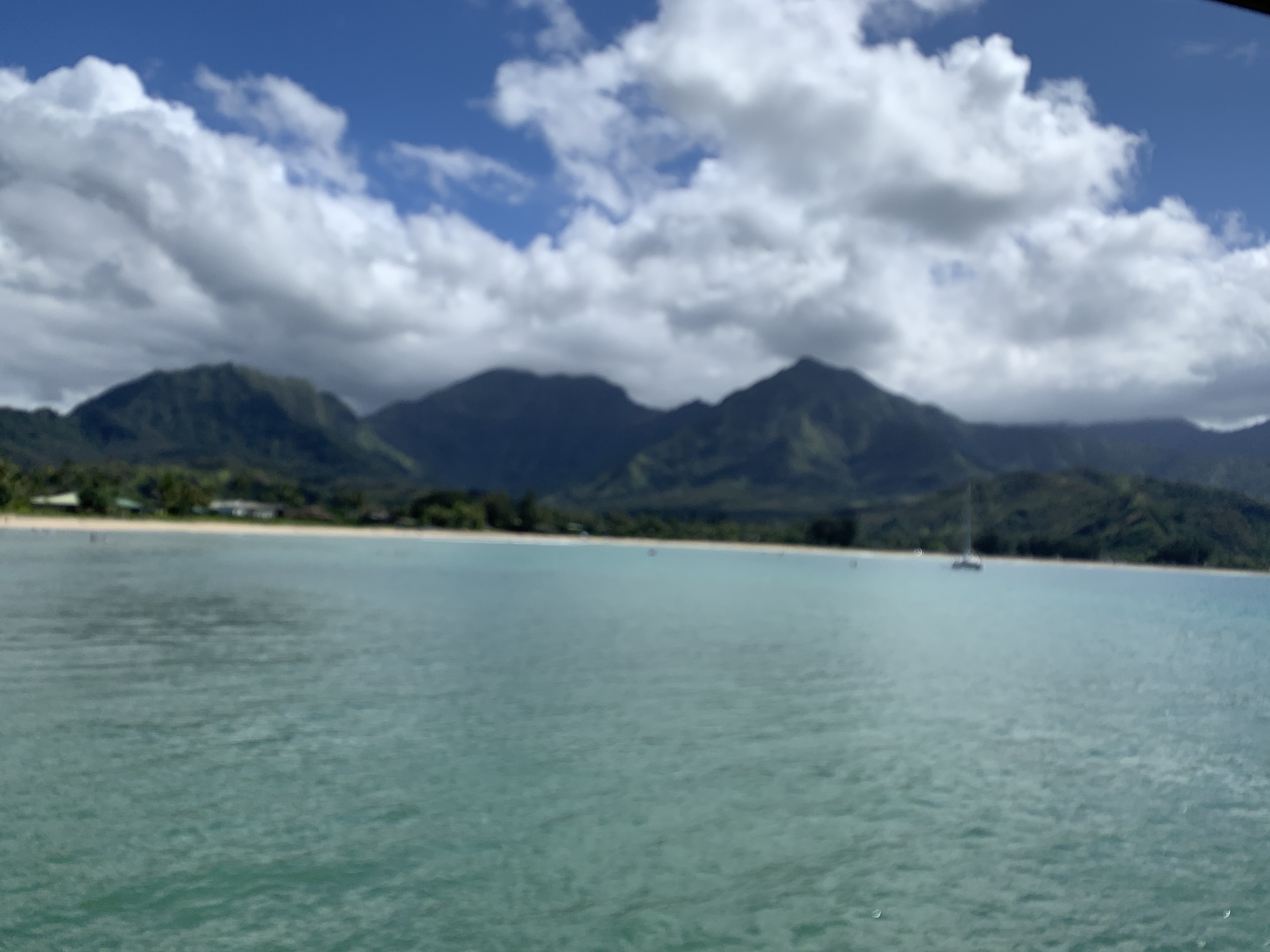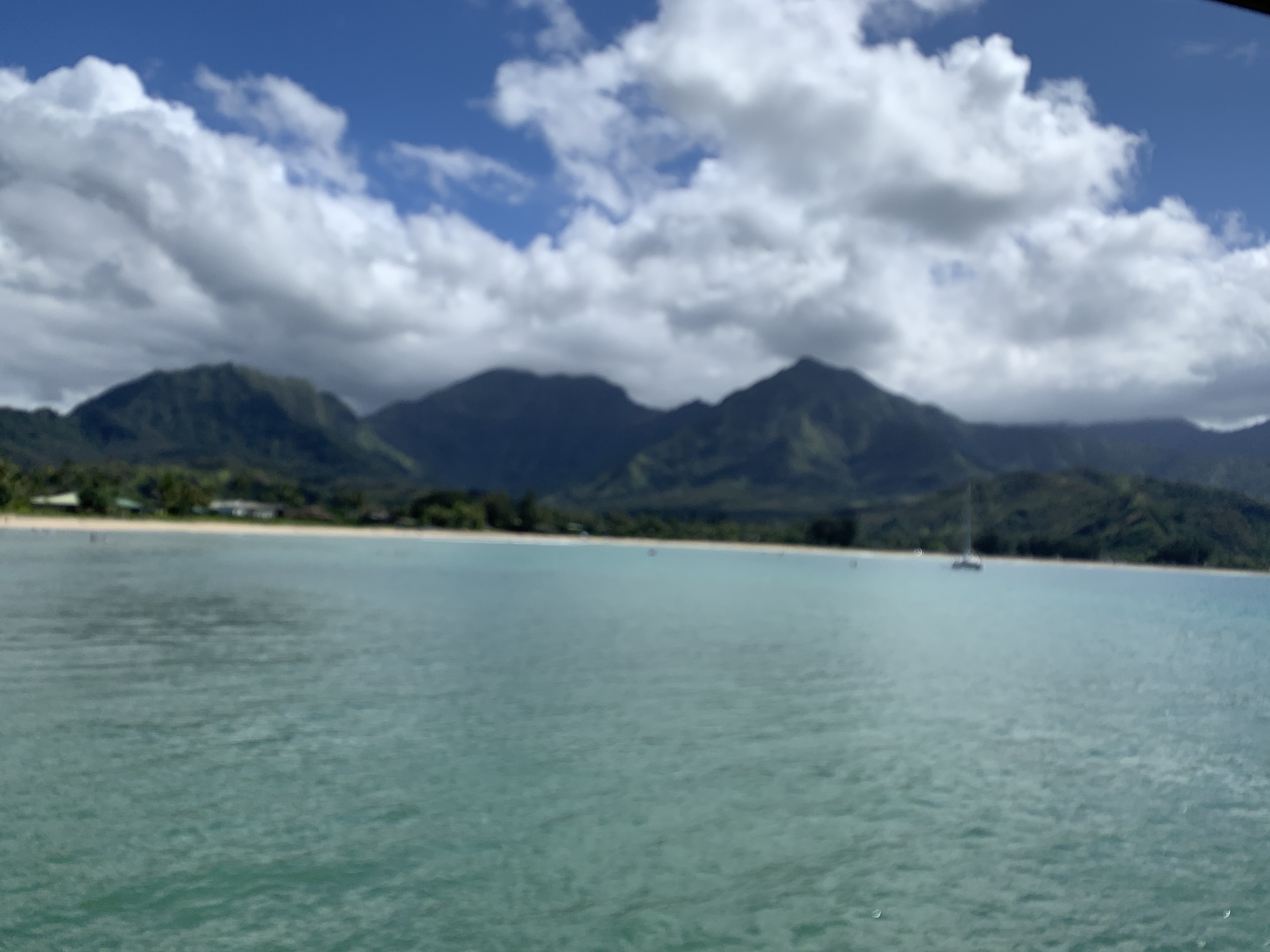 The next morning we set out in search of coffee on the Cours Mirabeau. First we stopped to greet the sculpture of Cezanne, which had unfortunately been defaced with paint.
Cezanne
As we paused to take a picture, we heard music, then someone on a loudspeaker. Naturally, we (I) had to investigate. Turns out it was a ceremony honoring the 78th anniversary of La Liberation. The whole thing was very moving. After the speech (I couldn't understand it well, but what I could get was wonderful) and the laying of flowers at the memorial, we heard the Chant des Partisans., the haunting hymn of the Resistance, followed by a moment of silence. Then we were astonished to hear the U.S. National Anthem, honoring our country's part in liberating France. Finally, La Marseillaise was played. We were not the only bystanders wiping tears away.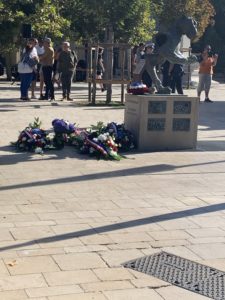 Tribute of flowers
The flowers were laid at the monument des morts, which is inscribed "Aix-en-Provence a ses enfants morts pour La Patrie"–"Aix-en-Provence for its children who died for the country." The ceremony was followed by a parade.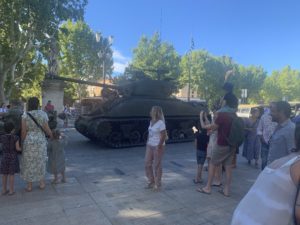 Tank in the parade
After the parade and lunch, we headed to another museum, the Musée Granet. We wanted to see some of the work of native son Paul Cezanne, and to learn more about his role in the evolution from impressionism to cubism.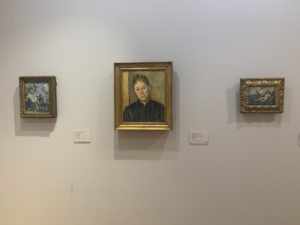 Some of Cezanne's works
Our admission to the Musée Granet included a ticket to their modern art museum, La Chapelle des Pénitants Blancs, "the chapel of the white penitants." This beautiful 17th century building houses the personal collection of Swiss painter Jean Planque, who befriended many of the artists whose work he acquired. He wasn't wealthy, but he had a keen eye for discovering great painters before they became known. We saw amazing works by Picasso, Braques, Degas, Klee, and Cezanne, as well as Planque's own work.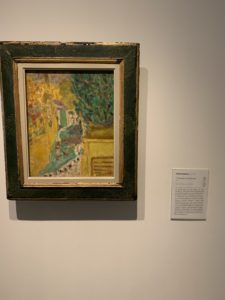 A Bonnard that I loved
I don't remember ever seeing so many Picasso paintings in one place before–and one of them was inscribed to Planque.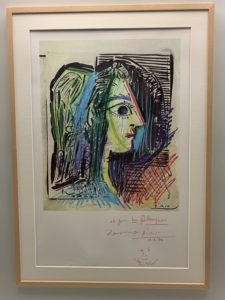 This beautiful painting was signed to Planque by Picasso, his close friend.
The three-story former chapel that housed these paintings was spectacular. The renovation retained the beautiful arched ceilings and other features but created a perfect neutral setting for these modern paintings.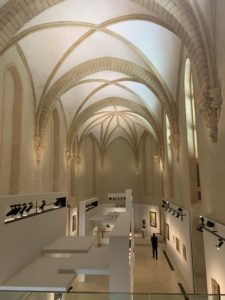 View from the second of three floors in the museum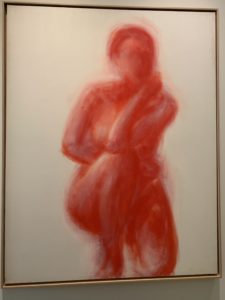 Beautiful work by Claude Garache
En route to our last museum stop, Gallifet, we encountered a window box cat, whom I befriended. It was both decorative and ready for petting!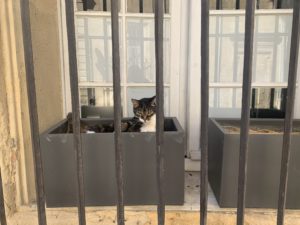 Mon ami, le chat
On an earlier stroll we had noticed a tiny art gallery attached to a courtyard restaurant. It was closed, but we decided to return to check it out. I was fascinated by the art, which appeared to be focused on kitchens and interiors. So on Sunday after lunch we returned. The scene made us wish we'd come for lunch!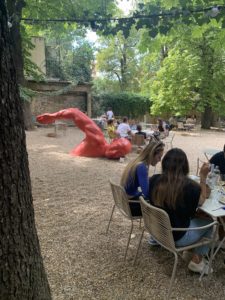 The Gallifet courtyard restaurant
The exhibit was tiny but beautiful. In the middle of the room was a table draped with a dyed and embroidered cloth, displaying ceramics, and the walls were covered with small paintings of interiors.
I loved this table!
Later I learned that this wasn't even the exhibit of the museum! I guess it was just an adjunct to the restaurant. Next time we'll have to see the entire thing–and dine there!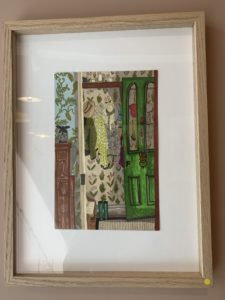 One of the delightful interior paintings
On our way back to the hotel, we ran into Alfred Hitchcock at a cinema. Orson Welles was on the other side of the door, but he did not allow photographs.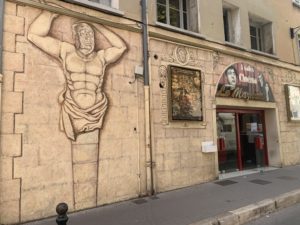 Alfred Hitchcock holding up the wall at the cinema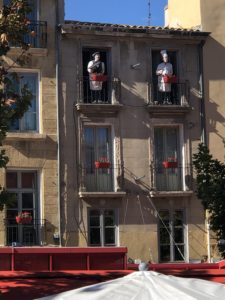 We also spotted two chefs standing at their windows
Our last sight on the way back was the memorial to the massacred Armenians. I didn't even know about this before seeing this amazing monument.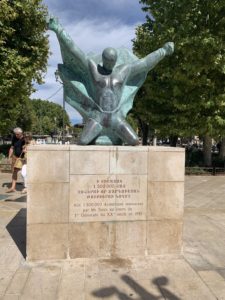 Translation: "To the Two Million Armenians Massacred by the Turks during the first genocide of the 20th century, 1894-1922"
And then it was time to go home. We were amazed by how much we had been able to pack into just over 24 hours, but there is so much more to see in Aix-en-Provence. We'll definitely be back!