fun with friends
Barcelona! Mozart! Petanque!
We were excited to make our first trip to Barcelona, especially since we were meeting bestie Joni and her husband Scott, who married last October. The train ride from Montpellier to Barcelona, just three hours, was pleasant, on time, and offered beautiful scenery. We arrived at our hotel, grabbed some lunch, and after Scott finished a couple of work calls we met up for a welcome cocktail at the rooftop bar of our hotel.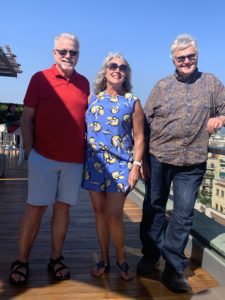 Scott, Joni, and Phil atop the roof
At our daughter's advice, we booked a hotel very close to the Sagrada Familia, the famous and unfinished Gaudi masterpiece. How amazing to see the view from the rooftop bar!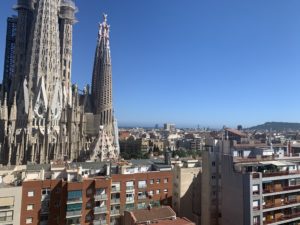 What a view!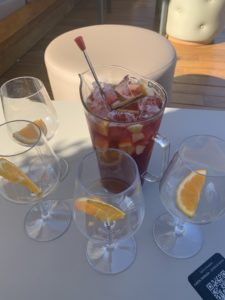 Sangria for all!
We had a lovely seafood dinner that evening at a now-forgotten restaurant Scott found. Paella! It was a long hike, and my reward for wearing new sandals was blisters–but it was worth it. The next morning we headed out for our self-guided audio tour of the Sagrada Familia. What a spectacular work of art!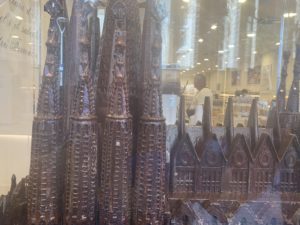 In a nearby chocolatier window, a chocolate Sagrada Famlia. Wow!
I won't even post my pictures of the Sagrada Familia, because there are so many better ones online. After our tour, we bought tickets for the hop-on, hop-off bus tour to see more of Barcelona. We stopped for lunch (a long climb up a very steep hill) at an outdoor cafe. As we waited for our food, a street parade arrived, complete with a drum band, effigies, and many marchers.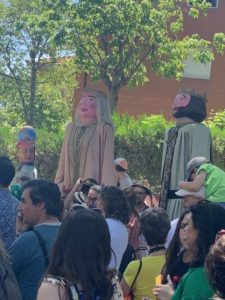 Not sure what this was about, but it was fascinating!
The parade stopped next to our restaurant, and I noticed a group wearing matching shirts. Curious, I walked over to see this group building a human tower! It was fascinating to see their climbing technique–until the young woman on top fell to the ground. An ambulance picked her up, and we are still hoping that she was ok.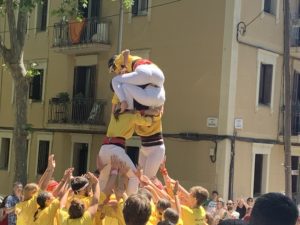 I took this picture just before she fell.
That afternoon we had a walking tour of the gothic quarter and surrounding neighborhoods, and we came upon an odd sculpture. Our guide explained that this represents a unique Catalan sport, Castell (human castle building), which began in the 18th century. It turns out that what we had experienced at lunch was Castellers!
"Castellers" sculpture
Our walking tour focused on architecture and history, and it was excellent. We learned a lot, but I retained very little. We saw the "people's church," a lovely but not extravagent Gothic church with a several-year waiting list for weddings, as well as the "cathedral," much more sumptuous but less popular.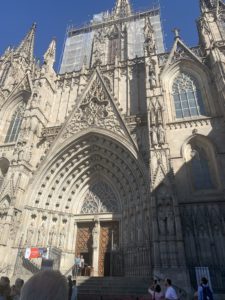 Catedral de Barcelona
We also visited a "secret square" that was peaceful and beautiful–until our guide told us its story. During the Spanish civil war, Franco's air force dropped a bomb here, killing 30 children living in the orphanage (the building you see on the right). As people came out to help, a second bomb was dropped, killing twelve more people.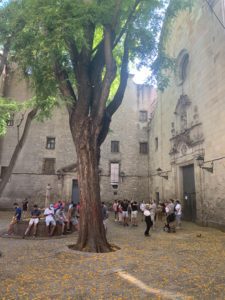 Peaceful square with a dark history
That evening we had reservations at Caelis, a Michelin starred restaurant recommended by Montpellier friends Bobby and Tracey. Phil and I had decided to postpone our 41st anniversary dinner to celebrate here, and what a celebration it was!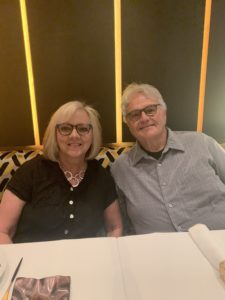 Belated anniversary couple
From the moment we arrived, we were treated like VIPs. Everything about this restaurant was exceptional, starting with the table settings.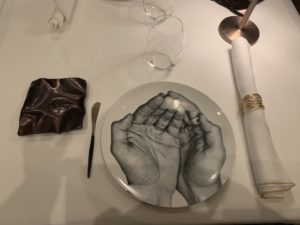 What a cool table! I want these plates.
We opted for the "Menu Terre et Mer" degustation tasting. It was SIXTEEN different dishes!!! Plus, of course, wine pairings.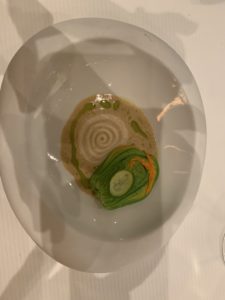 Zucchini blossom course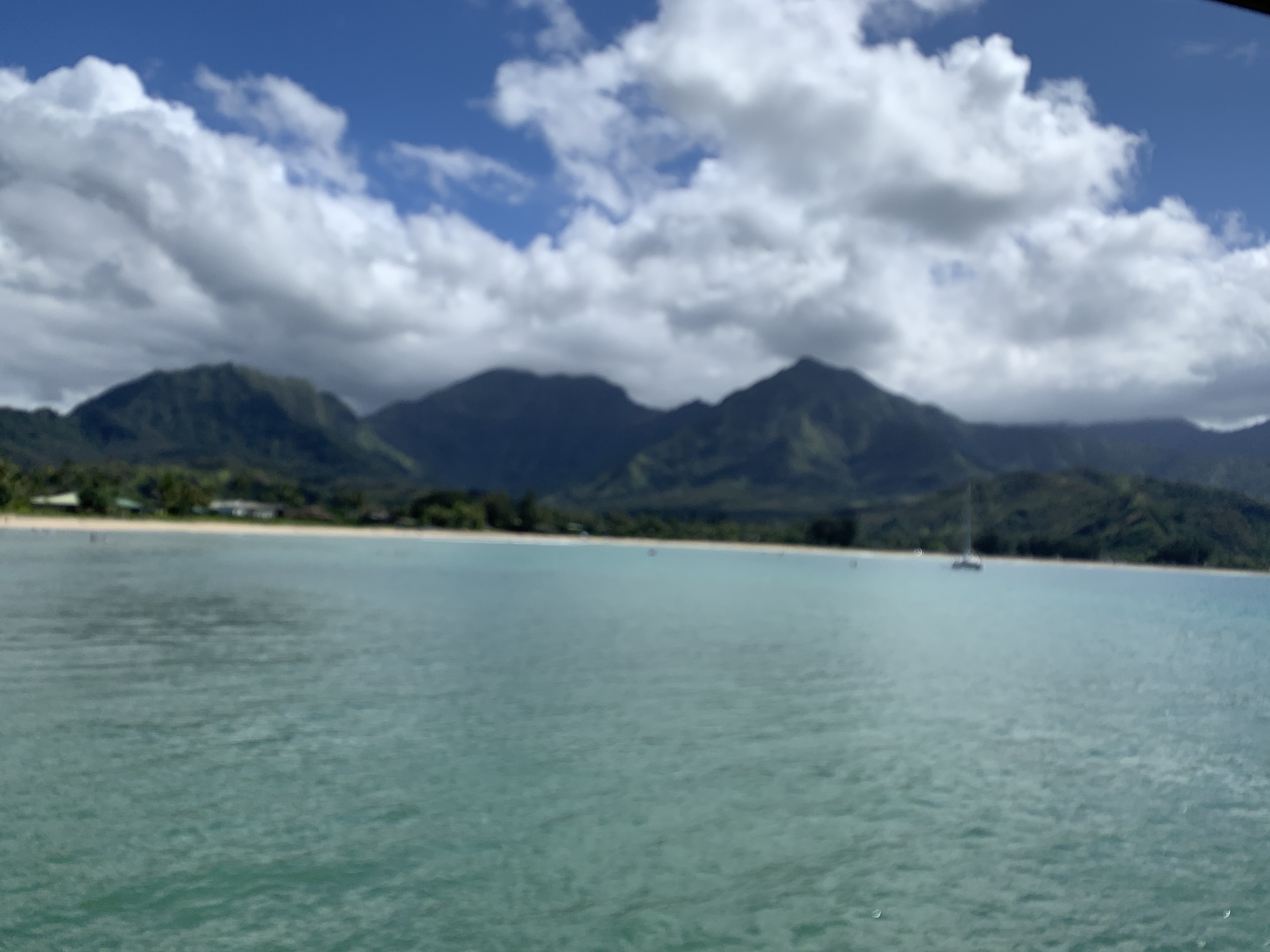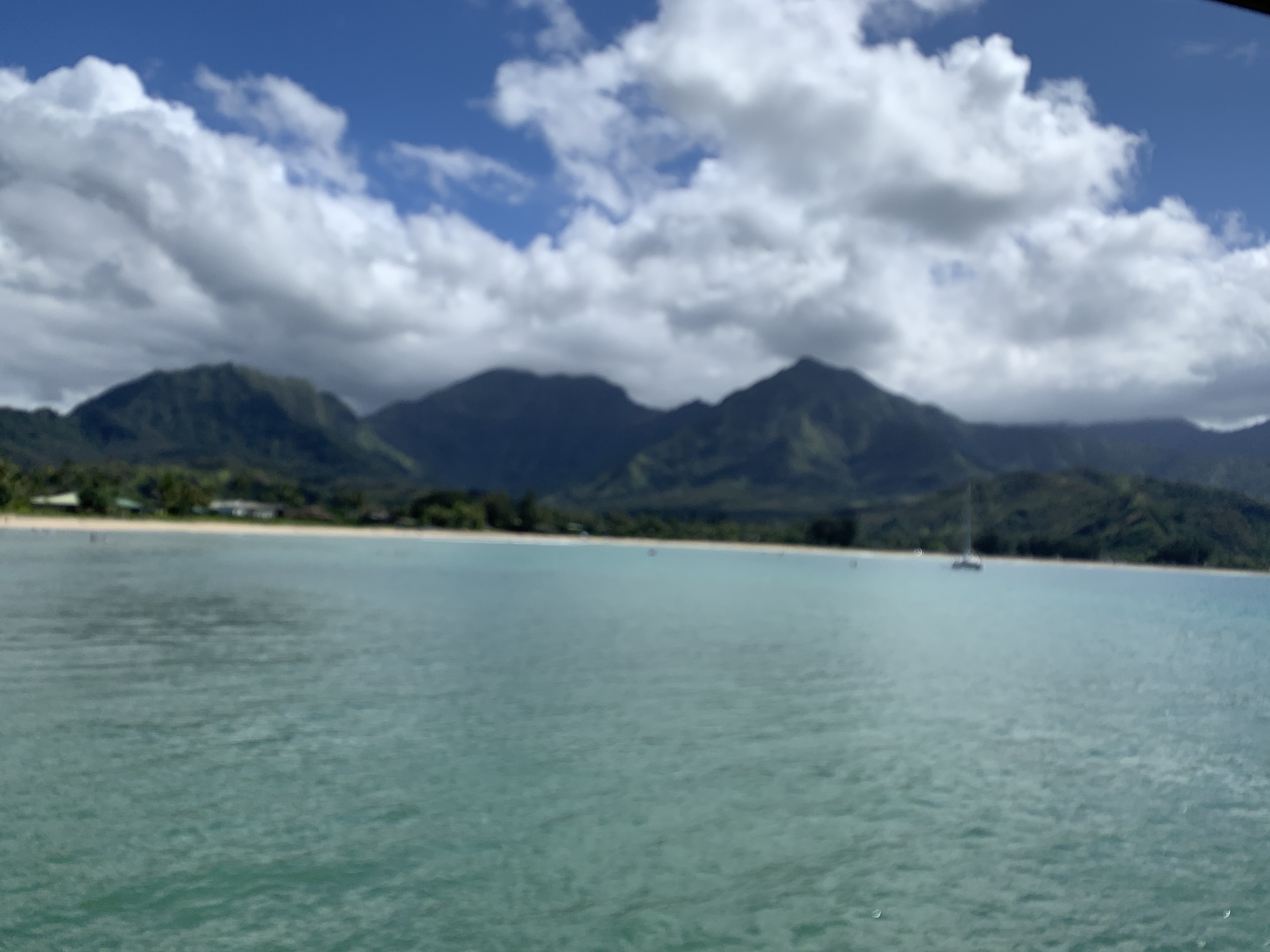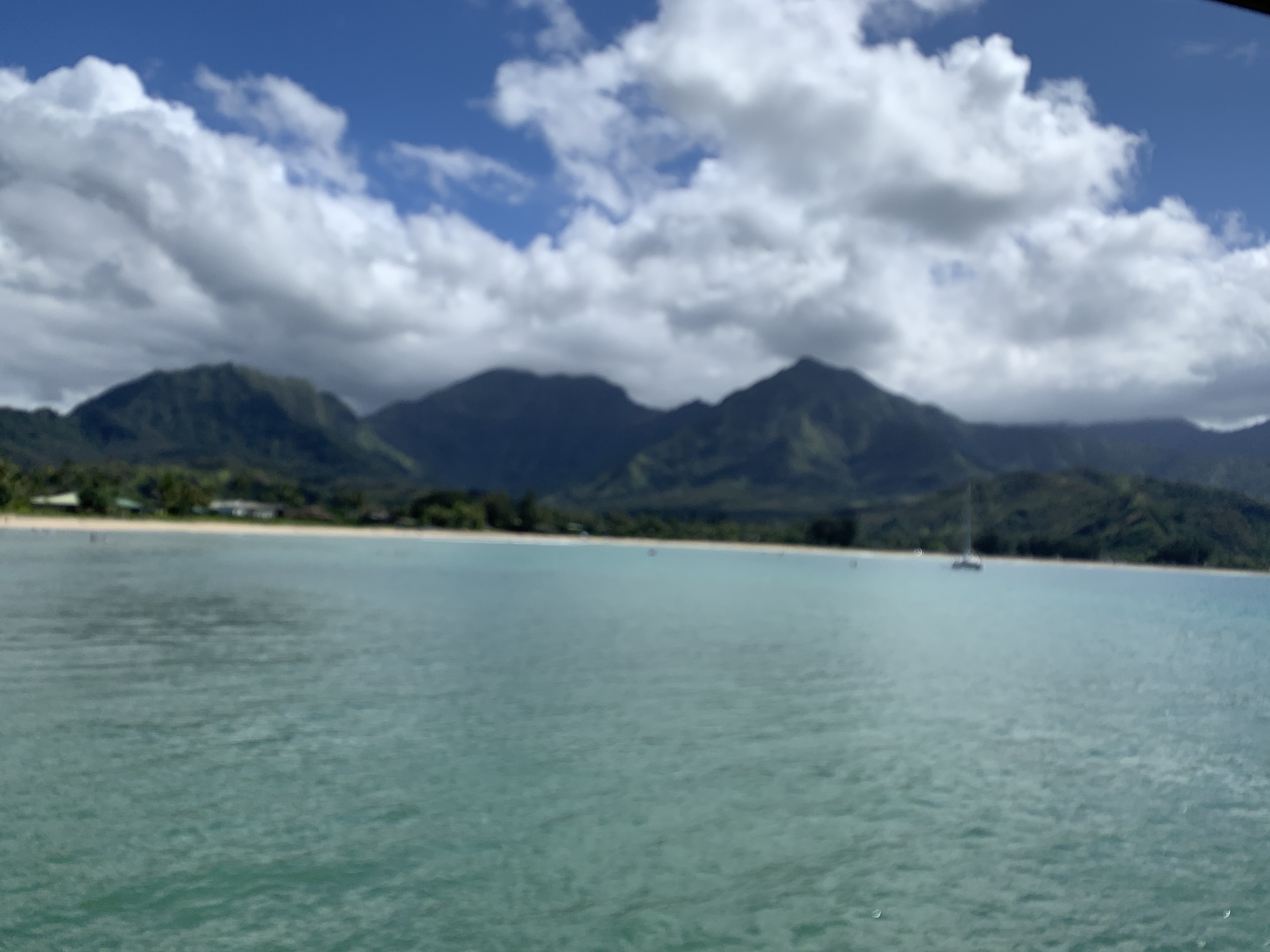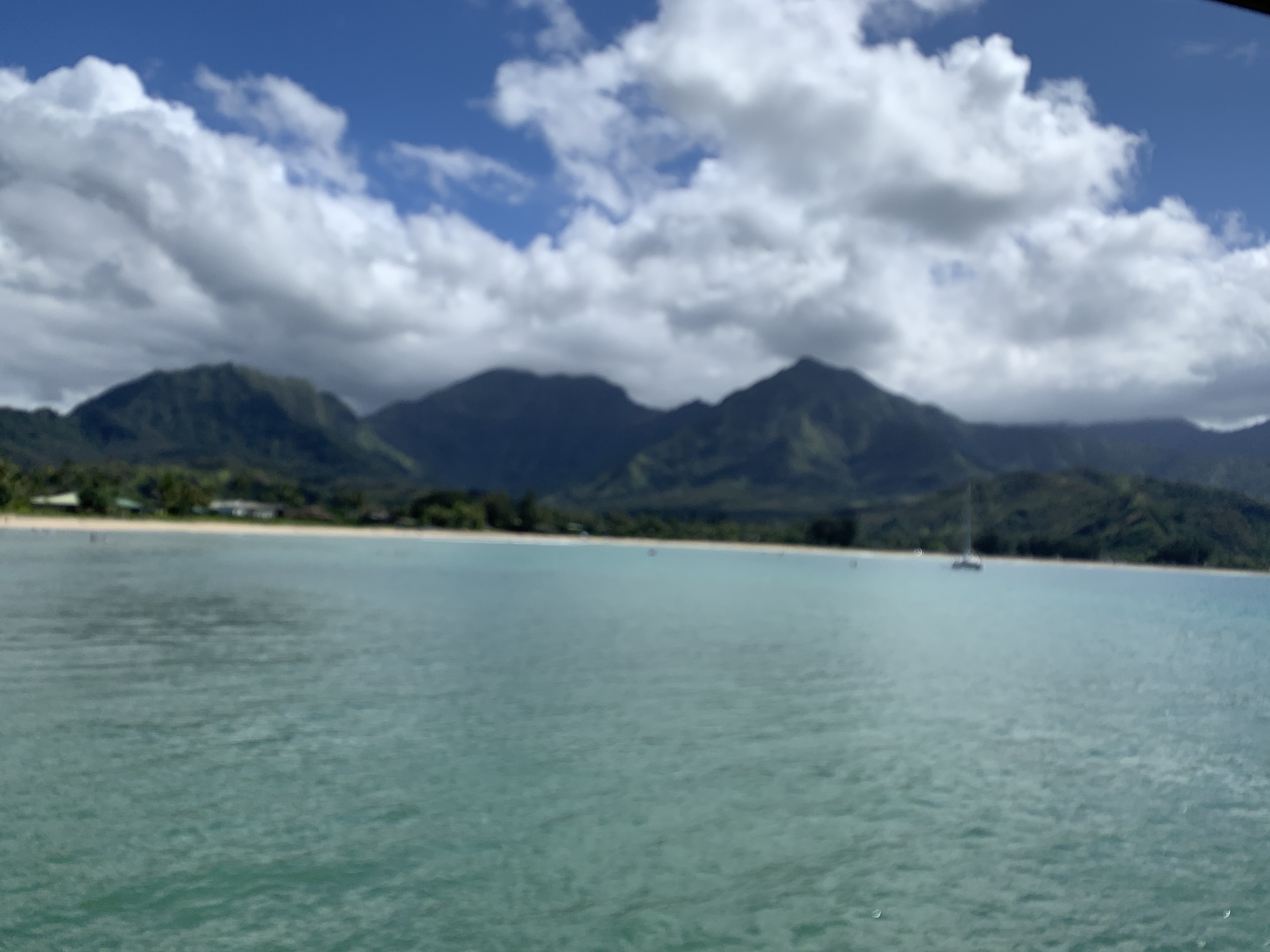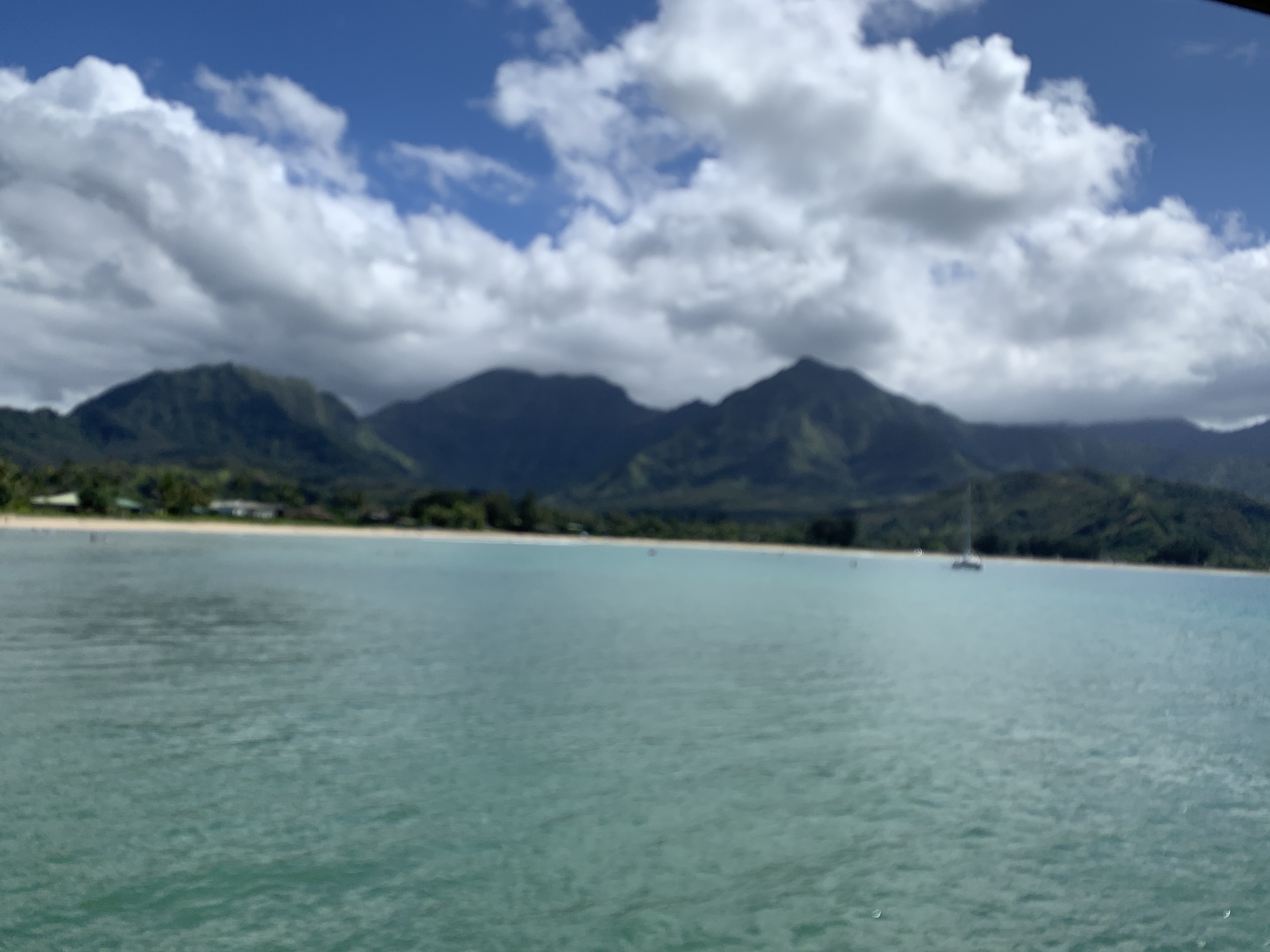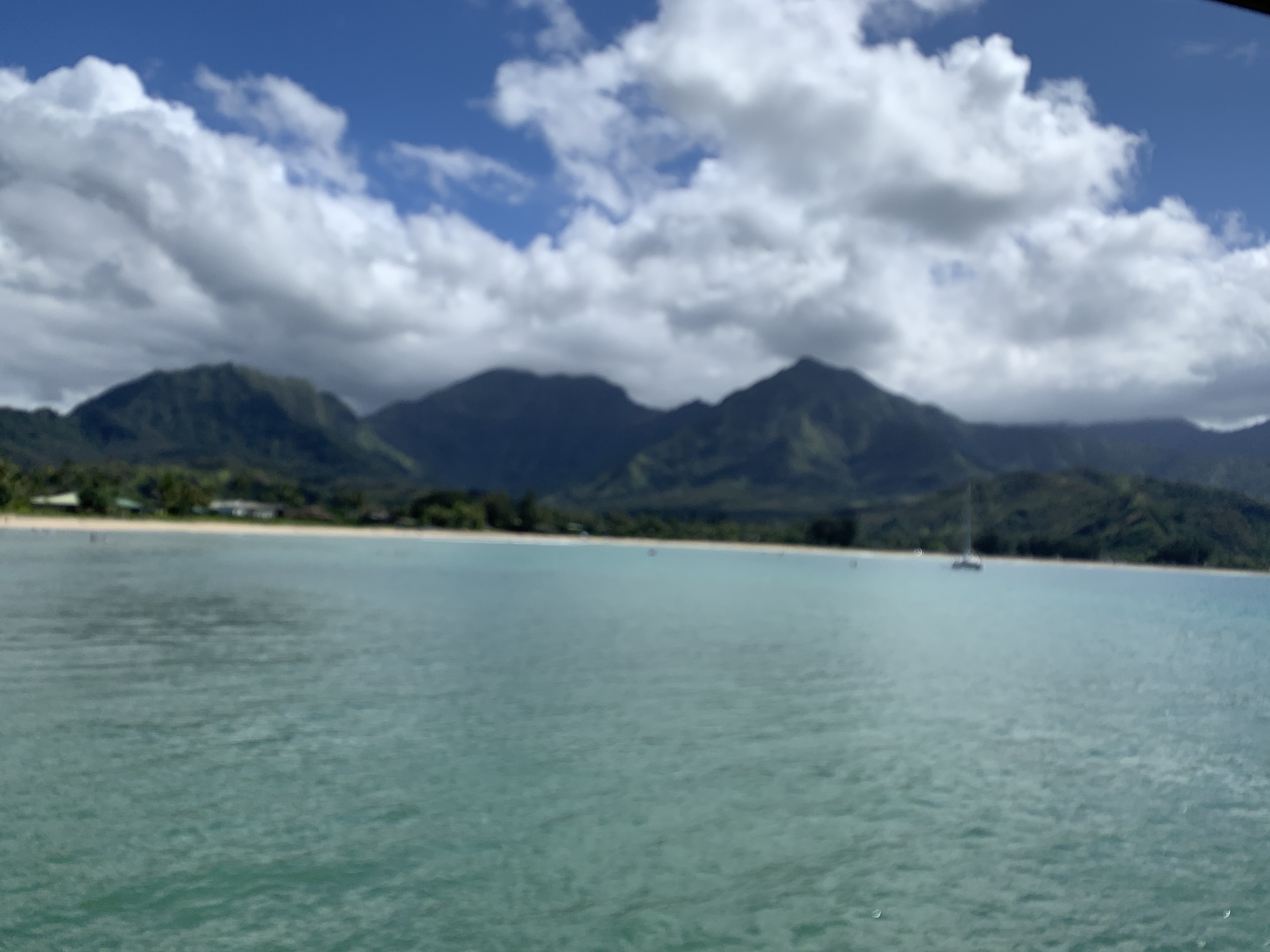 Beef like we'd never had before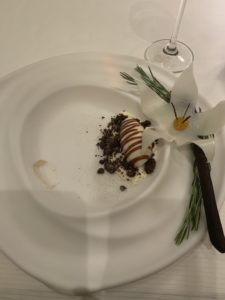 Dessert? I think so.
The dinner lasted over four hours, and we all agreed it was unforgettable. Pricey, but worth it for such an exceptional experience.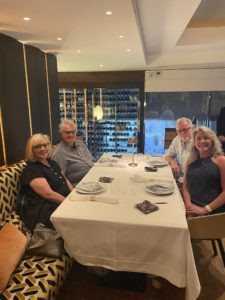 Happy, full, and joyful
The next morning we were off to a castle! This castle wine tour started badly: the van that picked us up had a broken air conditioner. The drive was well over an hour in 90+ degree weather, with no windows except in the front seat, and we were all miserable! We arrived cranky and ready to write bad reviews, but all that quickly changed upon arrival.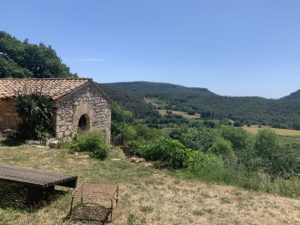 View from the castle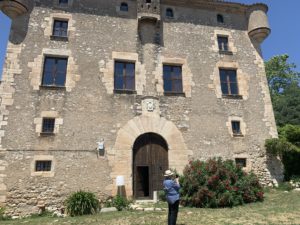 Photographer Phil in front of the castle
Castell de Pontons, which has been in our host's family since 1336, was amazing. Fernando, our host, is a trained sommelier and interior designer who is dedicated to bringing the castle up to its potential. They produce wine (red, white, and sparkling), olive oil, honey, and essential oils, along with their garden produce.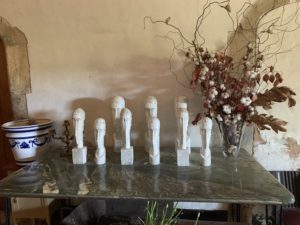 Beautiful tablescape in the front room of the castle
The experience started with a sensory experiment. Fernando foraged various herbs and had us guess what each one was. He went on to give us a tour of the garden, grounds, and vineyard, where we learned about the terroir of this mountainous wine region.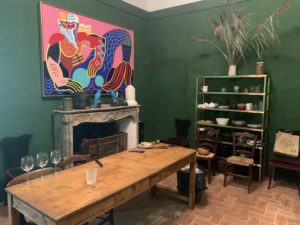 Castle kitchen
Back inside (where it was cool!), we visited the wine cellar (slightly scary) before heading upstairs for our tasting and tapas lunch.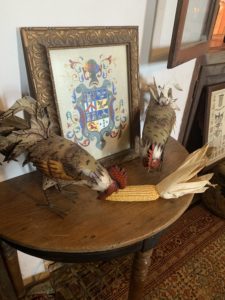 I loved all the charming tablescapes and decor features!
But wait, there's more! After lunch and wine, Albert, who lives on the property and creates essential oils, provided another sensory experience.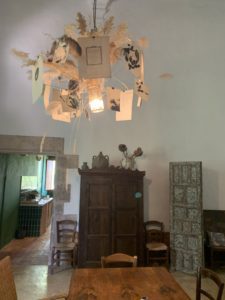 A very creative DIY chandelier by Fernando
With Albert's guidance, we sniffed each essential oil, and then we selected our two favorites, rubbed them on our hands, and shared a chime bowl meditation. We left with wine, olive oil, honey, and essential oils to enjoy at home. The drive back was just as miserable as the drive there, but we were much, much happier!
We had just a short rest and quick shower before our next adventure, a tapas crawl. Five couples met our guide in a shady square, from where we proceeded to four different tapas restaurants.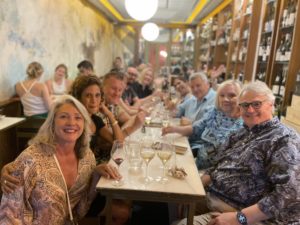 Tapas with a great group of people!
Did I mention that each of the four stops came with a glass of wine? After the crawl, all ten of us were having so much fun that we decided to go for a nightcap.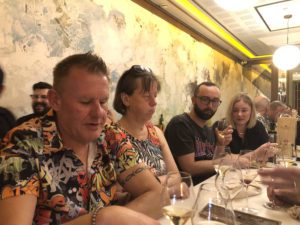 Fun tapas group, possibly overserved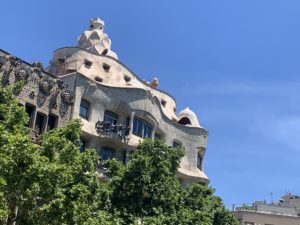 Another Gaudi building
The next day, after a final stroll and a temporary-farewell lunch with Joni and Scott, Phil and I took the train home. It was nice to sleep in our own bed, but the fun wasn't over just yet. We met friends the next evening at Smash Bar before heading to Montpellier's beautiful Gothic cathedral to hear Mozart's Requiem. Performed by the Prague Opera and the Philharmonic Orchestra of the Czech Republic, it was an unforgettable music experience.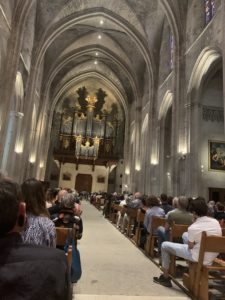 Full house for this extraordinary musical performance!
The next day Joni and Scott arrived to spend a few days with us in our beautiful city. Because of the heat wave, we didn't explore as much as we'd wished, but we had a lovely time at home.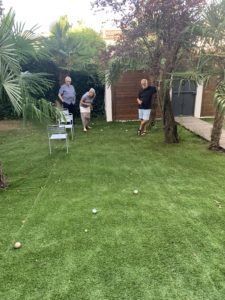 Playing petanque in our garden after things cooled off a bit
We did get out, visiting just a handful of sights and meeting friends for coffee and lunch. Joni and Scott loved Montpellier; think we could convince them to move here?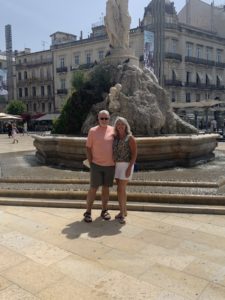 Joni and Scott in front of the Three Graces fountain in Place de la Comedie
On a particularly hot day we decided to visit the fabulous Musée Fabre, which has air conditioning! We only had time for the special exhibit, "Le Voyage en Italie de Louis Gauffier," and we were not disappointed.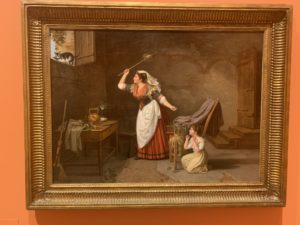 One of my favorite paintings from the exhibit. The woman is chasing off a cat that stole her bird (probably meant for dinner).
We sent Joni and Scott on their way to Amsterdam and Paris with minimal sadness, as we'll see them in Dallas in September. Later that afternoon, we met friends at the Promenade de Peyrou for petanque, followed by an apero at the lovely home of friends Ann-Li and Fredrick. We have to keep pinching ourselves to realize this is our life now–filled with travel, wonderful friends, and adventure. We are grateful indeed.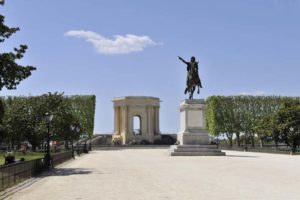 Statue of Louis IV, the "Sun King," at the Promenade de Peyrou