is austin still weird?
The Shroyers investigate.
Despite counting the days until we embark on our French adventure, we are enjoying our time in Austin. We've always loved the weird, funky Austin vibe and seek it out whenever possible.
The writing on the wall of an outdoor Austin restaurant and bar
Austin has more to offer than even full-time residents have time to explore, but now that we're in the city we've been venturing out to revisit favorites and discover new ones. We had a wonderful Sunday at the Texas Farmers' Market at Mueller. Mueller is a modern, eco-conscious planned community where we considered moving when we relocated to the Austin area in 2016. Still in development, it's grown into a robust, vibrant area with mixed-use housing, shops, restaurants, and plenty of green space. The vibe at the Farmers' Market was hip (is that still a thing?), relaxing, and hyper-focused on local, sustainable goods. We ate, shopped, and chatted with farmers and makers on a gorgeous day.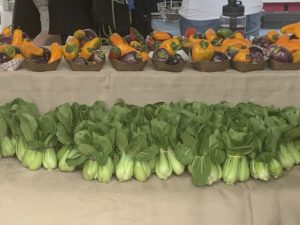 Farmers took great care to beautifully display their produce
We also enjoyed revisiting our former home, Wimberley. Drawing many artists, creators, and fine folk, Wimberley is a tourist destination known for art, monthly Market Days, and Hill Country attractions such as Blue Hole and Jacob's Well.
A little bit of heaven
On our first visit we had cocktails with dear friends Lynn and Danny, and later we were joined serendipitously by Barbara and Chip and their daughter Courtney at El Jardin, a wonderful Mexican restaurant. A few weeks later we returned to visit our favorite bar, the Long Leaf, where Phil and I enjoyed fabulous burgers and my favorite cocktail, strangely named Rosemary's Baby.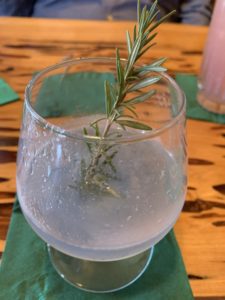 My Rosemary's Baby (well, one of two, if we're being honest)
A gin-based craft cocktail involving creme de violette and smoked rosemary, this is no longer on the menu but they'll make it for you if you ask. While we sipped, we decided to check on another favorite, community theatre group Wimberley Players. Finding the last two seats for their final production of Jacob Marley's Christmas Carol was like getting the golden egg at Easter! We loved being back in that intimate space and seeing one last production, which was just a great as all the others we'd enjoyed.
After lunch we strolled over to Art on 12, the largest gallery in Wimberley and the one where Phil used to sell his paintings. Along with several wonderful new artists, the gallery was featuring its guest show, so we got to vote for the People's Choice award with stickers. We also enjoyed chatting with several artist friends who were working or just stopping by. It was Old Home Week!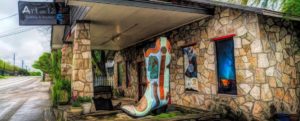 Art on 12
Back in Austin, we braved the mall for some Christmas shopping for granddaughter Cora. Everything for babies is so sophisticated now! And the clothes are just too cute.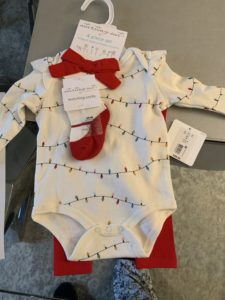 Holiday outfit for Cora
Our focus on Austin did not preclude planning for France. We secured renters' insurance and watched via video while our new Renestance consultant Lizzie did a walk-through of our apartment. We now officially have the apartment, complete with our name on the mailbox! We had to pay for December and all of January in order to secure the apartment for our January 23 arrival, which was a budget hit but worth it. Imagine our delight when we learned that it comes not only furnished, but rather well equipped!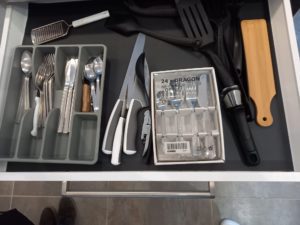 Kitchen equipment in our Montpellier apartment
We've also applied for a bank account (initially approved, but it won't be finalized until we come in for an interview with our banker). Apparently in France it takes a lot of effort to get a bank account, and once you have it you'll pay for each and every service–and you'll have an actual human being as your banker! Should be interesting. . .
We are winding down our time in Austin Home Number Two, moving tomorrow to our last and final Austin Airbnb. We made a trip to check out the neighborhood where we'll be living for the next month and were delighted to find it's very near Zilker Park and highly walkable–and funky!
We can walk to this bar from our next Airbnb!
We're planning to walk a lot more in the new place. I get bored walking in a neighborhood and find urban walks much more fun.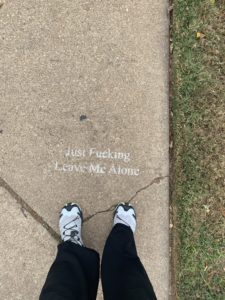 Is the sidewalk talking to me??
And strolling in Austin always yields interesting sights. Some are a bit vulgar, some are decidedly retro, but all are interesting.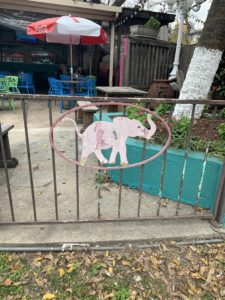 Another restaurant in walking distance
So tomorrow we begin the last chapter in our Austin adventure. We are determined to enjoy every minute. And yes, we think Austin still has some weird!
Austin yarn bombing