Like everyone else, Phil and I were getting a little anxious and depressed after more than five months of confinement. While we acknowledge our privilege–we're healthy, our family is safe, and we have enough of everything–staying home has become a bit burdensome. We have one couple with whom we've expanded our mutual bubble, getting together occasionally while socially distancing. On a recent visit we were commiserating about our ennui, and we talked about how anxious we are to start traveling again. We shared some fun day trips we'd each taken, and our friends mentioned a "painted churches" trip a mutual friend had taken.
The next day, Saturday, we decided to make this trip. We found a route outlined on The Day Tripper, filled our water bottles, and took off in the late morning. When we "roam" at home, we like to avoid major highways to better explore the area, so the entire trip took us about five hours. All but one of the beautiful churches were open, and we encountered not a single other person. Who knew there was such European-style splendor in the Texas Hill Country?!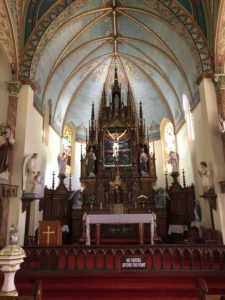 This church looks like a Faberge egg! One of the many beautiful Texas ranch gates
More recently we discovered that our friend, alcohol ink artist Tom Wiley, writes for Ride Texas magazine, where he shares interesting motorcycle rides that also entice automobile afficionados like us. Last weekend we took his "Old 9 Road" ride, with some variations. What a fun day trip that turned out to be!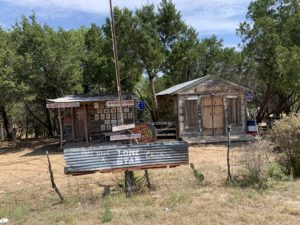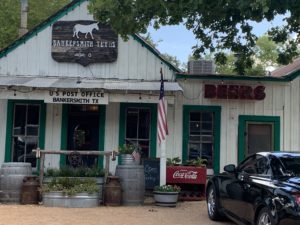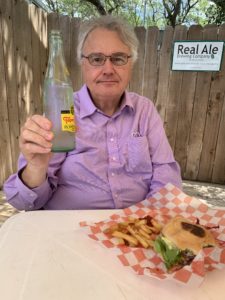 This just cracks me up! Post-pandemic, we'll go inside! Best burger in Texas?
Having rediscovered day trips sans shopping, other people, and inside dining, we've decided to copy our friends the Wileys and have a day trip adventure ("Roam from home"?) every weekend until we can Roam again in earnest. Time to make lemonade from these lemons!