Our approach to spending money has already changed since we made the big decision to roam in retirement. For example, recently I saw a nice silk forsythia wreath on sale. My love for forsythia as the first harbinger of spring in Oklahoma, where I grew up, was handed down by my mother, who never met a flower she didn't like. I have some of her silk forsythia branches in my house. And I've always wanted a wreath like that. But nope! I saw it, wanted it, and then said, "I'd just have to get rid of it in two years, so why buy it?"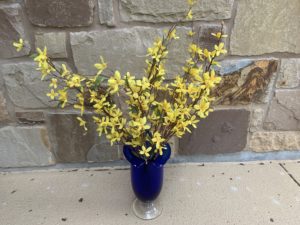 My mother's silk forsythia. The vase was also hers!
That got me thinking about all the things we won't buy as roamers: household goods, home décor, tools, lawn equipment, plants, fertilizer, light bulbs—you get the idea. So I decided to make a list and see what our potential savings might be.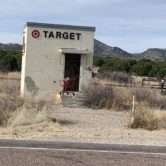 Shopping at Target: "I'd just have to get rid of it in two years, so why buy it?"
For that, I turned to Personal Capital, which is where I track all of our financial information. It's free and secure, and it keeps me precisely informed of our financial situation —especially during tax season, when I simply download all our tax-related expenses. I decided to look at the past two years and find expenses we won't have as roamers. Here's what we spent in 2018-19 that we won't spend as roamers:
Home improvement. We invested a lot of money in our home, including furnishings, landscaping, and renovations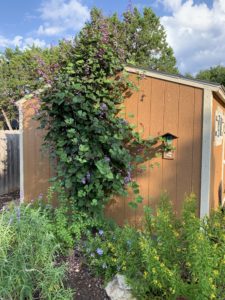 A section of our garden
Automotive. We bought a used car in 2018, plus regular expenses for two cars.
Property tax. (We plan to sell our house before we start roaming).
Home maintenance. Every-other-week house cleaning, replacements for things that wear out, toilet paper, etc. Well, we'll probably still need to buy toilet paper.
Electric, water, propane, pool chemicals for the swim spa we never use (Nope, I'm not bitter about THAT purchase).
Gasoline/fuel. We'll still have some of this for times when we're using a rental car.
Homeowners and appliance insurance.
Cable/internet.
Work clothes. I won't need two wardrobes!
Pet care. This one breaks our hearts, because since we can't turn Baxter into a roamer, we'll have to find him a new staff. More on that later; I don't want to think about it right now.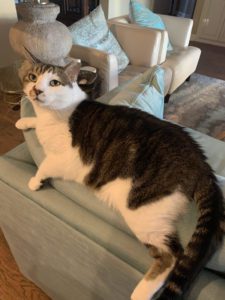 Baxter-not a fan of roaming
So that comes to quite a bit that we won't spend as roamers! Granted, even without roaming we wouldn't continue to pour money into home improvement, and we wouldn't buy a car often. But even without those items we still would save enough to buy a lot of travel!