un an plus tard…
The Roamers reflect on a year in France
Wow, today we are celebrating our one-year anniversary of living in France! It's been quite a year. A year is a long time, and yet it's hardly any time at all, we've learned. One year ago today, we landed in Montpellier, jetlagged and excited. We took a taxi to our new home, which we'd never seen, where we were greeted by Renestance consultant Lizzie, as well as our new propriétaires (landlords), Charbel and Jacqueline, who would become lovely friends.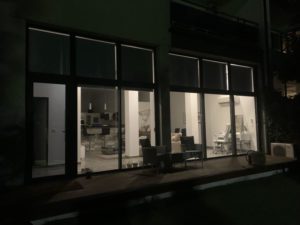 Coming home one evening to our beautiful furnished apartment
We arrived on a Sunday during COVID, so after being welcomed to our apartment our first stop was the only open pharmacy, where we obtained our Cartes Sanitaires, without which we could not enter a restaurant terrace. We enjoyed a quick dinner on le Place de la Comédie and crashed in our new space.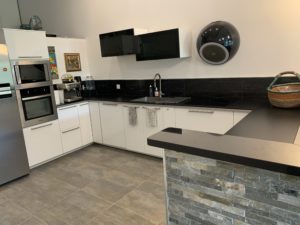 Our apartment's kitchen
Settling in was the first order of business. We bought sheets, towels, and groceries, applied for our TAM senior cards, which entitle us to free public transportation, enrolled in French lessons, met up with other English speakers for coffee, reconnected with the friends we'd made on our reconnaissance trip, and began to explore our new city.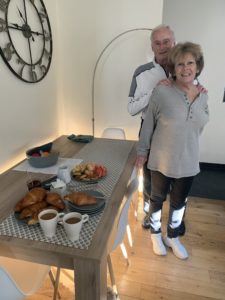 Our friends Gwen and Tom invited us for coffee when we arrived
After roaming in the U.S. for a year and a half, we were not about to stop traveling! So we kept it up. In our first year in France we have visited Bordeaux, Nice, Avignon, Sète, Aix-en-Provence, Rouen, Honfleur, Bayeux, Nimes, Monaco, Saint-Paul-de-Vence, Cannes, and a few others I've forgotten. Yes, we have been to Paris several times, but only in transit.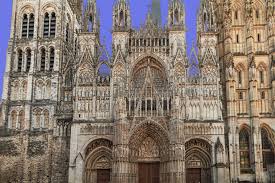 Rouen Cathedral, one of our favorite Roaming sights
We've traveled a lot outside of France as well. Over the past year we've visited Barcelona, Stockholm (twice), Southampton in the U.K., Norway, Northern Ireland, Ireland, the Azores, Italy, and in the United States NYC, Austin, Dallas, Oklahoma City, and my hometown Ponca City, Oklahoma. We took a 15-day transatlantic cruise that was amazing. Honestly, we are a tiny bit travel-weary and plan to roam a bit less in 2023.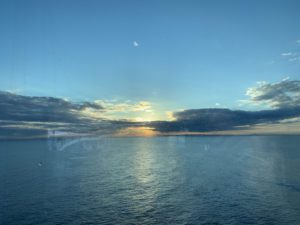 Cruise sunset
One thing that amazes us is the circle of friends we have here in Montpellier after only a year. Many are Americans, but we have friends from France, Lebanon, South Africa, New Zealand, Ireland, Tunisia, England, Scotland, Ireland, and elsewhere. There are more social gatherings than we can attend, and we have loved entertaining our new friends at home.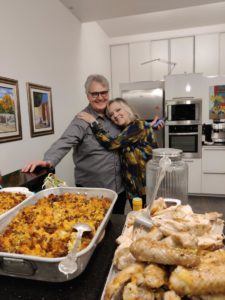 Hosting our first French Friendsgiving
One day in January we had two parties, one for the women, co-hosted by Renestance and friend Tracey, and one for the men. I attended the galette party (many king's cakes were served), while Phil hosted some of the guys.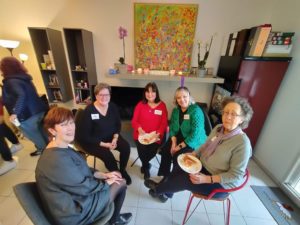 Galette party. Over 30 women attended!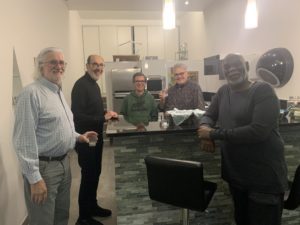 Guys' party. They forgot to serve the king's cake!
We have loved exploring Montpellier. Simply walking through the medieval streets is a treat. We've also taken advantage of the many cultural opportunities here, including the amazing Musée Fabre, the photography museum Pavillon Populaire, two operas (Tosca and Aida), a Mozart concert with our local orchestra, and an organ concert in the Cathédrale Saint-Pierre de Montpellier. We even attended a delightful small piano concert at a local bar/restaurant.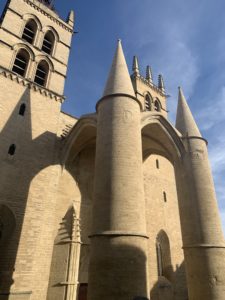 This cathedral, built in the 1300s, offers free Friday evening organ concerts.
We also enjoyed hosting several house guests in our first year. Dear friends Pilar and René spent several fun-filled days with us in May–and they bought us a pétanque set! This lawn bowling game is very popular in our area, and we've had great fun playing in our garden. Friends-who-are-family Joni and Scott spent a few days with us in early June, and it was wonderful! Next up were Nancy and Tom, our friends and in-laws (our daughter is married to their son). It was very hot during their visit, so we had to curtail our walking a bit, but we managed to have a wonderful time together. And they brought us Tex-Mex goodies! In July we hosted Phil's college friends Gayla and Trish for a week. Unfortunately, COVID decided to visit Gayla the morning after they arrived, so the visit was not ideal, but we still managed to have fun. I cooked, Trish loved sketching in the Jardin des Plantes, and on the last day of their visit Gayla was able to do an informal walking tour of the city.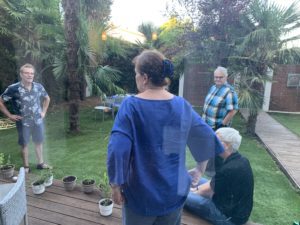 Playing pétanque in our garden
We had planned to buy a car after a month or two, and we hoped to find a used electric vehicle. When that proved impossible, we ordered a new electric car. That was in March. Ten months ago. After countless delays, apparently due to the parts shortage, we gave up and bought a different car, which we just picked up last week. It's larger than I'd hoped for, and the turn radius is poor, but it's beautful and should be great for road trips. Already we've discovered how narrow many roads are, and don't even get me started on the tiny parking spots! Phil has received his French driving license, but mine is delayed. Apparently I colored outside the lines on my signature, so of course I have to start over from scratch!
New car!
We arrived in France with a plan to rent our furnished apartment for a year, then decide whether to rent long-term or buy. Buying won out, and with the help of Dennelle from Renestance, we have found our next home. Have I mentioned that things move slowly in France? Our offer (full price, cash) was accepted December 5, and only last week did we sign the compromis de vente, which starts the purchase process (after a ten-day cooling off period!). We're hoping to close in late March or early April, after which we have some renovations to complete before moving in.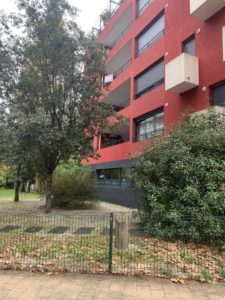 Our new apartment building. That tiny white sign on the left is on our balcony.
Our American friends will be asonished at the size of our new home: less than 900 square feet! We've lived in 3600 square feet, and our last house in Wimberley, Texas was the smallest to date: 2200 square feet. But homes in France, for the most part, are smaller than in the U.S. This apartment has two bedrooms, 1.5 bathrooms (or it will when the renovations are done), and a large balcony. That's all we need!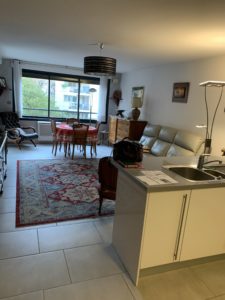 The new apartment
One goal for 2022 that we failed to achieve was living within our budget. We have rationalized that, of course (I tell people that my university minor was rationalization), by realizing that we were actually under budget except for excessive travel expense. For this year we've increased the travel budget, but kept it below what we spent in 2022.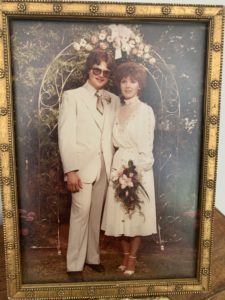 This picture has roamed with us everywhere!
So we are closing out our first French year with immense gratitude, respect for the wonderful, kind people of France, and some new goals: improve our French, move into our new home, visit granddaughter Cora (and her parents), explore more of France, and continue to appreciate and enjoy every moment of this wonderful life we're so fortunate to be living. My wish for everyone who reads this is that you have the best year yet. Remember: life is short, so do it now!