a quick trip to bordeaux
Marriott free nights: use 'em or lose 'em!
We have been traveling a lot. So much, in fact, that we thought we'd take a break and stay home before the arrival of our first house guests in late May. However, I had two Marriott free nights expiring in June, and our only available dates to use them (retirement is BUSY!) were May 8-10. We chose Bordeaux (close enough for a two-night trip, a place we wanted to revisit, and offering an eligible Marriott property). We set off early Sunday morning for the train station.
We made it to Beziers before an unscheduled stop, due to the tragic death of a person who apparently jumped in front of another train. Our train was delayed three hours, and upon arrival in Bordeaux our tram was delayed 45 minutes due to an accident. Phil might want me to add that I walked us across the wrong bridge, causing another 30-minute delay. Hot, tired, and a bit shaken, we finally arrived at the Moxy, where we were greeted with a refreshing cold herbal tea shot. We quickly unpacked and headed to dinner atop the next-door Renaissance.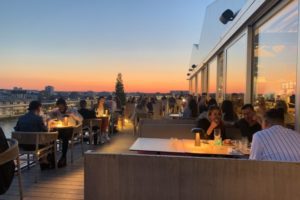 Sunset dinner: mediocre food, but the view!
The next morning we set out to explore this beautiful place. Bordeaux is a city of Haussman-style buildings, flower-filled parks along the river, and way too many interesting things to explore in two days.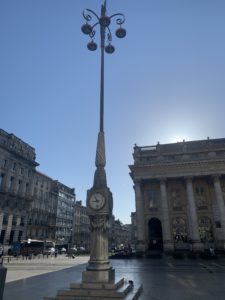 I was fascinated by the beautiful street lamps of Bordeaux
There were so many interesting things to see along our walk for coffee: monuments, fountains, intriguing shop windows, and historic sights.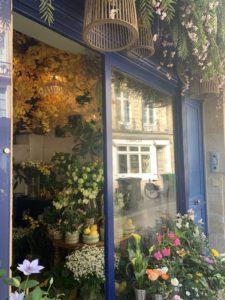 A peek into a floriste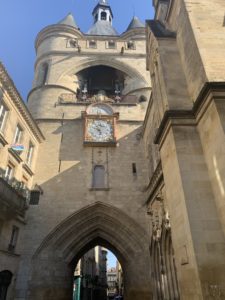 One of four still-standing Bordeaux gates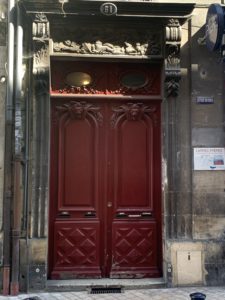 Just a random beautiful door
We spent the morning strolling the city, stopping for a quick lunch at a salad chain before joining our St. Emilion wine tour group. Hosted by the knowledgeable Sonia, eight guests enjoyed a wonderful afternoon in this esteemed wine region.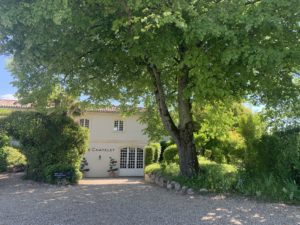 Lovely grounds of the Chateau Chatelet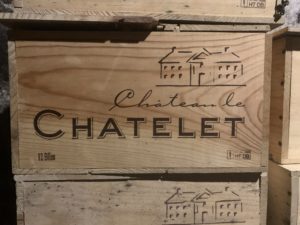 Grand Cru Classe
We enjoyed tastings at two wineries, one Grand Cru and one Grand Cru Classe, where we may or may not have bought wine to take home. We also explored the village of St.Emilion, home to only 300 people but visited by over a million each year.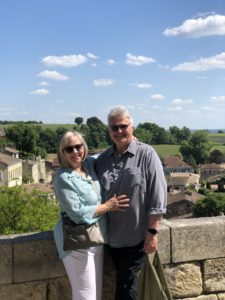 The Roamers enjoying the view from St. Emilion
St. Emilion has a gorgeous church and cloister. During the French Revolution, Sonia explained, all the priests and nuns were forced to leave, but the cloister has been preserved and is still beautiful.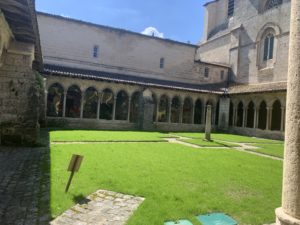 Cloister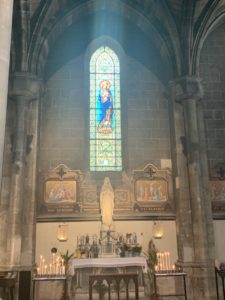 One of the beautiful church altars
After the tour we stopped for a cocktail while we considered dinner options, which are quite limited in France on Mondays. We opted for BIG Bistro Girondin and outdoor seating, where we enjoyed a delicious meal and excellent people watching. We shared a wonderful and unusual appetizer, oefs parfait aux petits pois et chorizo, Phil had braised pork, and I had skate, we had a couple of glasses of wine each, and Phil had a caramelized pineapple dessert. The tab? $83.44.
The next morning we stored our bags at the hotel and walked to the oldest bakery in Bordeaux, Au Petrin Mosisagais, where owner Serge Combarieu still bakes traditional Gascon bread (we brought a loaf home!) in the original 1765 oven. We enjoyed a wonderful petit dejeuner there, facing the mural of Serge and his family.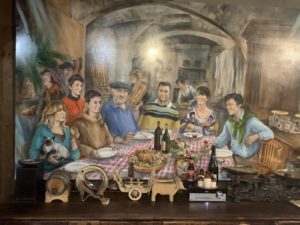 Mural of the baker and his family
We watched Serge carefully place dough in the oven, which must always be kept hot, as we munched on his delicious bread and croissants. If you ever get to Bordeaux, this bakery is not to be missed!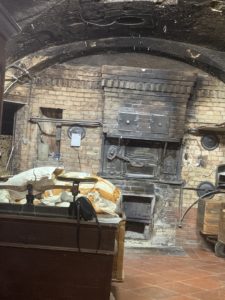 The oven
After breakfast we strolled the city, enjoying window shopping and stopping for more people watching at a cafe before heading to the public garden. We watched a man feeding the ducks and geese, calling each by name and feeding them from his hands.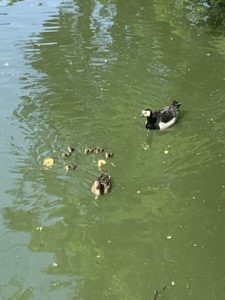 Ducklings!
We didn't have time to fully explore the park, so it's on our list for the next visit. It's beautiful, interesting, and a great place to just stop and listen to the sounds of nature.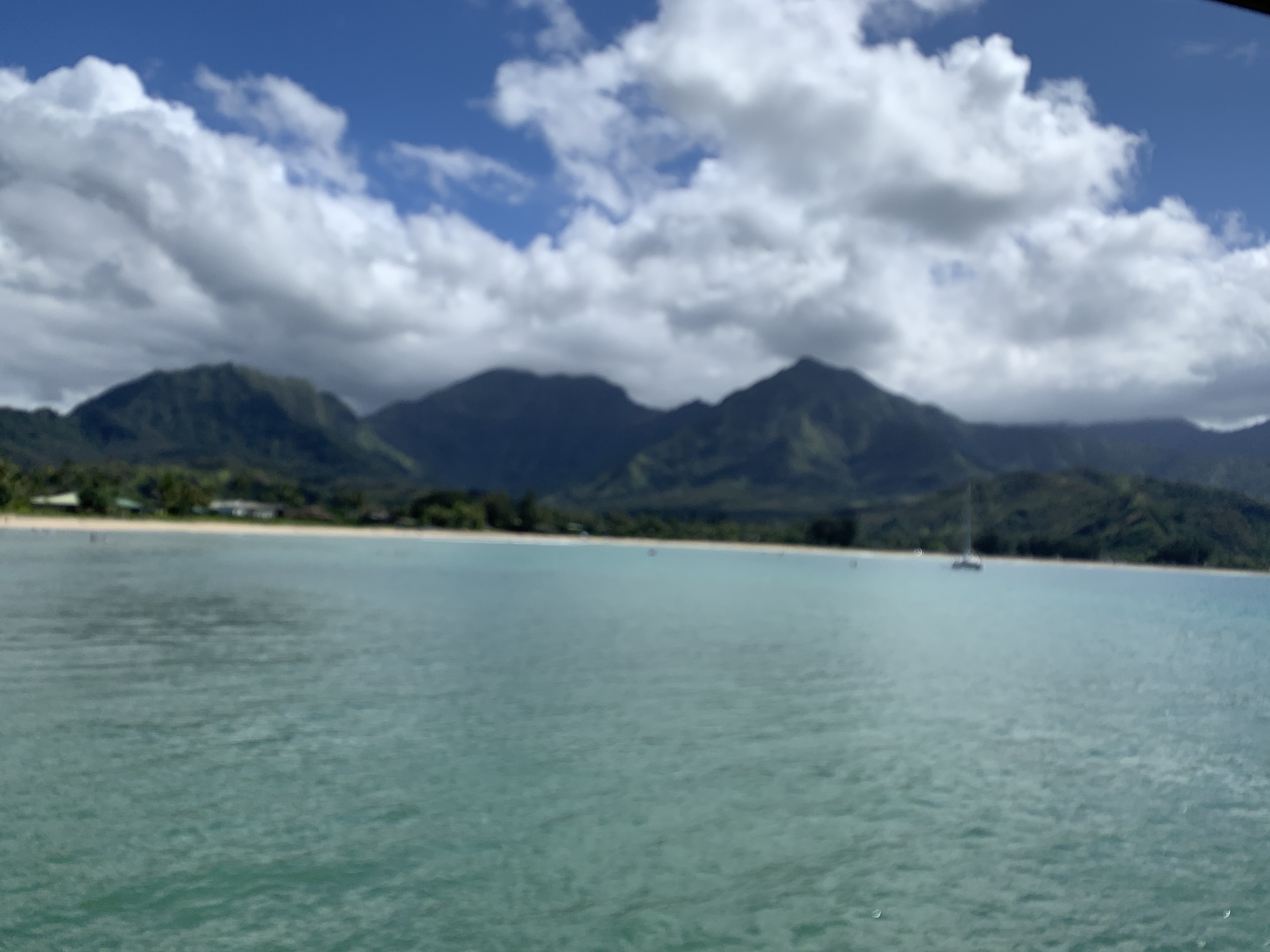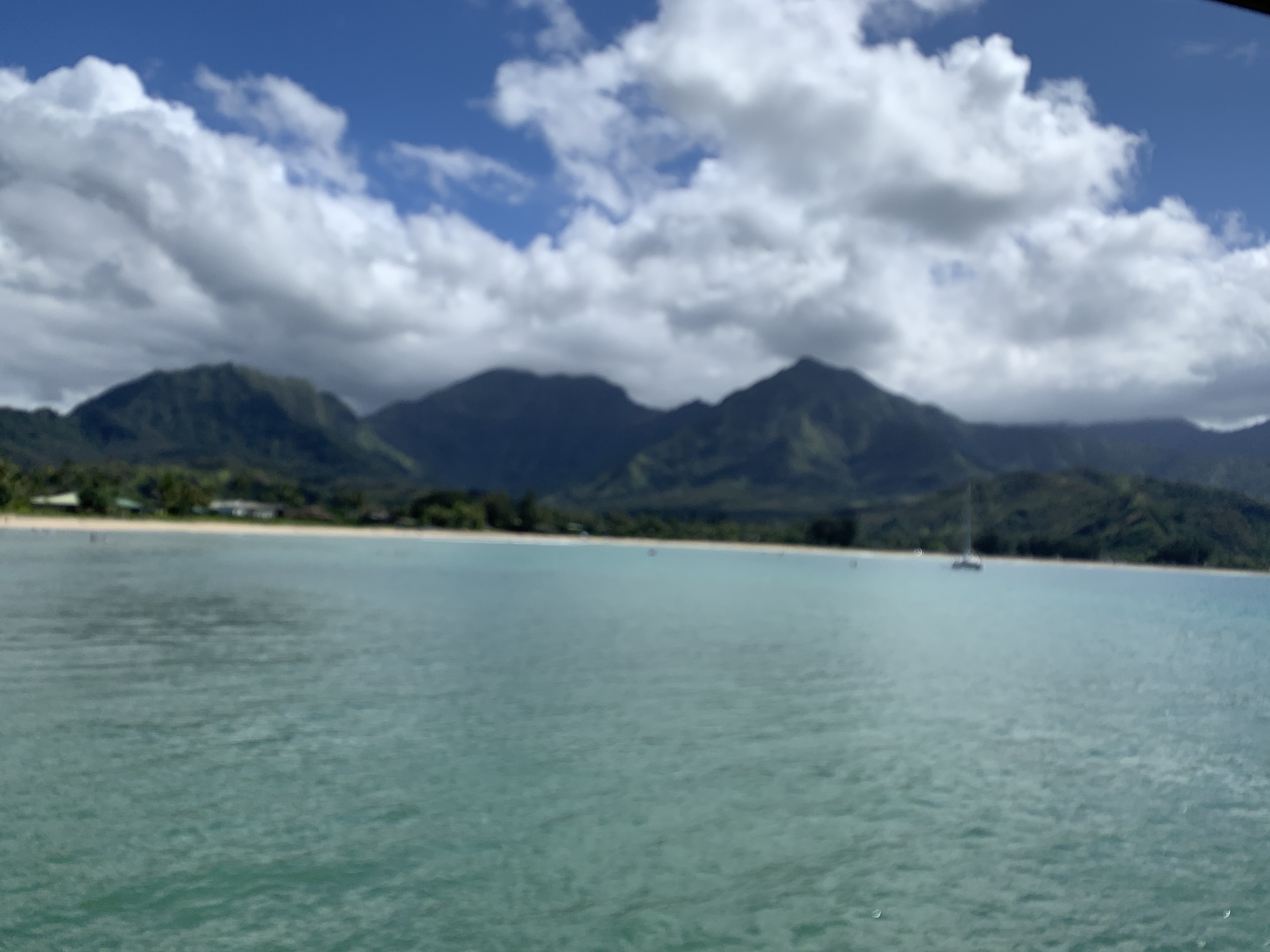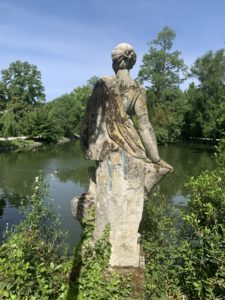 Statue of Juno overlooking the pond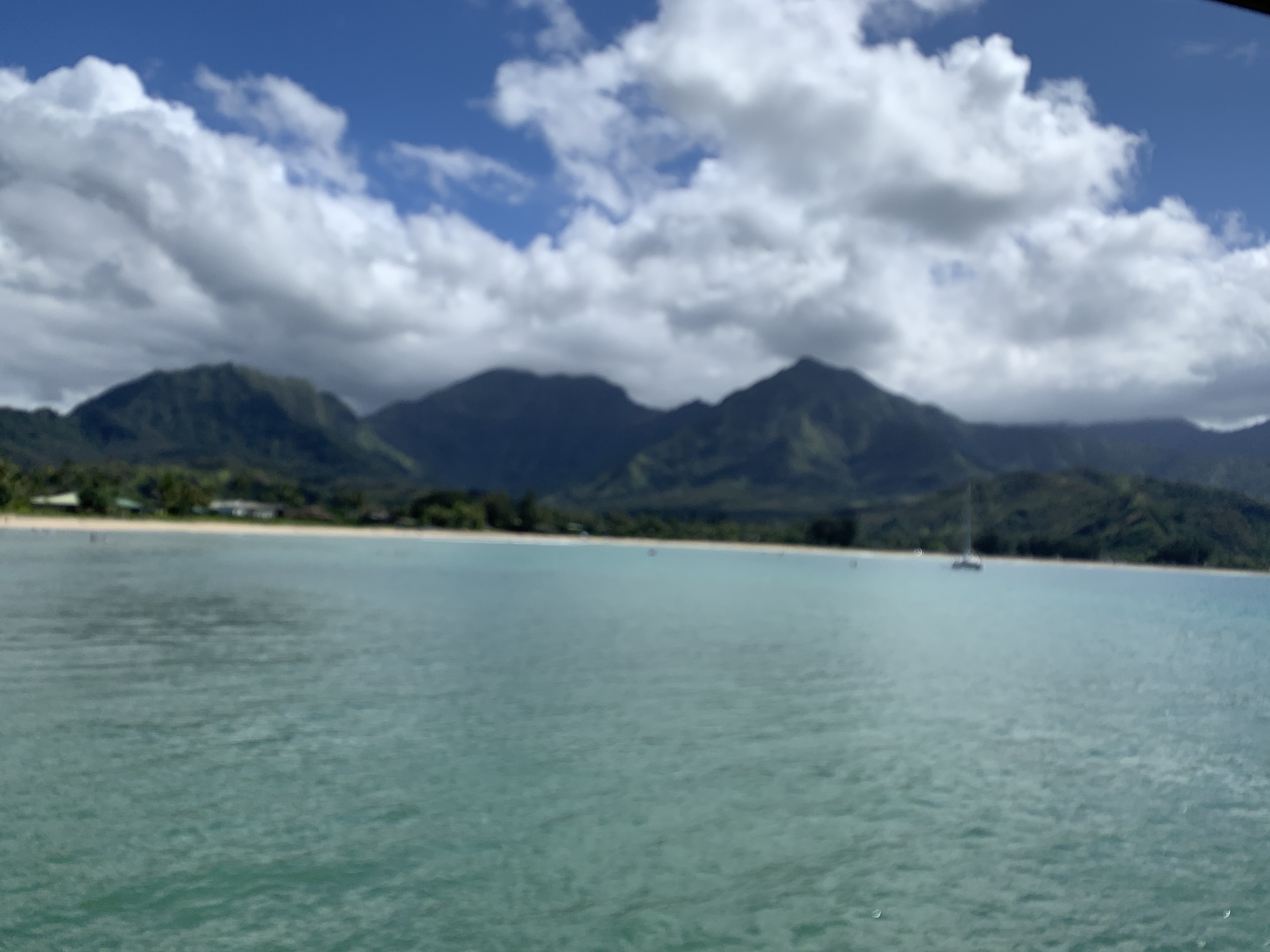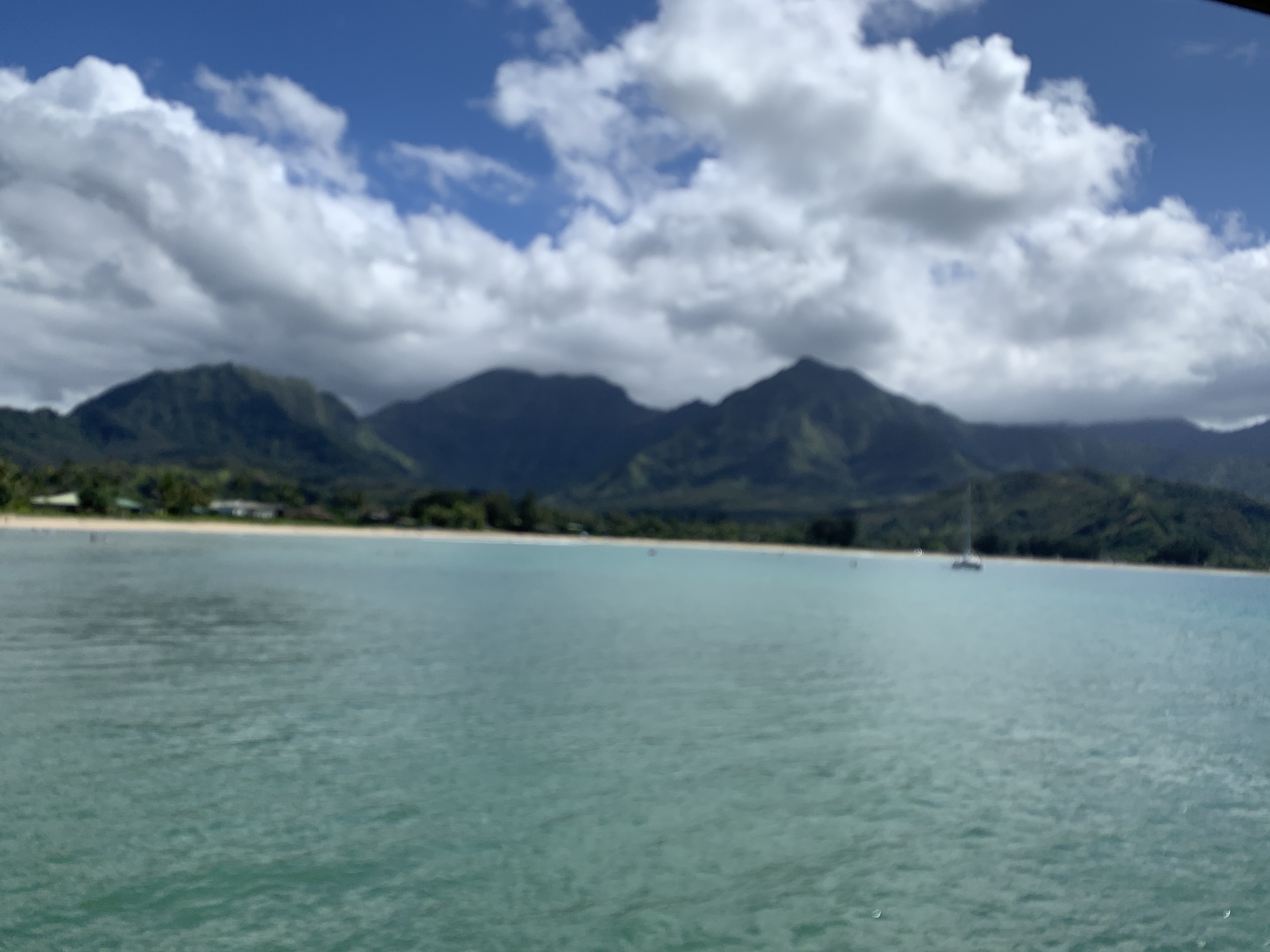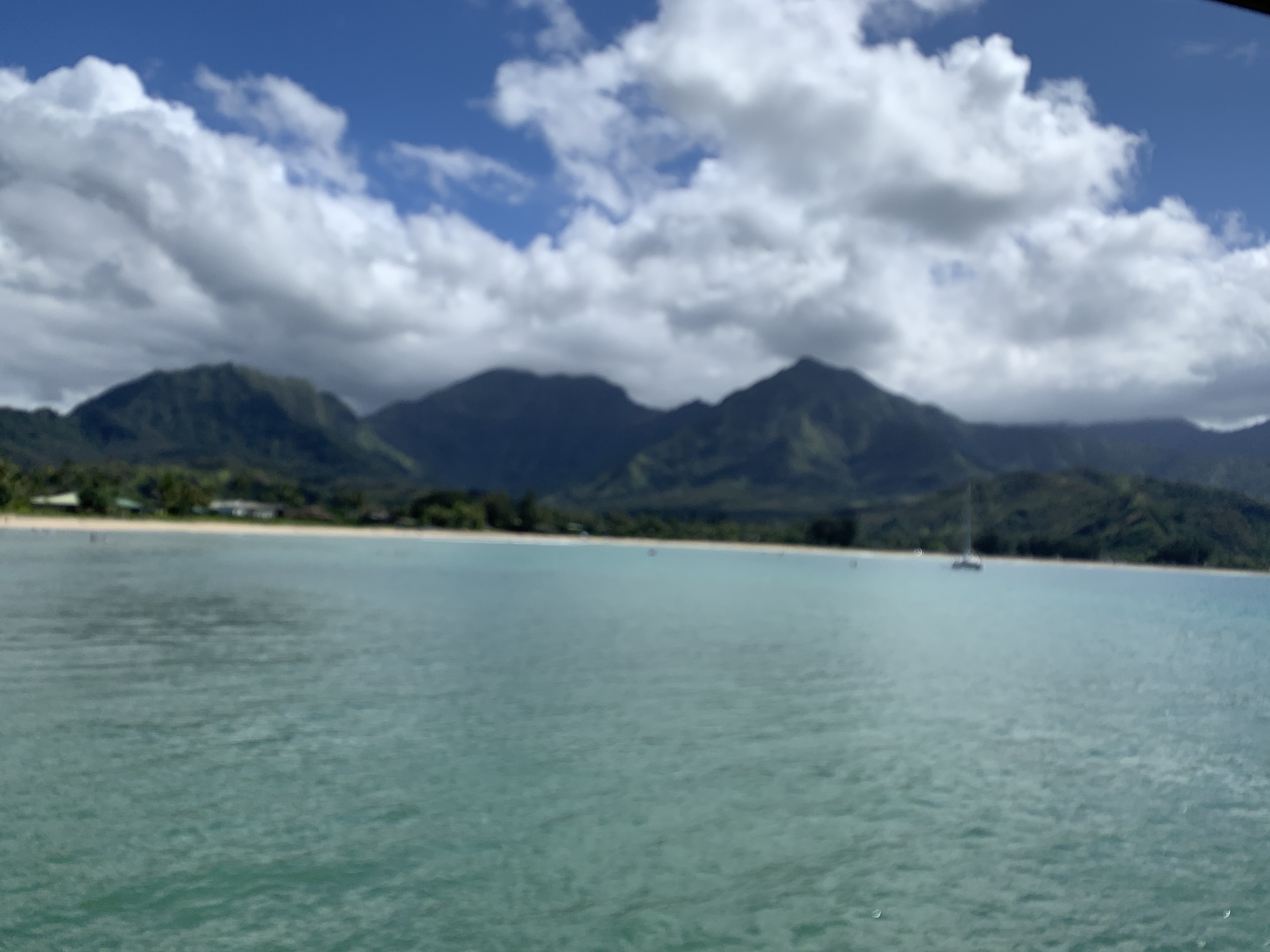 Why didn't we have time? Because we had booked a unique lunch experience: Demystifying Duck! Hoted by the fascinating Kim Freeman in her lovely house, this was a hands-on cooking experience where I prepped as she prepared a special lunch featuring duck, a Bordeaux specialty. Kim is an American magazine editor, designer, and photo stylist who lived and worked in Paris and New York and now lives in Bordeaux. She hosts Airbnb guests, leads food and market tours for cruise passengers, and hosts a variety of culinary experiences in her home and garden.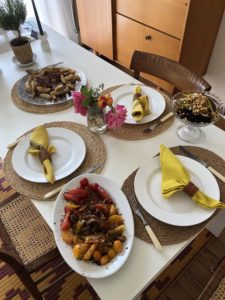 Lunch!
Our lunch featured duck breast with apples and pears, Thai black rice with leeks and toasted hazelnuts, a tomato salad with duck crisps, and berries with cream for dessert. Everything was delectable, matched only by the fascinating conversation. We left feeling that we'd made a new friend!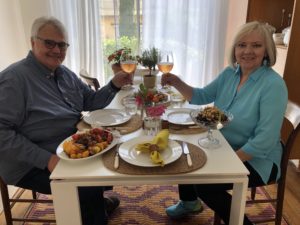 Happy Roamers, photo by Kim
And then it was time to go. We left Bordeaux with wonderful memories and plans to return. We continue to be gobsmacked by our good fortune and have to pinch ourselves; we are really living this life in France!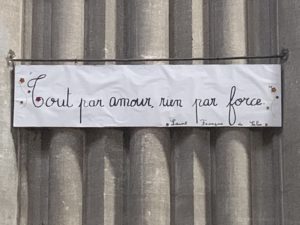 Wonderful words in the St. Emilion church: "All by love, nothing by force."