spring has sprung!
Our first spring in Montpellier
Upon our return from the Italy trip, we experienced a bit of rain. In Montpellier it tends to pour, but not for long; it's not unusual to venture out with umbrellas unfurled, only to wish we didn't have to lug them around in the sunshine. But the damp days were short-lived, and they yielded our first temperatures in the 20s (20 degrees Celsius is about 68 degrees Farenheit). Phil has been very patient with me as I've stopped on our walks to take pictures on PlantNet to identify various flora.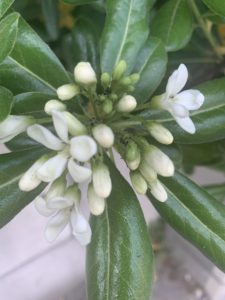 European Privet has a light floral fragrance with a note of citrus.
And what better way to celebrate spring than hosting a coffee? I invited a few friends for a mid-morning coffee last week. What an easy and fun way to entertain! The only thing I made was this coffee cake, and setup and cleanup were easy peasy. Several guests had not met before, so new friendships were initiated. I'm so grateful to have friends to invite!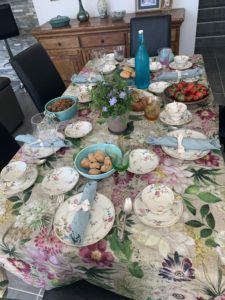 Table set for coffee
One thing I loved about our little soiree was that half the table conversation was in French, and the other half was in English. I tried very hard to follow the French portion, but it was nice to revert to English for a break.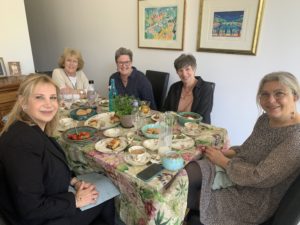 Bilingual coffee chat
My lovely friend Gwen, who loves flowers perhaps even more than I do, brought me the cutest plant. I have acquired six plants now, and all but the chives seem to be surviving fairly well (apparently chives expect regular water. . .). Tomorrow we're headed out to buy pots and potting soil to give these babies larger homes.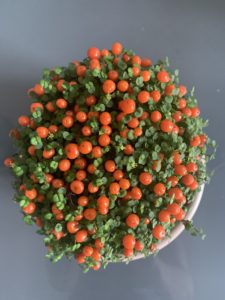 The instructions say "Keep my head dry."
A highlight of my week is Thursday morning coffee with a lively group of English speakers. This group grew out of the Facebook group "Long Duck Ladies," which was started by Renestance founder Dennelle Taylor Nizoux. We sit outside on the Place de Marche des Fleurs, at Cafe de la Mer. Last week we stayed until almost 1:00, and then six of us continued on to lunch at a tearoom/restaurant recommended by friends Tracey and Bobby: La Maison des Chats. Six cats reside there for the guests' petting pleasure. I can't even describe the decor, you'll have to look at the website. They serve beautiful tartines (open faced sandwiches).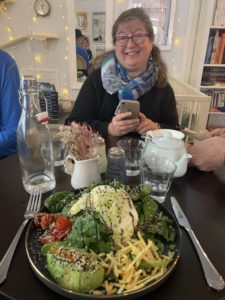 My tartine, and my friend Nathalie
We were all too full for dessert, but guess what came with Phil's tea?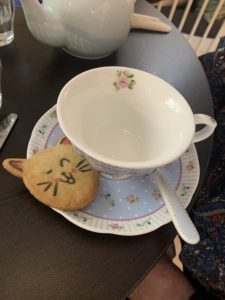 Cat Cookie!
Spring is also a wonderful time for outdoor markets, and we have a great one in a neighborhood called Les Arceaux, named for the ancient aqueduct that runs through it. On Saturday we loaded up, because the next day, May 1, is a major French holiday when even the restaurants and grocery stores are closed.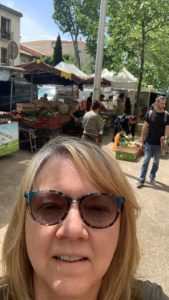 At the market
May first is a double holiday in France: it's la Fete du Travail (International Workers Day, aka Labor Day), and it's also la Fete du Muguet (May Day). It's the only day of the year when workers must all legally be given a paid day off, so almost everything is closed. It's also the only day of the year when anyone can sell flowers on the streets, tax-free and without a license. The tradition is to give muguets des bois, or lily of the valley, to friends and family. We decided to stroll through the Jardin des Plantes, a botanical garden founded in 1593 by Henri IV.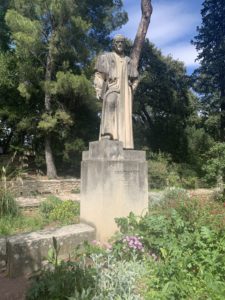 Jardin des Plantes
After walking to the garden and then walking through it, we were tired and thirsty! So we were delighted to discover that our favorite nearby cafe was open. We stopped for an apero before walking home (did I mention the buses and trams were not running on the holiday?).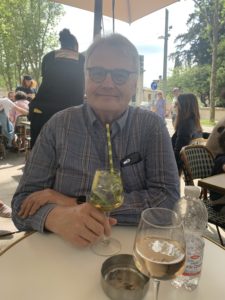 Outdoor apero on May Day
On the way home, we stopped at our neighborhood florist to buy a muguet plant. Since it's a symbol of friendship and luck, I gave it to Phil and then he gave it to me. It's hard to imagine how we could be more fortunate!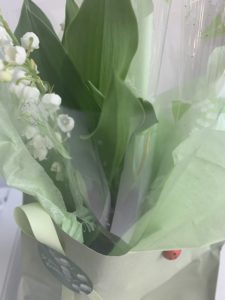 Our little good-luck plant