cape cod II
Counting down to Georgia
We've now been on the Cape almost a month, and we'll be leaving soon. The time has flown, but we've been able to do most of the things we'd hoped for despite the pandemic. I took vacation our first week here, and we had the four-day Thanksgiving holiday, so we've had plenty of flexibility.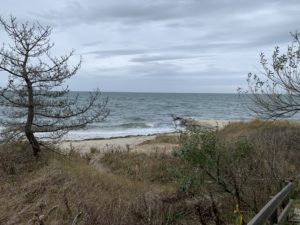 The wild Atlantic coast. This was one of the views on a walk this week.
We did manage to spend a day in Boston. We parked in our old neighborhood, the Leather District, and walked to the North End, enjoying all the sites along our "regular" path. We loved the familiarity and noted the changes since we lived here. We enjoyed strolling the Rose Kennedy Greenway, outdoor cocktails and appetizers at our favorite North End restaurant, Bricco, and of course we hit Mike's Pastry (how could we miss that?!). We took an Uber back to our car and were impressed with the car's cleanliness, masked driver, and open windows. I still long to stroll the Common and Public Garden, but the crowds scared us off.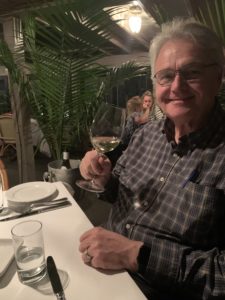 Phil drinking French wine in an Italian restaurant
And suddenly the holidays arrived. We were lucky to spend Thanksgiving with our dear friends the Cummings, part of our "family by choice." We'd planned to dine on their deck, and they even bought an outdoor heater. Alas, it poured rain all day, so we had a masked, indoor celebration. It actually worked out well, with separate dining rooms that allowed conversation between them. The feast was fabulous, featuring a gorgeous spatchcocked turkey with a maple glaze by our host Sandy.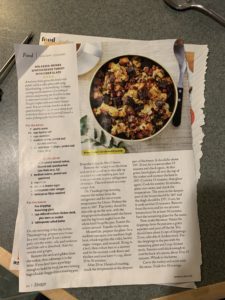 I may do this turkey for Christmas!
We had visited Martha's Vineyard a couple of times when we lived in Massachusetts, but never with a car. The Saturday after Thanksgiving, I managed reservations on the ferry and off we went. This time we were determined to see the whole island!
The Vineyard cliffs in Aquinna–breathtaking!
After grabbing a socially distanced lunch overlooking the ocean (crabcakes!) in Oak Bluffs, we set off for Edgartown. What a beautiful little downtown! We parked by the docks and proceeded to walk the area, getting slightly lost in the process. I love the quirky things we see on our adventures–those unexpected, unusual, strange, and beautiful things easily overlooked–like a pianist sculpture among all the Christmas decorations.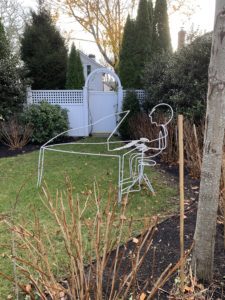 Piano Man, just hanging out in someone's yard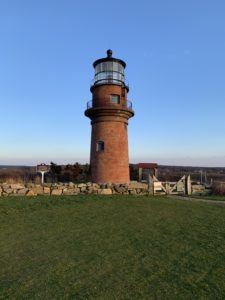 Gayhead Light
From Edgartown we headed on to Chilmark, Aquinnah, and then back to Tisbury, where we had a fabulous dinner at La Soffitta. We were seated at a cozy table surrounded by palms, well distanced from the two other occupied tables (We hit restaurants at odd times to avoid crowds). Our waiter, who was also the bartender, made fabulous cocktails and served us the best grilled focaccia we've ever had. Stuffed but happy, we headed back to the ferry and home.
We have just over a week left on the Cape. I'm working, so we won't be doing much aside from almost-daily walks. I'd like to hit P-town one more time if possible, and we plan to stroll the downtown Chatham area, which is charming. Then it will be on to Savannah for a month. We'll be on our own for Christmas, since we don't know anyone there, and we're looking forward to learning how to create holiday without a tree or family gatherings. Stay tuned!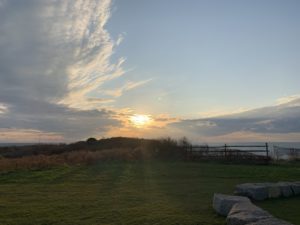 Just before sunset at Gayhead Light