Next up: savannah!
We said goodbye to the Cape
On the day of our departure from Chatham, we rose early; we had to get to Wilmington, Delaware in time for me to make a couple of video calls. We used Waze instead of our car's integrated GPS and were able to avoid the "lost time" in the D.C. area that we'd experienced on our way to the Cape. I finished my calls and we headed to a socially distanced dinner at the Columbus Inn. Highly recommended! The next morning, a Saturday, our destination was downtown Raleigh. We spent a delightful evening wandering the streets, admiring the art, both in galleries and on the streets, and revisiting the Raleigh Times for dinner; but the best part was an outdoor cocktail/dessert experience at Bittersweet, where we had quite a wait due to a wedding reception. The bride and groom wore matching gold sneakers and their small group had almost as much fun as we had watching them!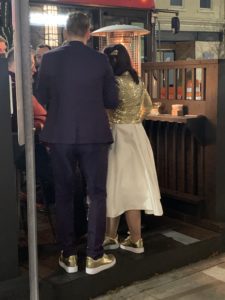 Happy couple!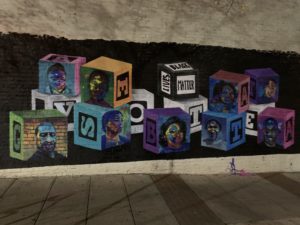 Amazing Raleigh street art; lots of support for Black Lives Matter here!
We arrived in Savannah on Sunday afternoon, just in time to get settled and make a quick grocery run (we're directly behind Kroger!). Our home for the next month is our favorite so far–a roomy two-bedroom with a dear little balcony and plenty of work space, just two blocks from Forsyth Park!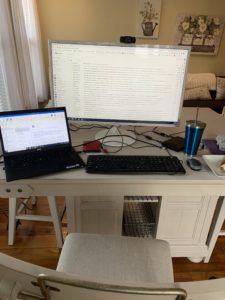 Finally, room for my monitor!
Our first order of business was of course finding a great cocktail lunch. Treylor Park was the perfect place (we'd discovered it on our first Savannah visit in 2017). We sat outside and shared a wonderful low country flatbread, which came with an assortment of hot sauces. We happily sat out a brief rainstorm, partially sheltered in the beer garden.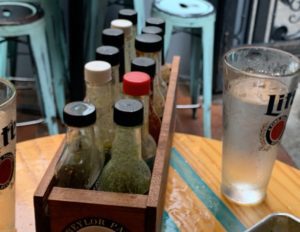 Treylor Park hot sauces
One of our first day trips was to Charleston, about a two-hour drive from Savannah. We had a wonderful lunch at Rodney Scott's BBQ before heading to the Public Market area. We walked all over Charleston without an agenda, just enjoying the sights. We headed home determined to make another visit to Charleston before our time here is over.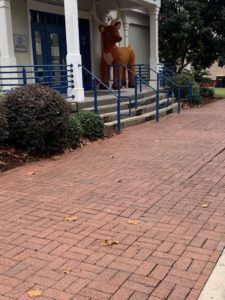 So much for a miniature reindeer!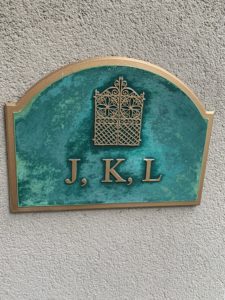 Charleston: making ordinary, utilitarian objects into art.
We really love Savannah. There is beauty everywhere, lots of fun people-watching, and more interesting restaurants than we could ever visit. So far, in addition to walking many miles around the city, we've visited Tybee Island, enjoyed a walking food tour (combining favorite things!), and spent an afternoon in HIlton Head. More to come!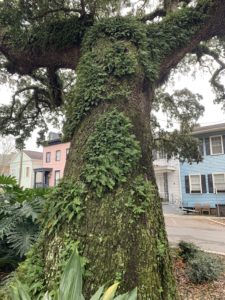 Savannah symbiosis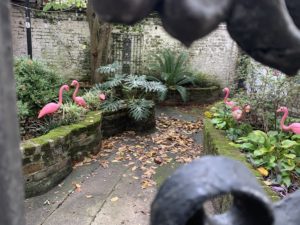 Peeking through iron railings into private gardens is one of my favorite things in Savannah.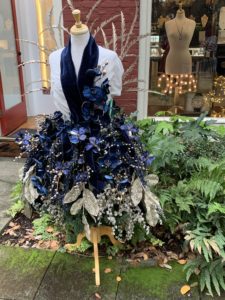 One of the sights during our walking food tour. Fancy dress!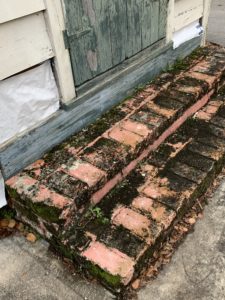 There is so much beauty in ordinary things.
Today we'll visit the farmers' market in Forsythe Park, walk the city, and begin shopping for special holiday meals. Stay tuned for more Savannah fun!