Lyon
The Roamers celebrate an anniversary
Last December I received a reminder that I had an expiring credit card benefit: a $200 credit toward a hotel stay. After a quick conversation, Phil and I agreed to use it for a trip to Lyon, France, to celebrate our 42nd wedding anniversary. Lyon is known as the French food capital, so be forwarned; there's a lot of food in this post! Our anniversary arrived last week and off we went on a new adventure.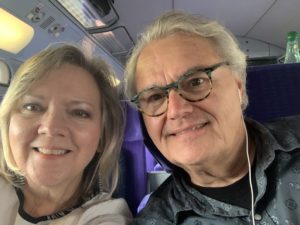 On the train to Lyon!
We would be staying two nights at an Intercontinental, part of the IHG group. Being a Marriott loyalist, I wasn't very familiar with this chain, so we really didn't know what to expect. We pulled our bags on the 35-minute walk to the hotel (That reminds me of the old days when luggage didn't have wheels and I rushed in heels through airports, carrying my bag!). We paused on the Rhone River bridge to take the picture below. "What a gorgeous building!" I said to Phil.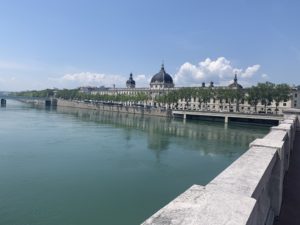 The beautiful Hotel Dieu
Imagine our surprise when we discovered that this was indeed our hotel! A former hospital, the Hotel Dieu is now a complex of shops and restaurants anchored by the Intercontinental Lyon Hotel Dieu. We were greeted graciously, upgraded to a river view room, and given an 80 euro credit. We used that at the bar, of course.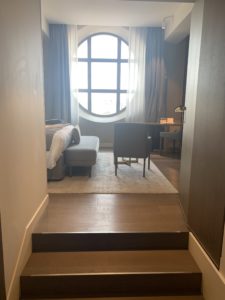 Our home for two nights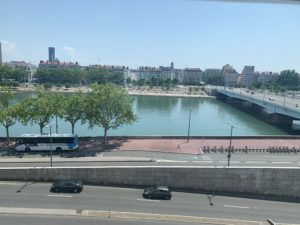 Room with a view
We quickly settled in, freshened up, and headed out to find lunch. Unfortunately, it was almost 2pm, so we were turned away from several restaurants before we found one that was still serving (in France, most restaurants serve lunch from 12-2 and then close until dinner). We were hot, hungry. . .and thirsty!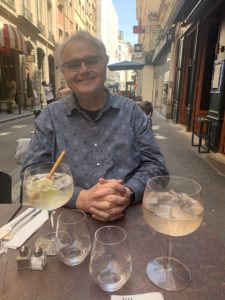 Phil enjoyed a cocktail and I had a rosé piscine (rosé with ice)
L'arquebuse turned out to be a find, albeit an expensive one. Our lunch was delicious! Phil's (top of photo) was fish over lobster sauce and veggies, topped with puff pastry and a pesto mousse, and mine was veal topped with a veggie-stuffed cabbage leaf and decorated with pea puree. We had dessert too, but I forgot to take a photo.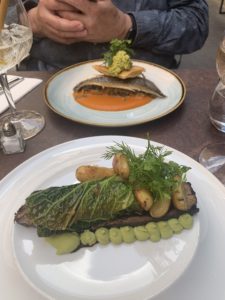 Lunch!
We walked off our lunch and decided to take a hop-on, hop-off bus tour. But after waiting over an hour past the scheduled departure time, there was no hopping off. The tour was fascinating, and we saw things we'd never have seen otherwise. My phone had died, so I didn't get any shots of the amazing views. Oh, and we walked over eight miles that day.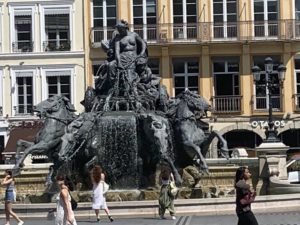 Beautiful and HUGE fountain, snapped just before my phone died
Lyon has a fascinating history and ideal position at the confluence of the Rhone and Saone rivers. It's larger than Montpellier (over 500,000 population) and features both medieval and very modern sectors. It was hot, but we really enjoyed roaming the streets. We also strolled through Les Halles Lyon Paul Bocuse, a not-to-be-missed food hall, but for once we didn't buy anything. That evening we opted for an early meal near our hotel, at La Mère Jean, a tiny bouchon (a family-run Lyon restaurant serving hearty fare), where I tried the salade Lyonnaise. We ordered a bottle of wine before we noticed that everyone else was drinking the house wine from a carafe. Tourists!
The next morning we enjoyed breakfast (included in our room rate) at the hotel. What a delight! We opted for the garden, where they had tiny chairs for purses.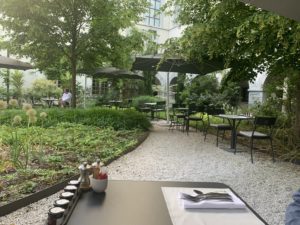 The garden of our hotel restaurant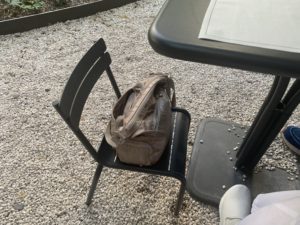 My purse's tiny chair
After breakfast we walked to the Musée de la Résistance et le Déportation to learn about Lyon's history during the war. We walked through a delightful multi-ethnic neighborhood, browsing through a huge Japanese food hall and studying restaurant menus featuring a wide range of cuisines. Phil and I are always amazed at the life force of plants growing out of concrete, out of buildings and walls, where there seems to be nothing to sustain them. We saw one of these that was so beautiful Phil thinks he might paint it.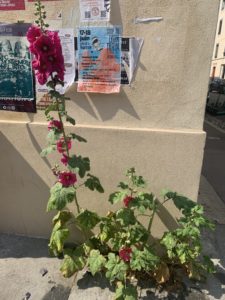 This beautiful flowering plant is growing from concrete and stone.
After a 40-minute walk, we came to our destination. The museum is part of an educational complex, and we spotted student groups of all ages. We've often noted that in France the memory of WWII is kept alive for all to learn, much more so than in the U.S.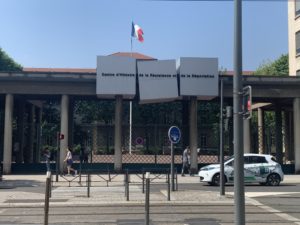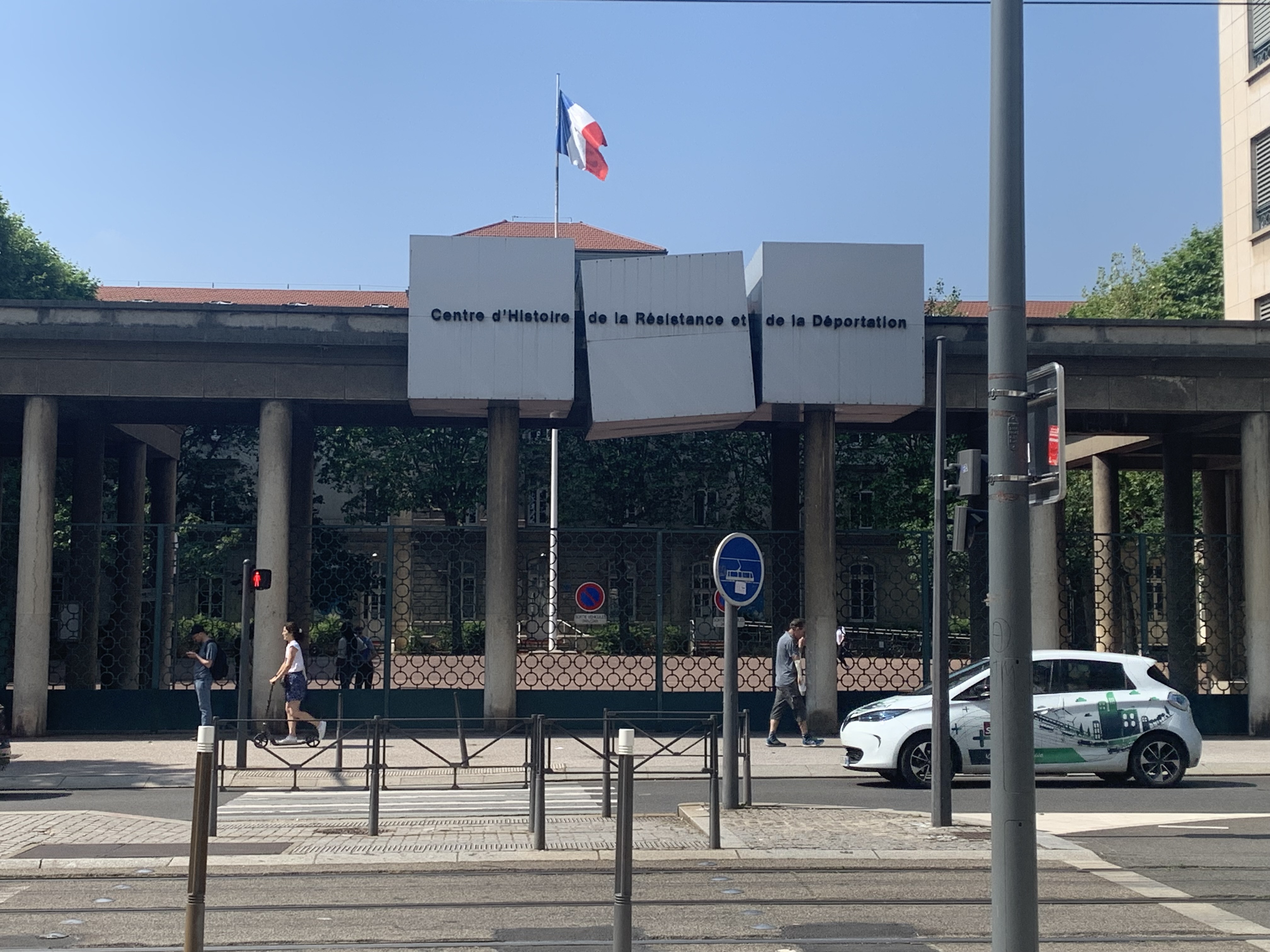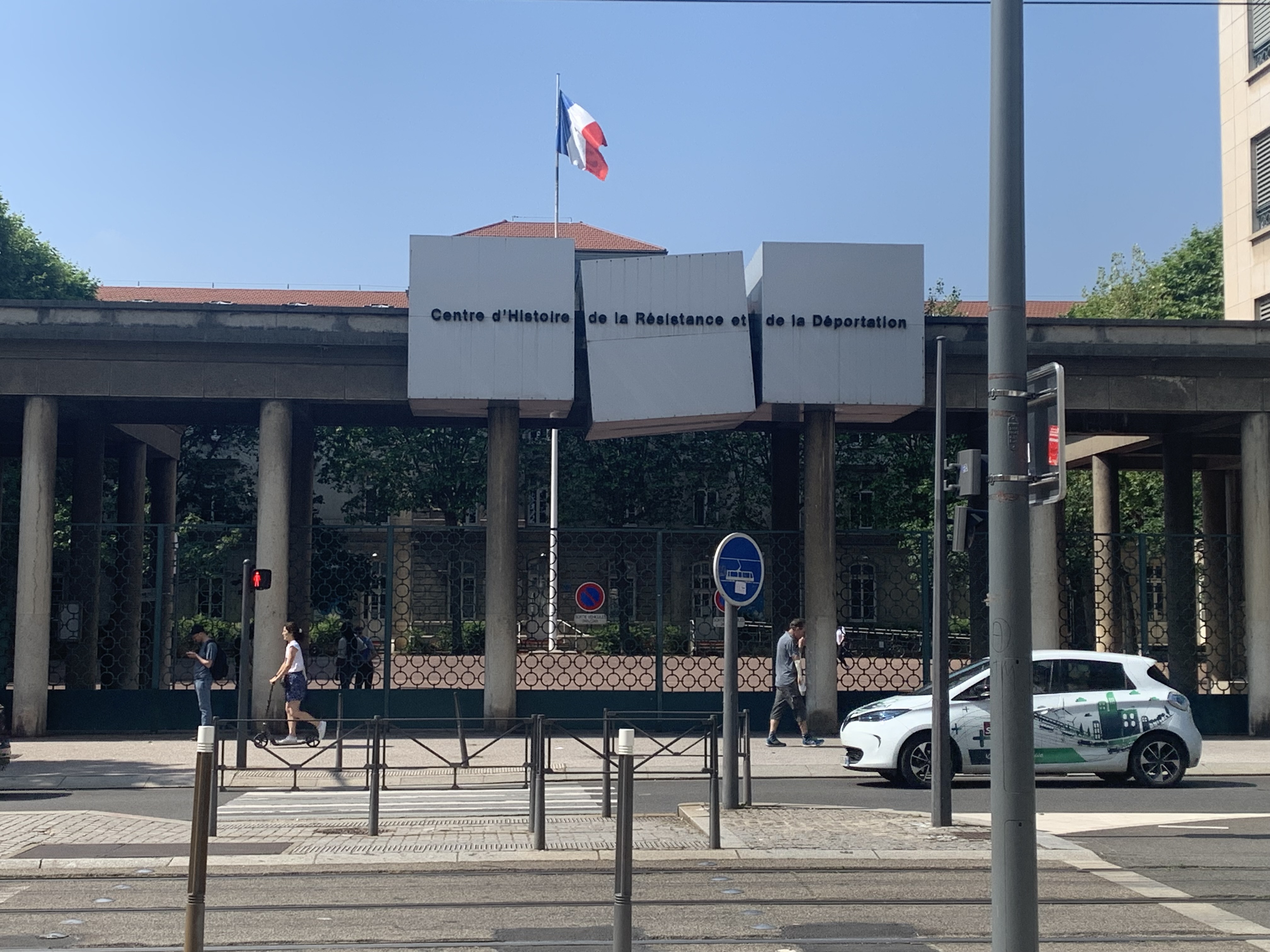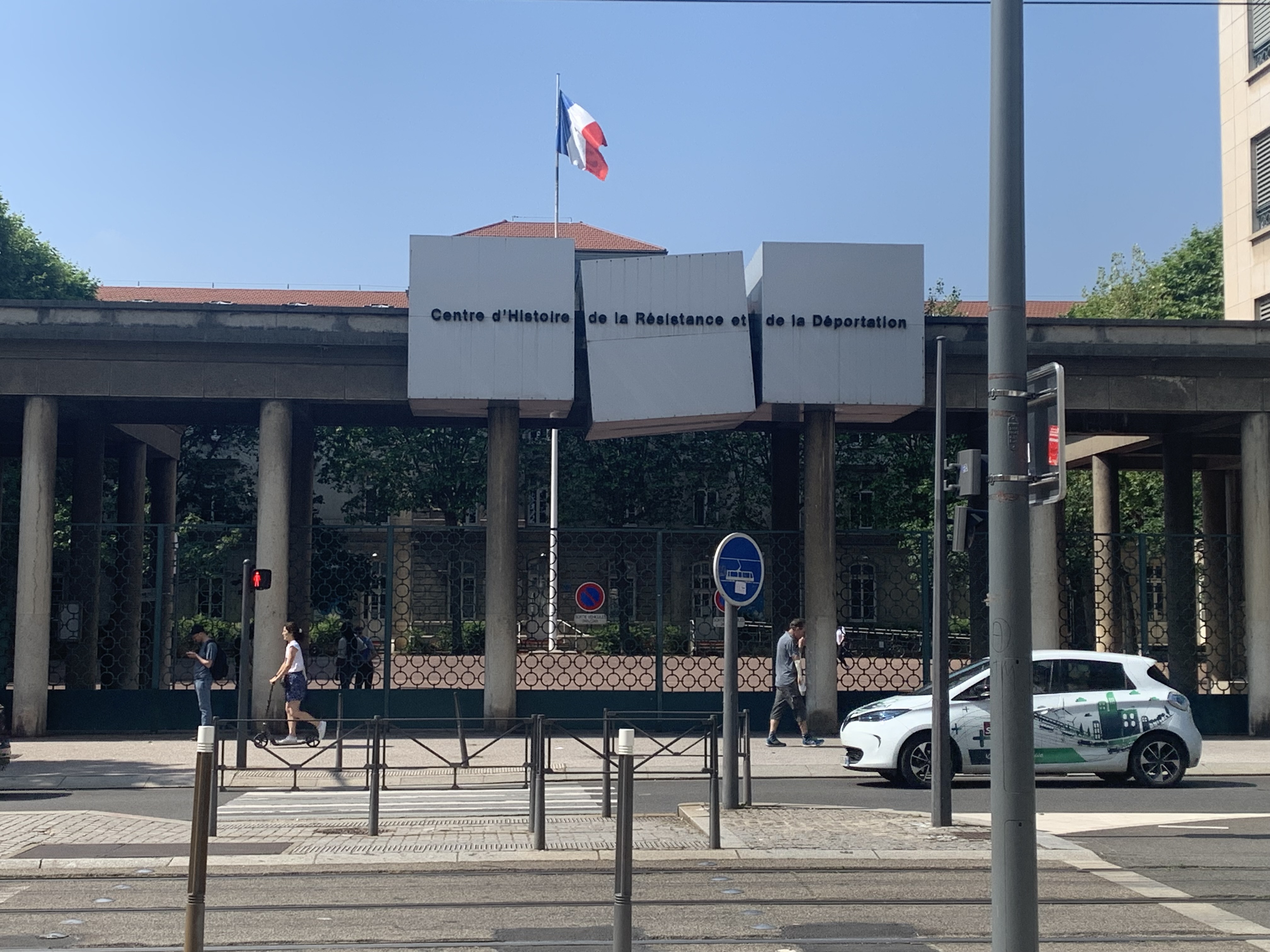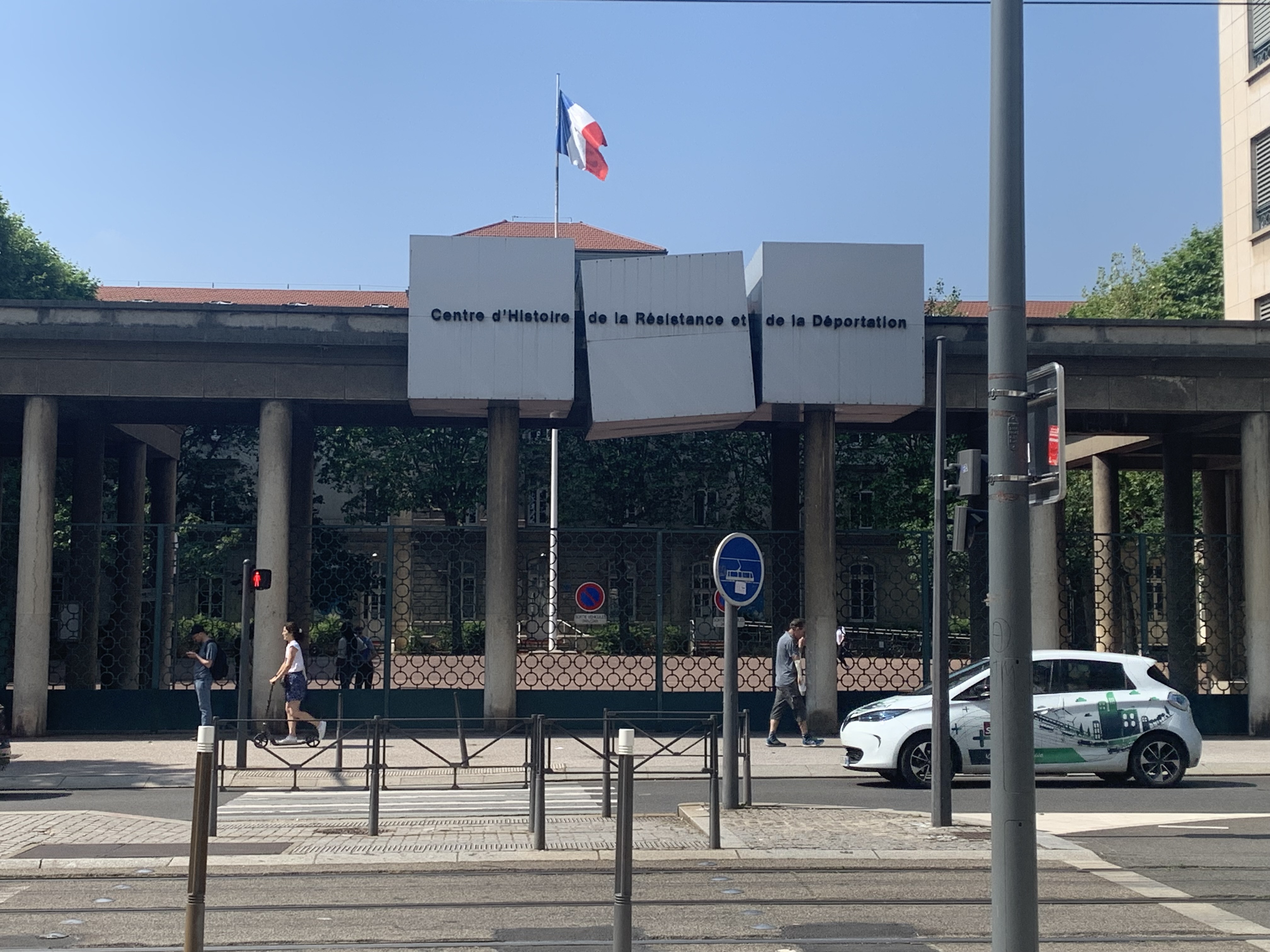 Museum entrance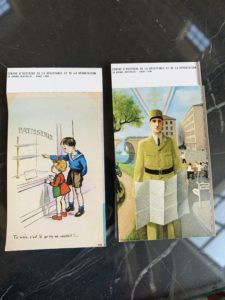 The backs of our tickets
It was a somber experience, but we were glad we'd seen it. The most fascinating thing for me was a video of a couple who were Resistance members. He was arrested while trying to attend a secret meeting, and everyone knew he'd never come out of prison alive. So his wife dressed up ("I was young, and I put on some makeup, which I didn't normally wear, and earrings"), went to the Gestapo headquarters, and demanded to meet the leader. That leader was Klaus Barbie, known as the Butcher of Lyon for his horrific torture of Jews and Resistance members, and who did not impress her with his diminutive height and casual dress. She told Barbie she was pregnant and needed her fiancé released so he could marry her before the baby arrived (This was a lie, as they were already married with a child). Barbie told her to find someone else, as she would never see her fiancé again. So she arranged an ambush while her husband was being moved to a different prison, killing several Germans and getting him cared for after he was shot in the face. They were both so very matter of fact about it, Amazing.
After a light snack, it was time to rest and refresh before the big event of our trip: dinner at Restaurant Paul Bocuse! This would be, we knew, a once-in-a-lifetime meal in a time-honored restaurant. Paul Bocuse was credited with popularizing nouvelle cuisine and with being one of the first celebrity chefs.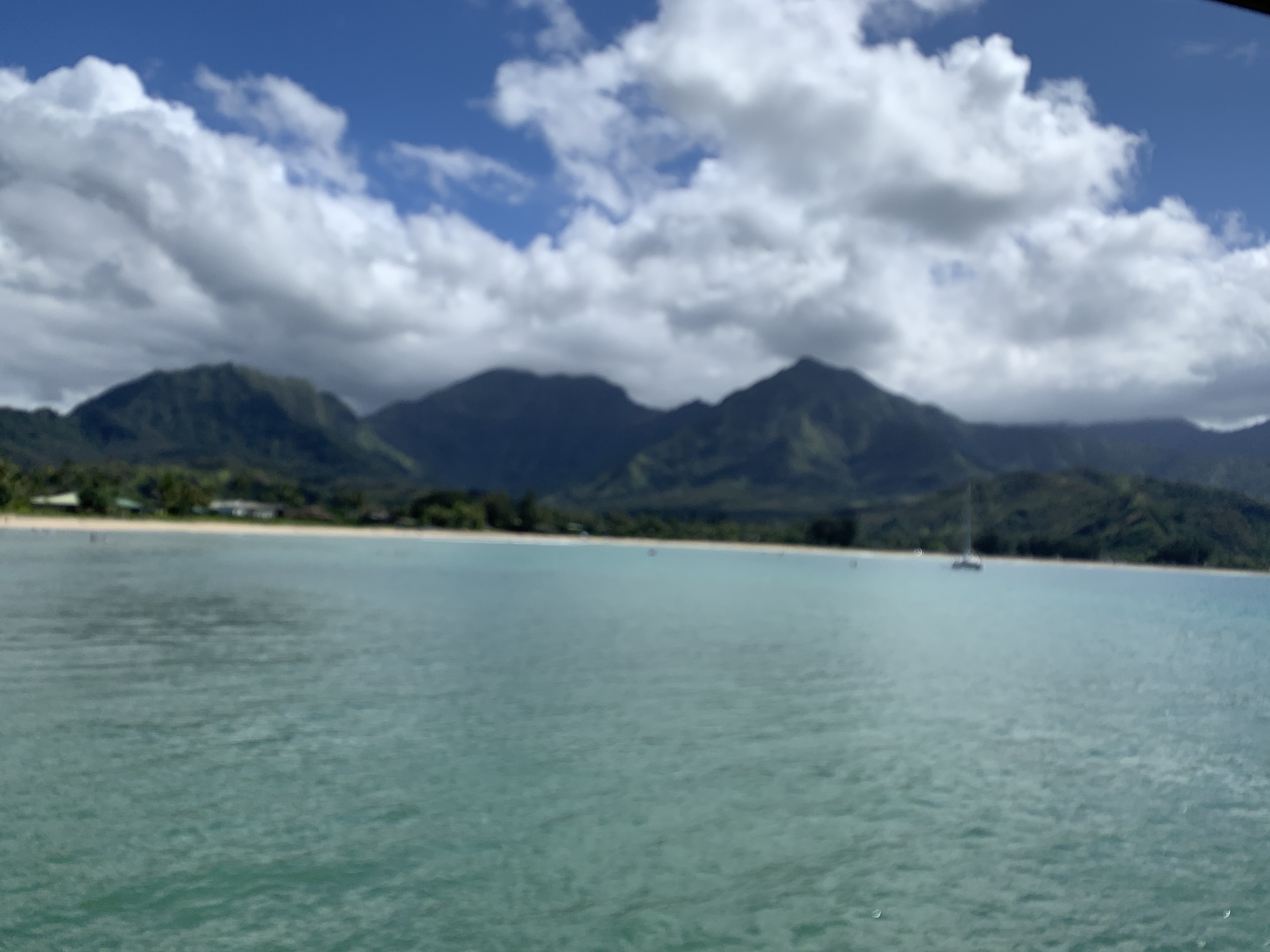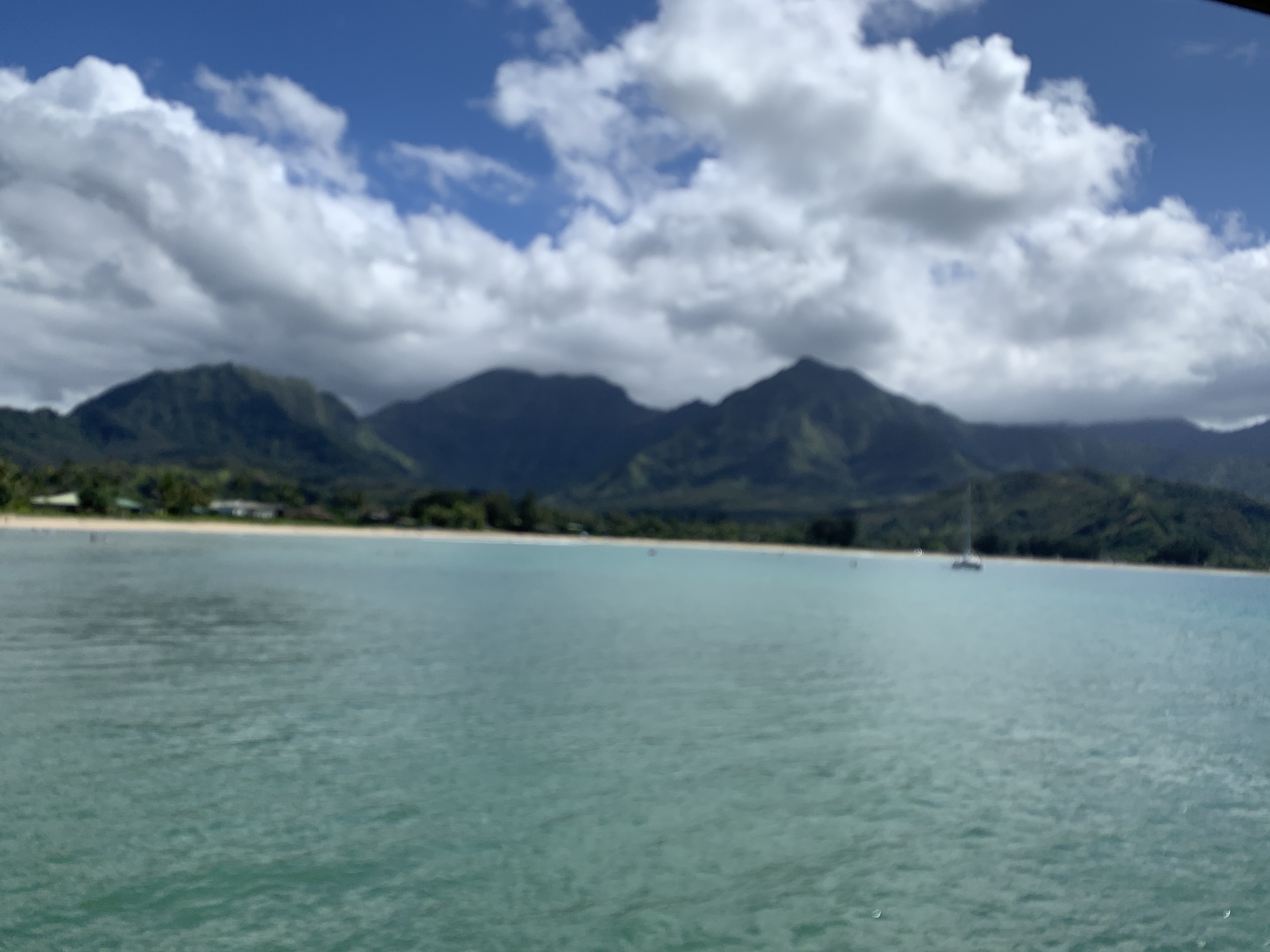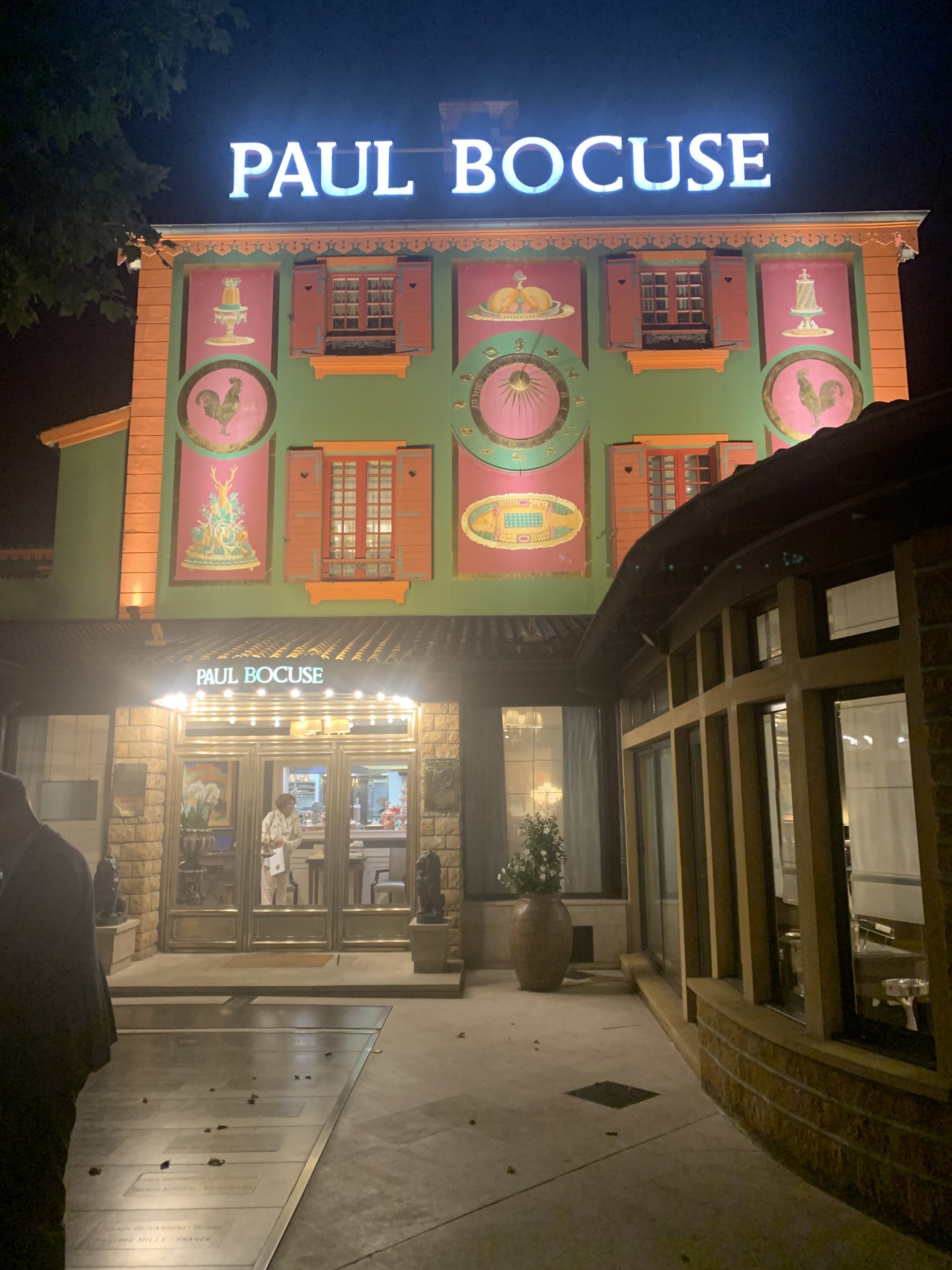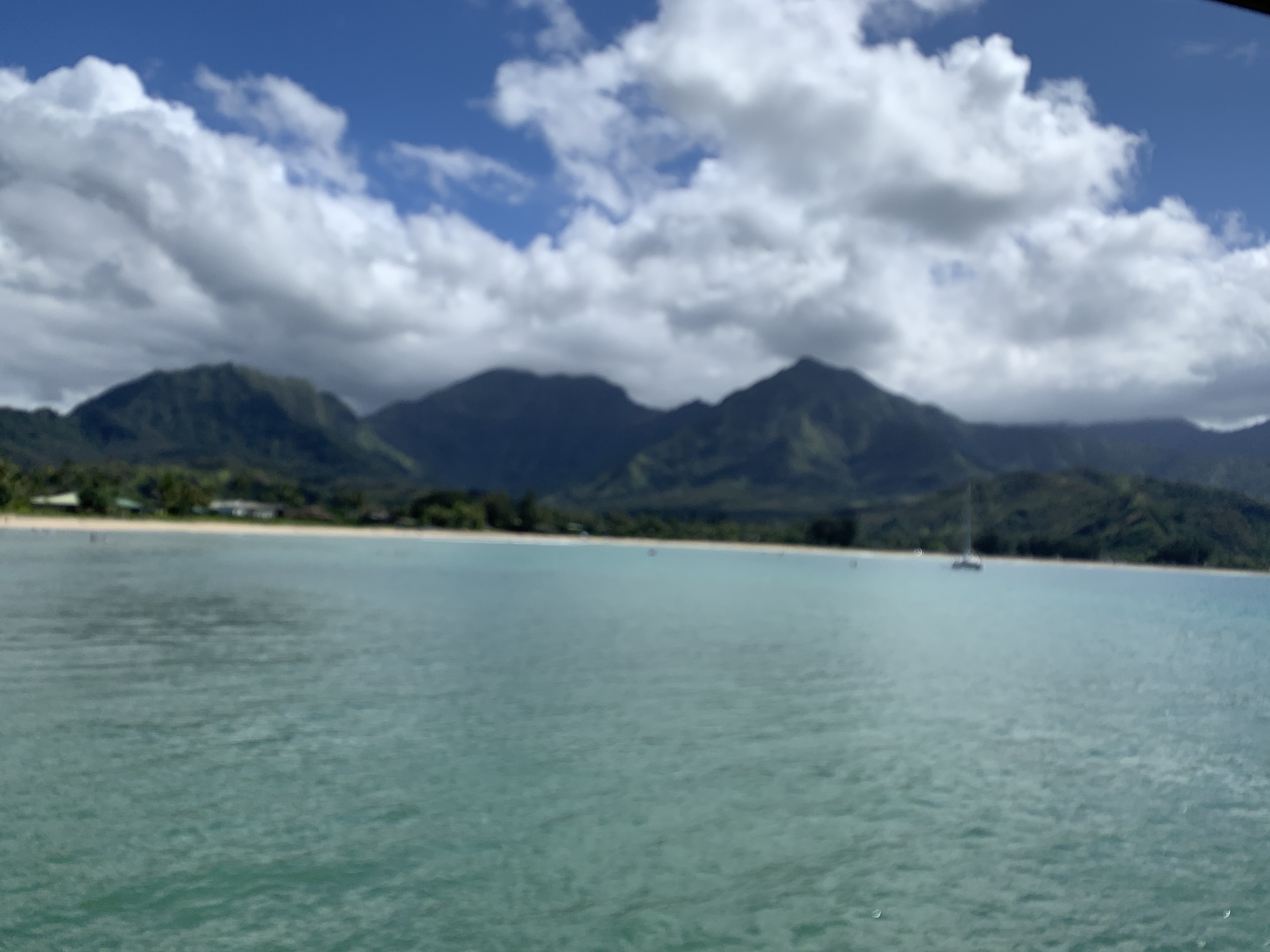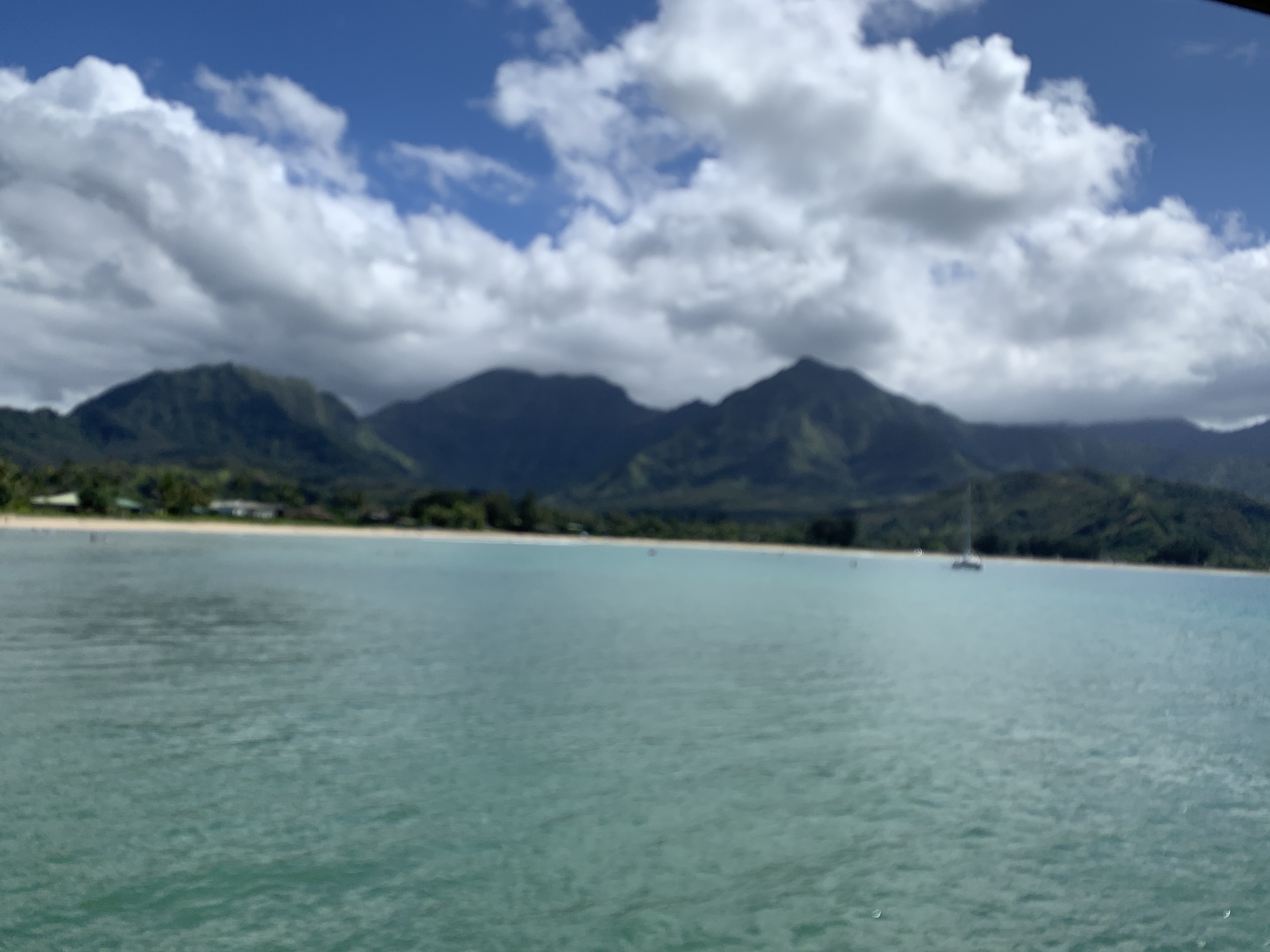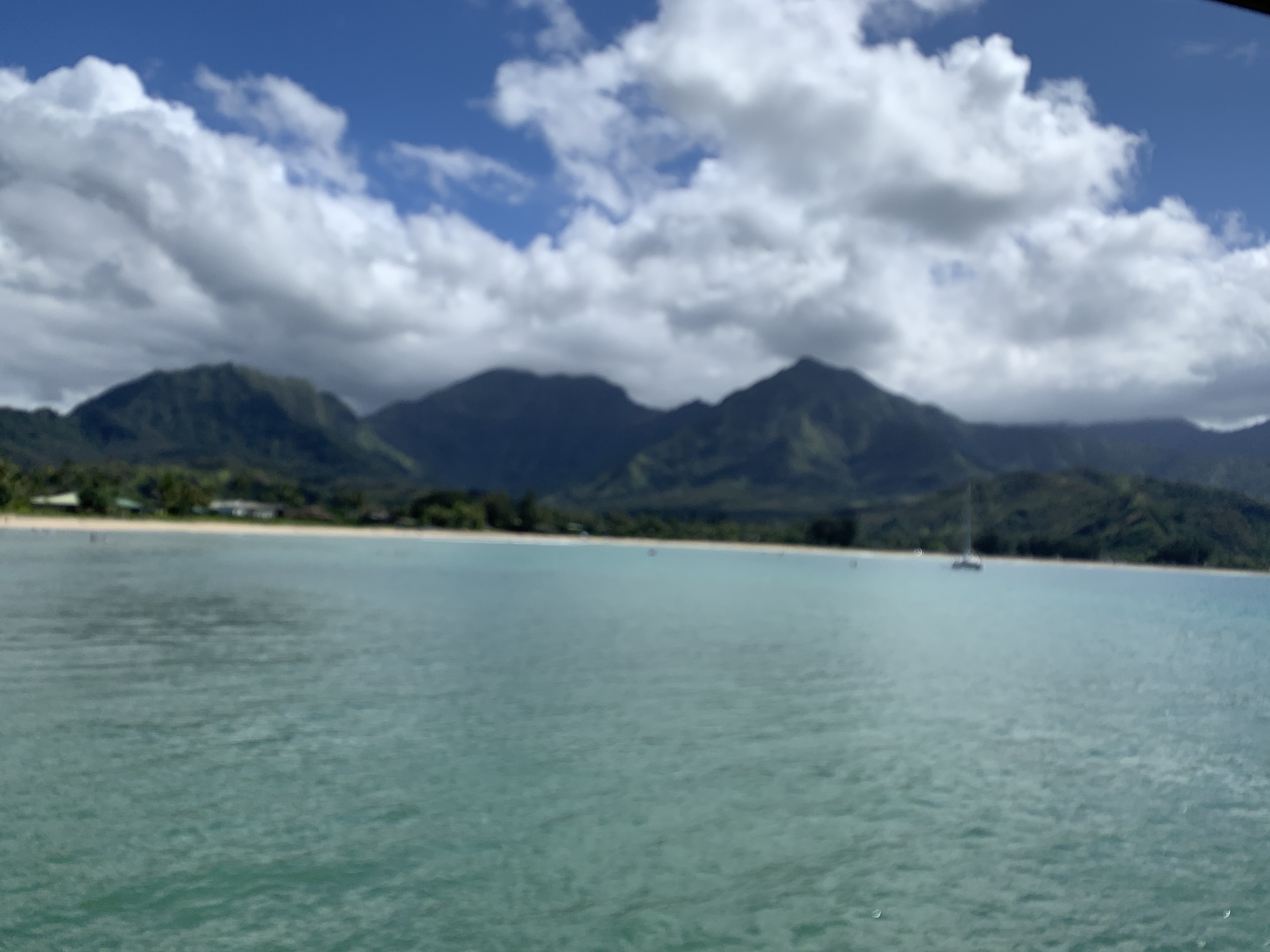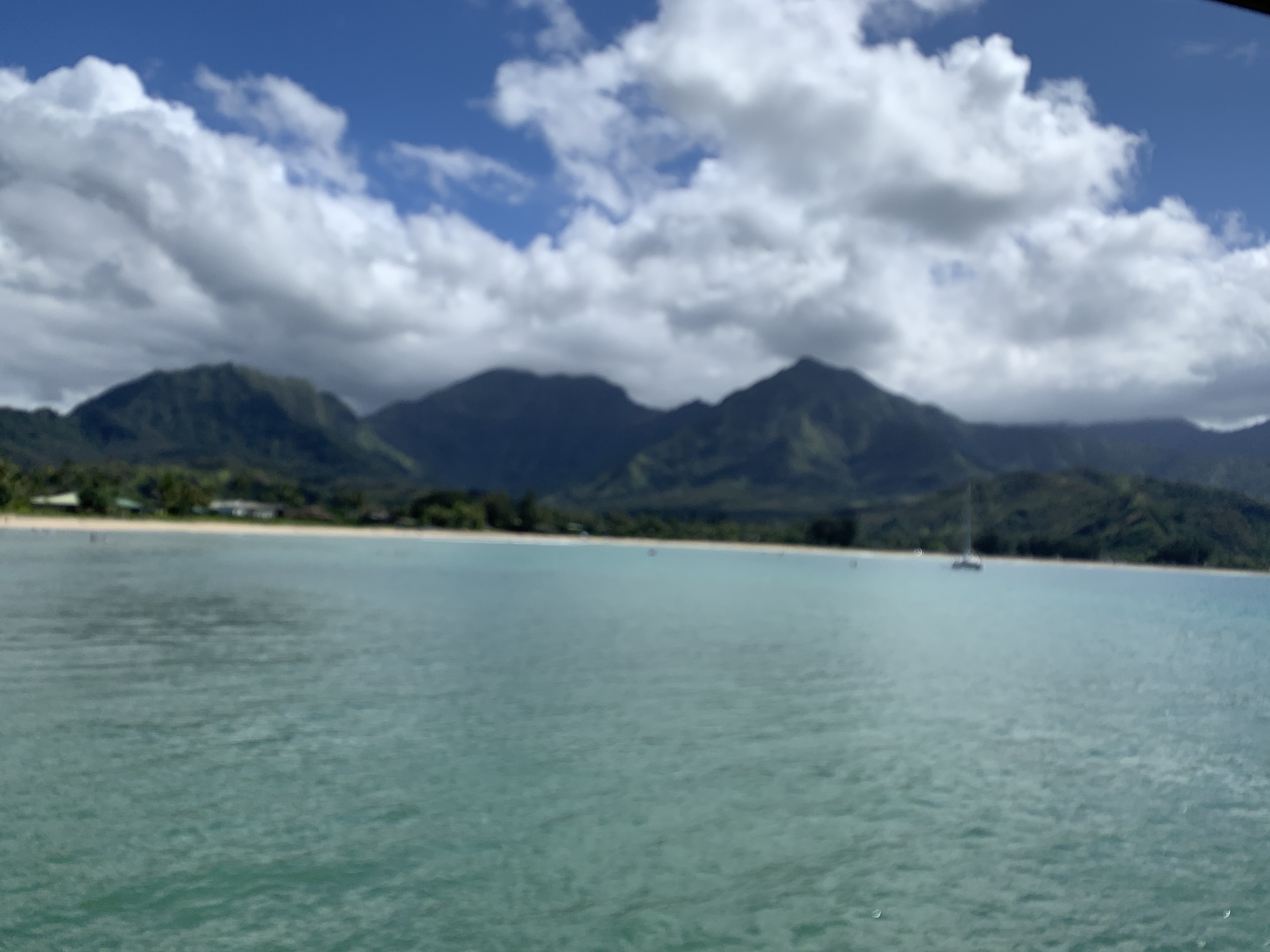 Paul Bocuse was born and died in an upstairs room.
We arrived in style–our Uber driver had a Tesla–and were warmly greeted. I couldn't resist taking a photo of the gorgeous kitchen where exciting things were happening!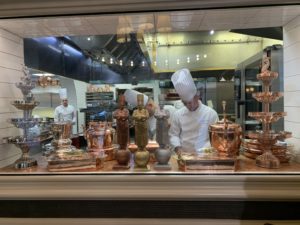 Paul Bocuse kitchen before service
Every person on the staff–and there were many–greeted us as we were led to our table in the upstairs dining room. The place was beautiful, with paintings, lighting, and every detail designed to enhance the gracious setting.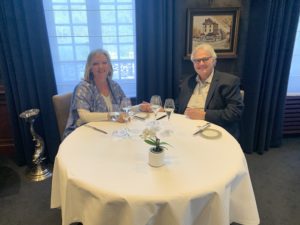 Anniversary couple. I loved the painting behind Phil.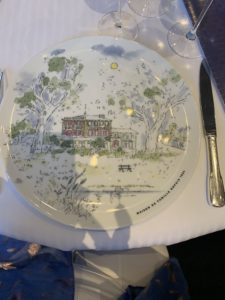 Fanciful charger plate
And now the feast began. First up was a glass of champagne, to be enjoyed with the three amuses bouches we were served: a radish cream served atop a savory cracker; corn three ways–polenta chip topped with corn mousse, topped with a piece of popcorn; and a cucumber mousse served in a crispy shell.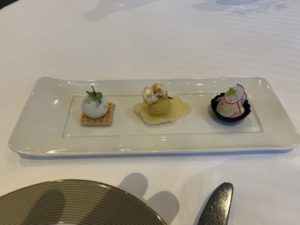 Les trois amuses
But wait, there's more! Another beautiful amuse bouche was served next. Along with the wine list, I mean super heavy wine book. After a cursory look, we asked our sommeliere to recommend wines for each course, and she did a fabulous job.
A beautiful pea purée was the last amuse bouche.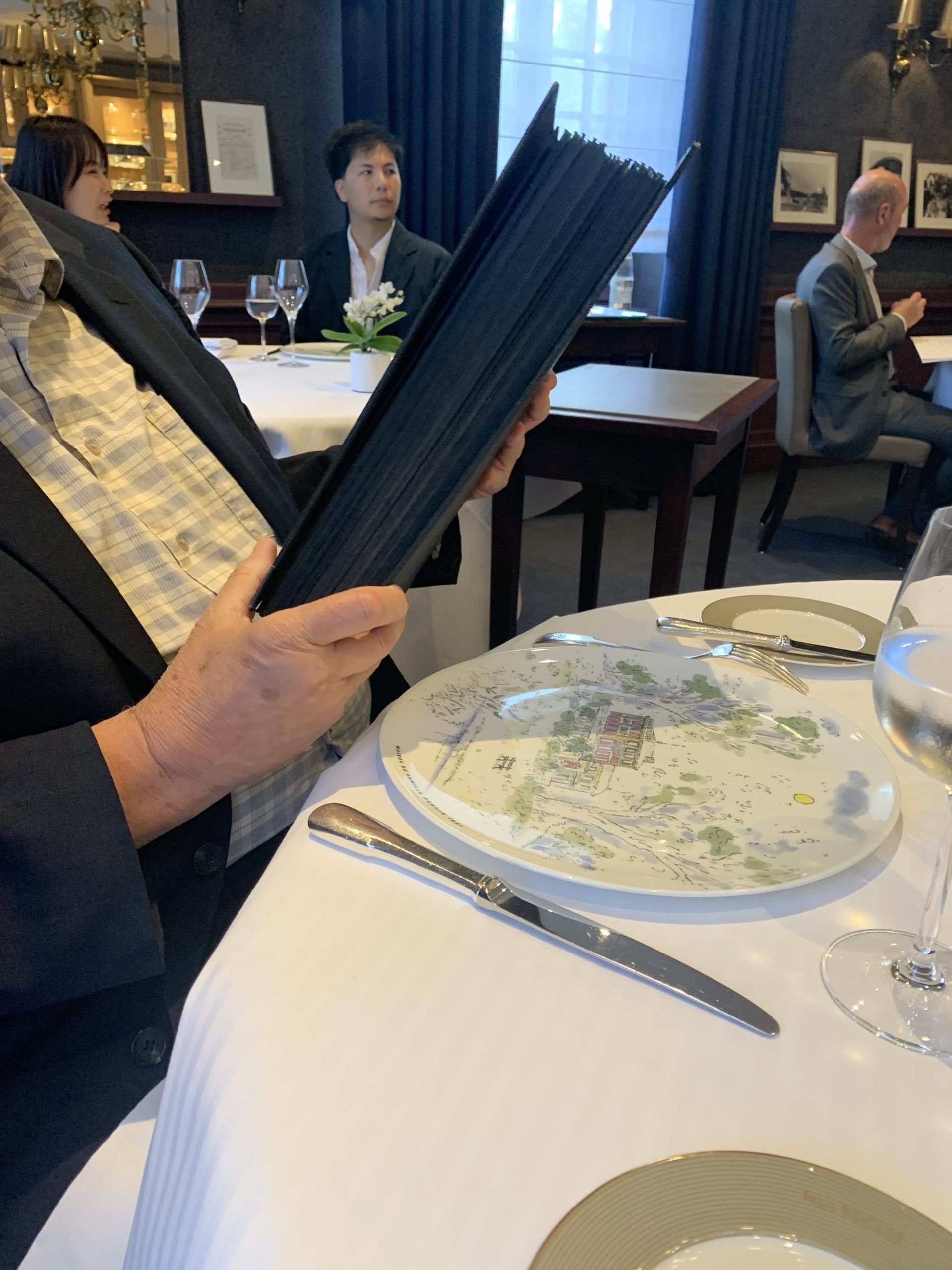 Phil pretending to study the wine book
We both chose the same menu, which featured a fois gras entrée served with a perfect warm croissant. Decadent and filling! I gave half of mine to Phil.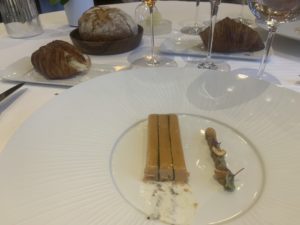 Fois gras entrée
Before our plat (main course) was served, we were offered bread. It, of course, was house-made and wonderful. Then came the main course, the Bresse chicken prepared two ways and served with a morel cream sauce. I was excited about this, because I've been making morel chicken for many years–it's our family's favorite dish–and I wanted to see how mine compared to the master's. And honestly, theirs was of course fancier, but really not that different in flavor!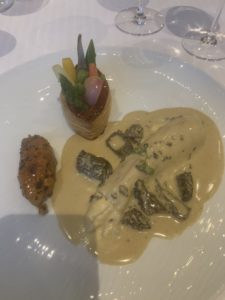 Morel chicken, with a perfect veggie side in puff pastry
Next came the cheese. We tried a few, all of which were wonderful. Have I mentioned how kind, fun, and not-at-all-intimidating the servers were?
This cheese guillotine cracked me up!
You might think that dessert came next, but you would be wrong–sort of. Before dessert we were served a pre-dessert dessert, a tiny concotion featuring raspberries and chocolate!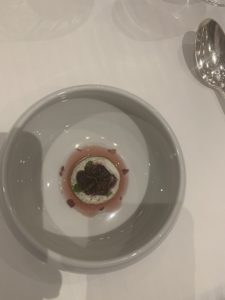 Dessert before dessert
And then came the dessert chariot. Yep, that's what they called it, and for good reason; way too many choices!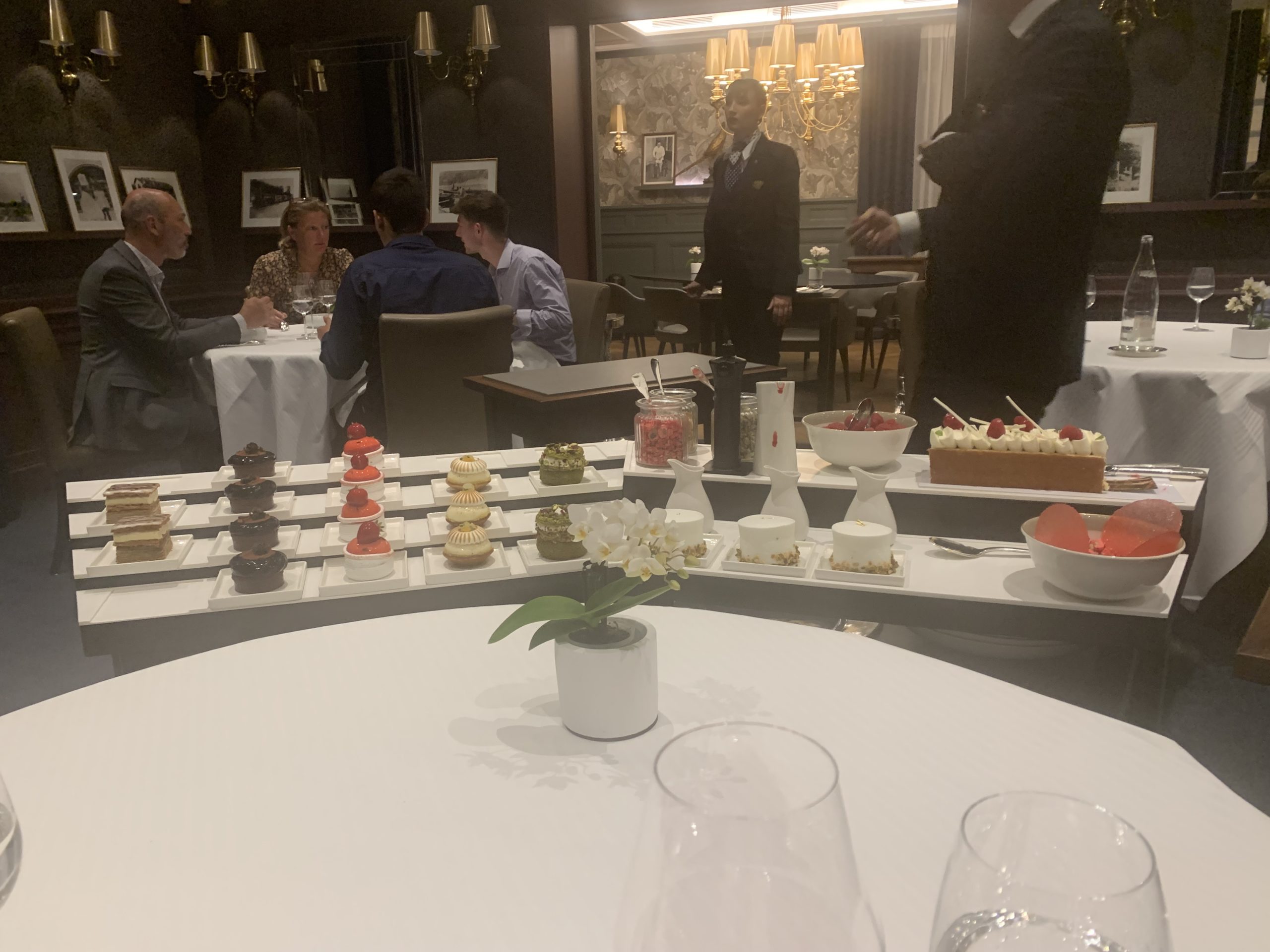 Dessert chariot
So after all of this, and two desserts, we thought we were done. But no! The servers wheeled out a funny-looking box on wheels that started playing music as they cranked a lever. Turns out it's a mechanical pipe organ by Gaudin, the only one of its kind, and it's used to celebrate special occasions.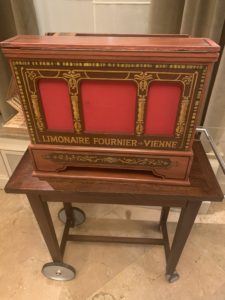 Mechanical pipe organ
As the organ played, each table celebrating an anniversary or birthday was served a special chocolate concotion lit with a candle. Brilliant!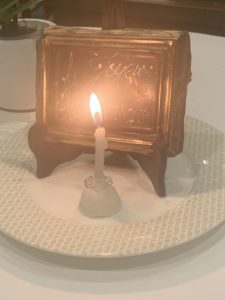 Our celebratory chocolate plaque, served on a chocolate easel. We're still nibbling on it!
Finally, we were given farewell chocolates and the check. It was expensive, but we agreed the experience was worth it. Surprisingly, we were full but not stuffed!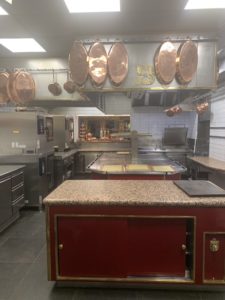 Paul Bocuse kitchen after service: immaculate!
The next morning we enjoyed breakfast in the garden again and strolled through the Hotel Dieu. It's truly a gorgeous building.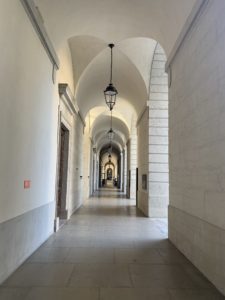 Cloister at the Hotel Dieu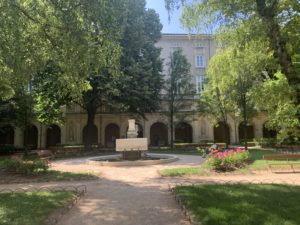 Beautiful hotel grounds
Then we were off to the Musée des Beaux Arts, billed as "second only to the Louvre." While we didn't agree with that description, we thoroughly enjoyed the visit. This museum is a must-see on a visit to Lyon!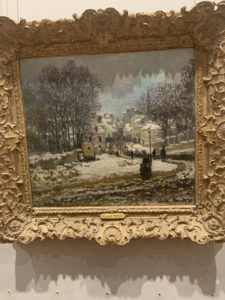 My favorite painting: Monet's "L'Entrée de la Grande Rue à Argenteuil, l'hiver, 1875"
After a short stroll, we stopped for one last lunch, at our now-favorite bouchon, Le Musée. An authentic Lyonnais bouchon, it's family-run and totally a fun experience. The proprietor is a jokester who treats guests as if they were old friends. There is no menu; instead the proprietor sits at your table to explain the day's offerings. He speaks some English, but we were able to joke a bit in French.
We ordered a carafe of white wine and dug in to our entrées. Mine was a simple salad surrounded by sautéed mushrooms. Delicious!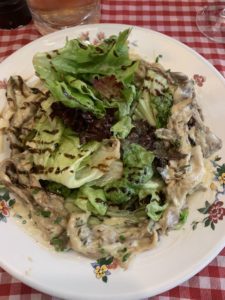 My entrée
I can't remember what entrée Phil had, but his plat was pig cheeks. Huge serving, and he could only eat half of it. My plat was pike quenelle, which I'd never had before. It was served in a lobster cream sauce, with potatoes and veggies on the side. Way too much food, but delicious! We couldn't do dessert after attempting those plats.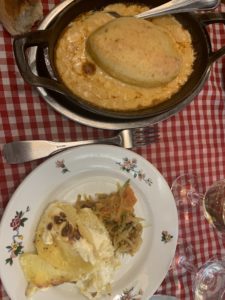 My quenelles avec sauce homard; I'll definitely copy this dish!
Stuffed and happy, we bade farewell to our hosts and headed back to the hotel to pack. On the way we passed by the Lyon Opera House, which we hope to visit on a future trip.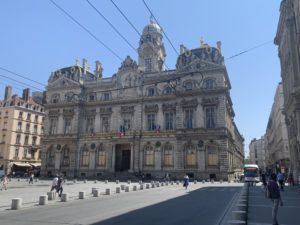 Lyon Opera
As we left the restaurant, we passed through one of Lyon's traboules, or secret passageways. These have a fascinating history dating to the fourth century. We didn't have time to see any others, or learn much about them, but we definitely plan to explore them on a future trip!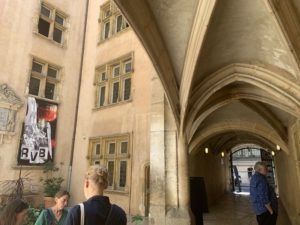 The traboule we discovered
And finally we returned home, after a wonderful and memorable trip. Yes, it was very food-focused, but that's the draw of Lyon. I'll leave you with yet another dinner photo, this time of the delightful dinner party we enjoyed after our return, hosted by dear friends Ann-Lii and Fredrick. One of the guests brought an original Sachertorte from the Hotel Sacher in Vienna to share: more chocolate for us!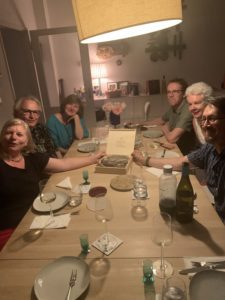 Friends, laughter–and Sachertorte!