One week in normandy
The Roamers explore the north
Phil has wanted to visit the WWII sites in Normandy for many years; in fact, one of his regrets is that he never had an opportunity to take his dad there. One December when we were in Paris with our kids, we rented a car and drove there, but by the time we arrived it was dusk and most museums were closed. We had planned a trip in July 2020, but of course that was cancelled due to COVID. Now that we'd been living in France almost ten months, it was time to go–and this time we would stay for a week to ensure plenty of time to see everything.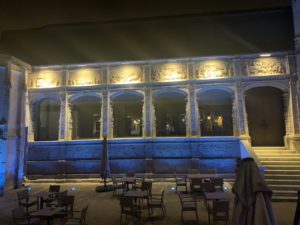 Our Rouen hotel
We took the train through Paris to Rouen and checked in to a beautiful old hotel, l'Hotel de Bourgtherolde, where we enjoyed a sumptuous breakfast each morning. We arrived late in the afternoon, so we explored the neighborhood a bit, reading menus before deciding on a restaurant for dinner. The next day we spent exploring Rouen, particularly the gorgeous Musee des Beaux Arts and the famous Rouen Cathedral.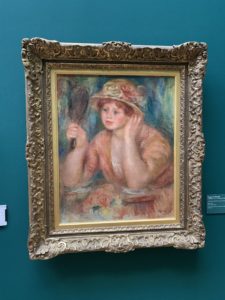 Renoir painting, "Girl Looking into a Mirror"
The museum featured a special exhibit of one of our favorite Italian painters, Caravaggio, focused on his large-scale, violent, and disturbing religious works. We also saw many works depicting Jeanne d'Arc, as well as an impressive number of Impressionist paintings.
After two and a half hours we were tired and hungry, so we headed out for lunch and a rest. We then set out for the cathedral, but along the way were mesmerized by the 16th centuray Palais de Justice. Rouen is a beautiful city with more than its share of amazing buildings.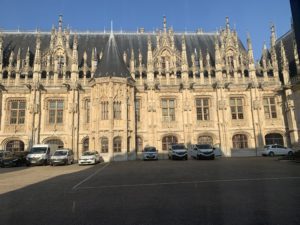 Palais de Justice
Finally we made it to the cathedral. The night before our trip we had watched an episode of our favorite French murder mystery series, "Murder In. . ." Each episode is filmed in a beautiful French location, and in a lucky accident the one we watched was "Murder in Rouen." The murder and subsequent investigation centered on the cathedral, so we were especially charmed to see it in real life.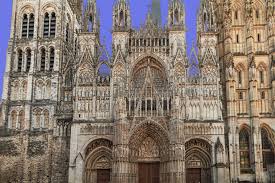 Rouen Cathedral
We've seen a lot of gorgeous cathedrals in Europe, but this one is truly amazing. It's enormous, and it took some time to get even a cursory view of everything. I like to take a seat and soak in the mystery and beauty of these sacred spots.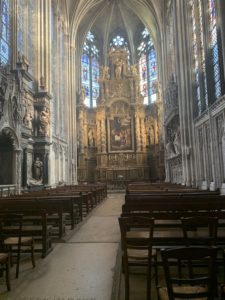 Inside Rouen Cathredral
After another wonderful dinner (more on that later), we went to bed early, knowing we'd have a long, rainy drive in the dark the next morning. We had to meet our guide in Bayeux before 9:00. After searching many websites and reading dozens of reviews, I'd selected an Airbnb experience by Johann for our WWII all-day tour, and we were not disappointed. A native of Bayeux, Johann is a historian who had worked at the Louvre in Paris until deciding to return to his hometown. He restricts tours to four guests, so we were with another American couple (this New Jersey couple's blended family included NINE children and two sets of twins!). While we saw all the usual sights, Johann's tour was special because of the off-the-beaten-path sites and stories he has discovered over the years.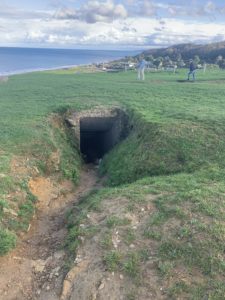 One of many bunkers we visited
The experience was more emotionally wrenching than I'd even expected. So many young men–kids, really–died there. The stories of Omaha and Utah Beach made me realize what a logistical feat D-Day was. I hadn't known about the tanks sinking, or the currents that caused errors in the landings, or how the Germans used their knowledge of farmers' hedgerows to their advantage.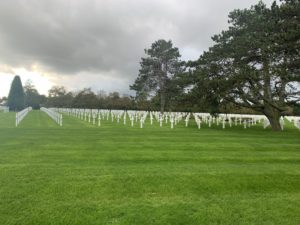 The American Cemetery
But the most important takeaways for me were Johann's stories of kindness, compassion, and humanity shown in this brutal time. For example, at the famous Sainte Mère d'Eglise (you've probably heard of it; it's the church where a paratrooper got stuck on the steeple and hung there, playing dead, for three hours), we learned that a German soldier saw him and cut him down. He was captured–not mistreated!–but escaped several days later. Today a dummy is suspended from the steeple, the parachute waving in the breeze, to commemorate Steele's heroism.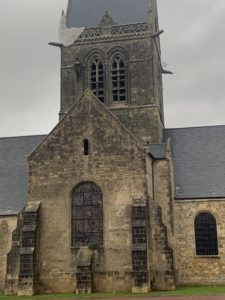 John Steele's replica hangs from the steeple
We were taken to a tiny village of 56 people where Johann shared a story of kindness and humanity. An American doctor had taken over the small church to use as a hospital for wounded people–American soldiers, an injured girl, and German soldiers–only after he acquiesced to the priest's demand that no weapons be taken into the church. A German soldier burst into the church, ready to kill everyone, when the priest stopped him and showed him that Germans were being cared for. The soldier dropped his gun and began helping. In that same church, a shell came through the ceiling and hit the floor tile–but didn't detonate. A piece of debris hit the doctor who was performing surgery and knocked him down; he got up and continued the surgery. The broken tiles and dent in the floor are still visible, as are blood stains of the wounded on the pews.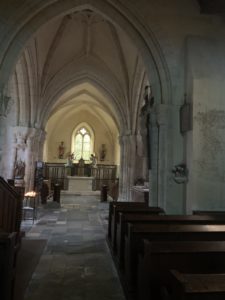 The tiny village church where kindness prevailed
After the war, we were told, Americans came to the church and told the priest, "We broke it. We'll fix it." They were referring to the broken stained glass windows. Many of the replacement windows in this church and others include depictions of American soldiers. And the American doctor who performed surgery in the church? He visited frequently, stayed in touch with the young woman whose life he'd saved until his death, and at his request was buried in the small graveyard at the church.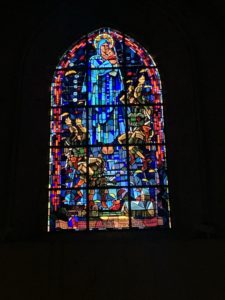 One of the replacement windows featuring American soldiers, along with the Virgin Mary
By the end our our tour we were emotionally drained, and very glad that we'd booked a hotel in Bayeux for the night. Our guide had recommended a fabulous, tiny restaurant that rates in our top 25 lifetime meals. We highly recommend la Rapier for a memorable meal, outstanding service, and warm hospitality.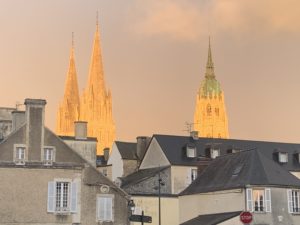 Bayoux monuments at sunset
The next day we saw the famous Bayeux tapestry, which depicts the events leading to the Norman conquest of England in 1066. Since I was an English major, that date was important to me, and it was fascinating to see the tapestry, which has been described as the earliest known example of propaganda!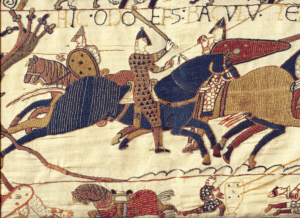 One bit of the 70 meter long tapestry
That afternoon we drove back to Rouen, with the memory of an unforgettable experience in Bayeux and the WWII sites. The next day we'd planned something more upbeat–a day trip to beautiful Honfleur.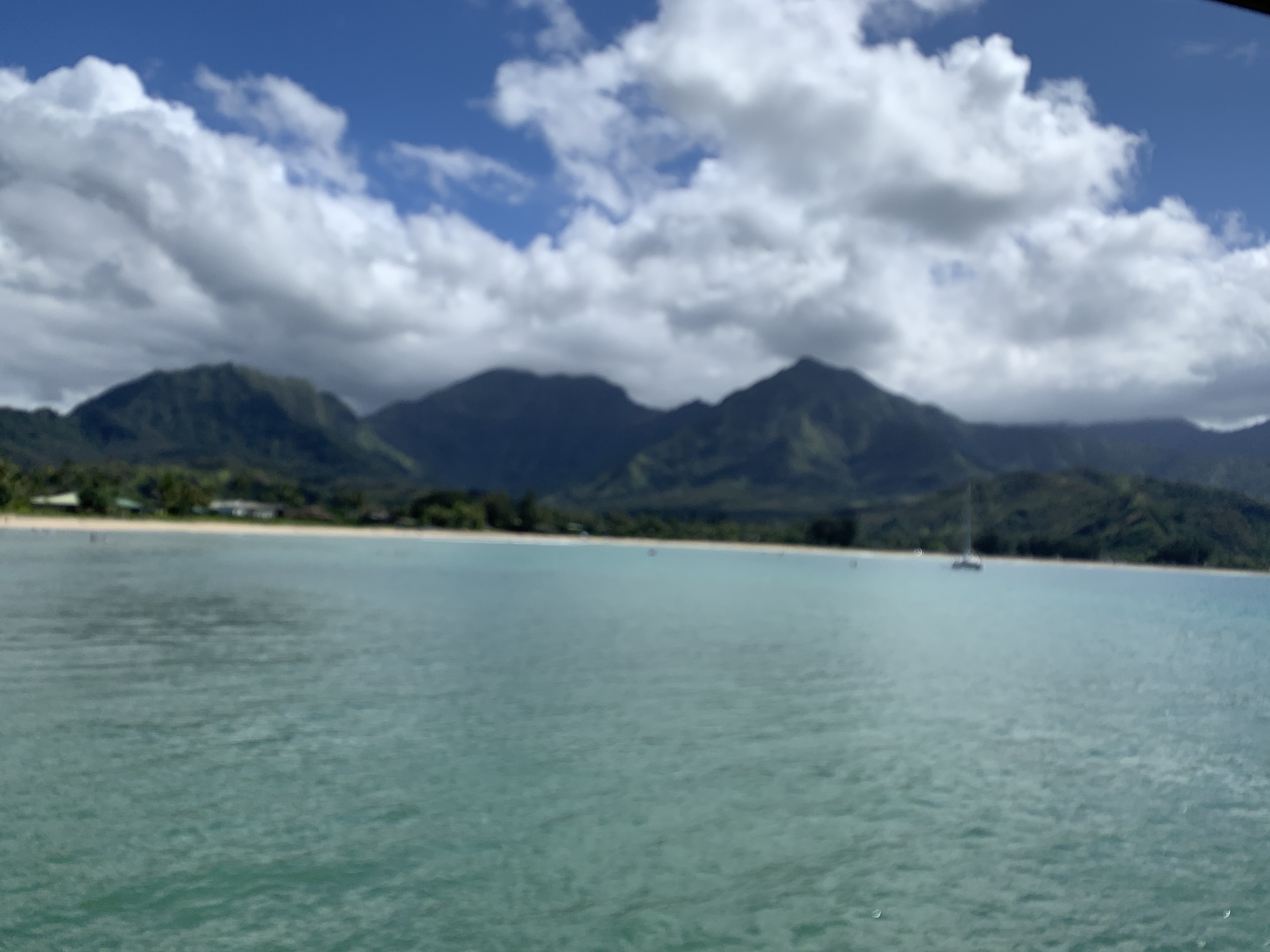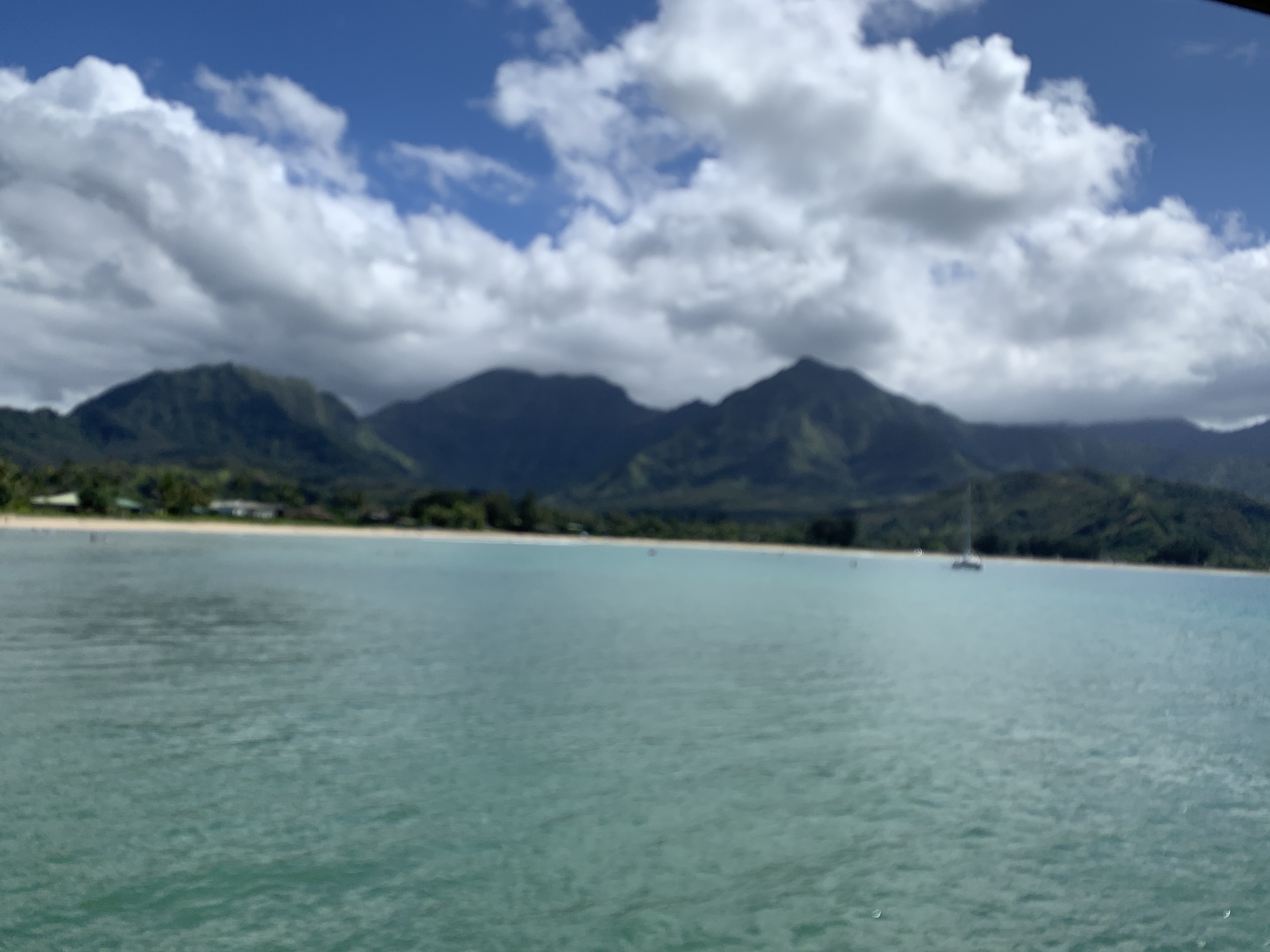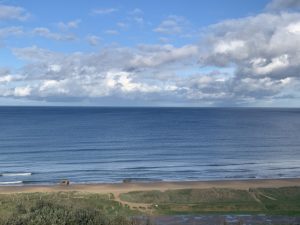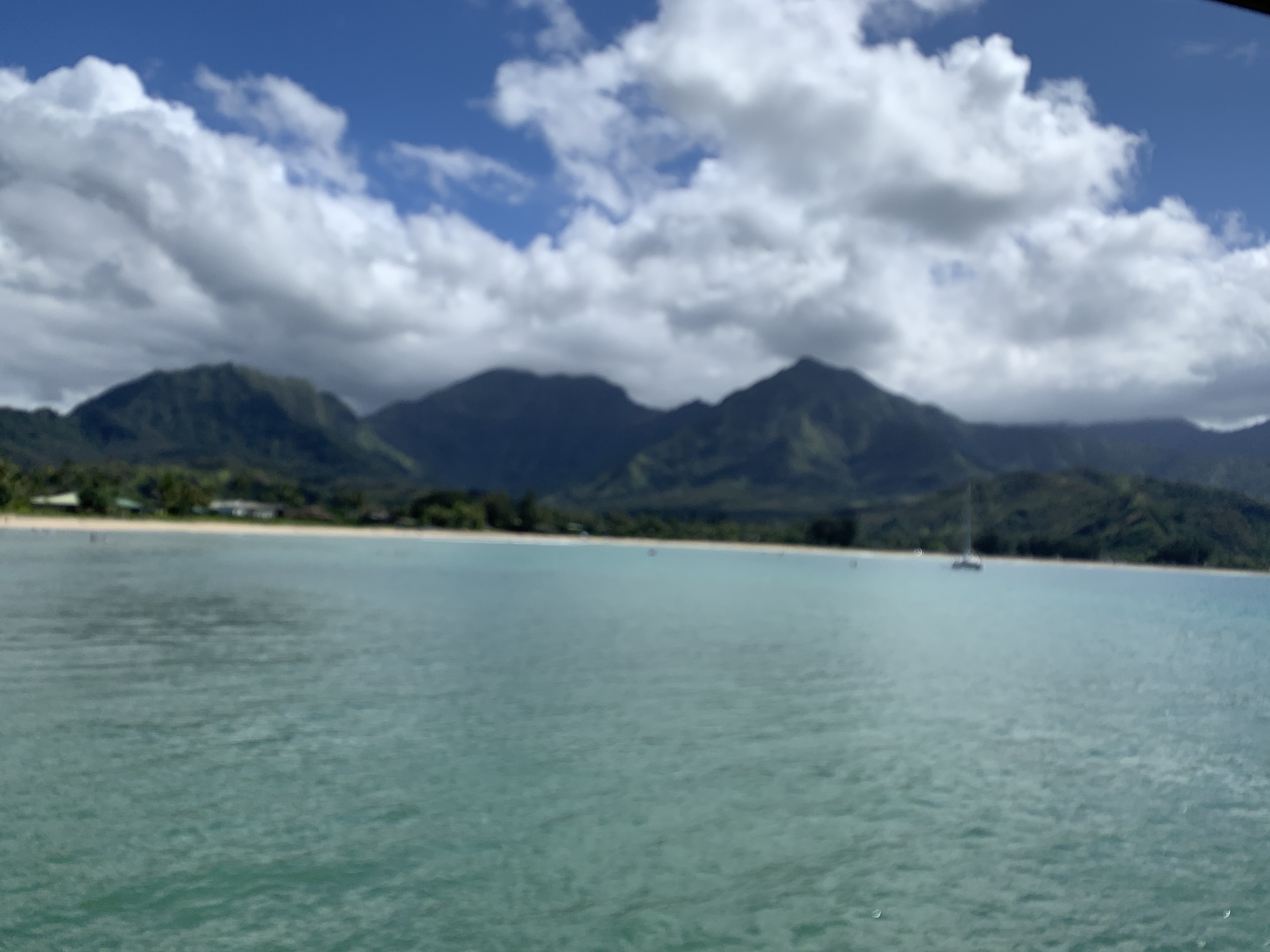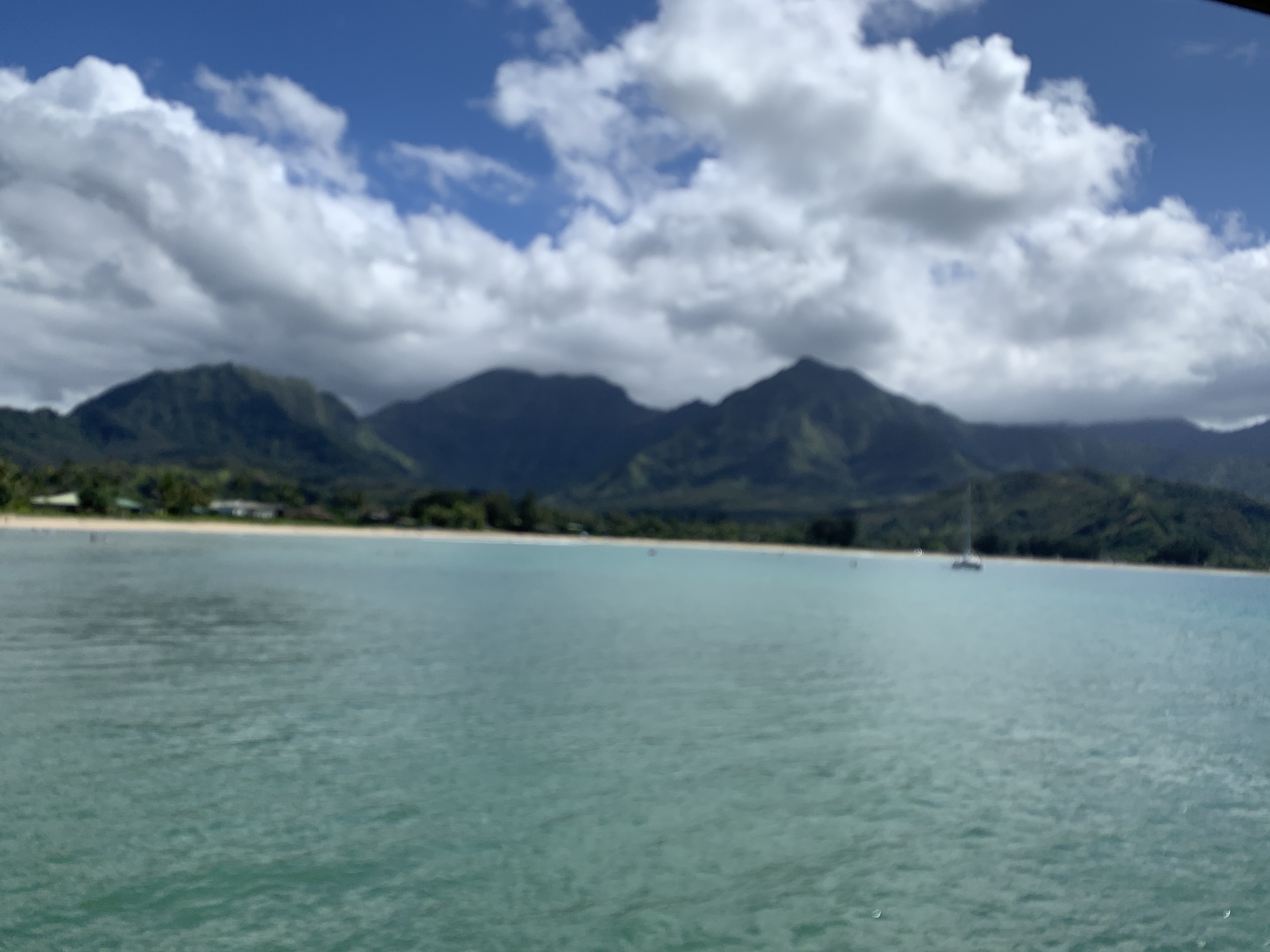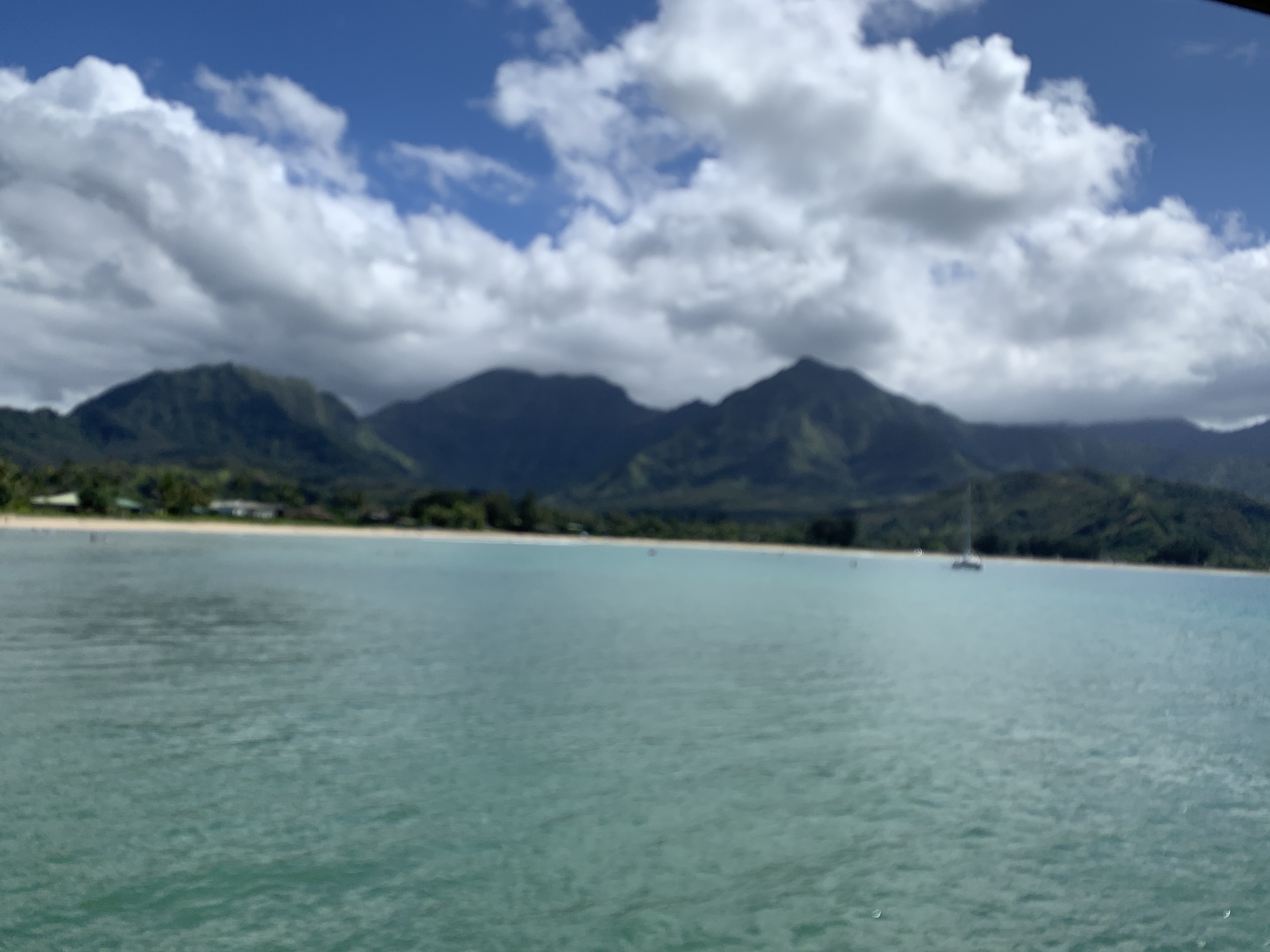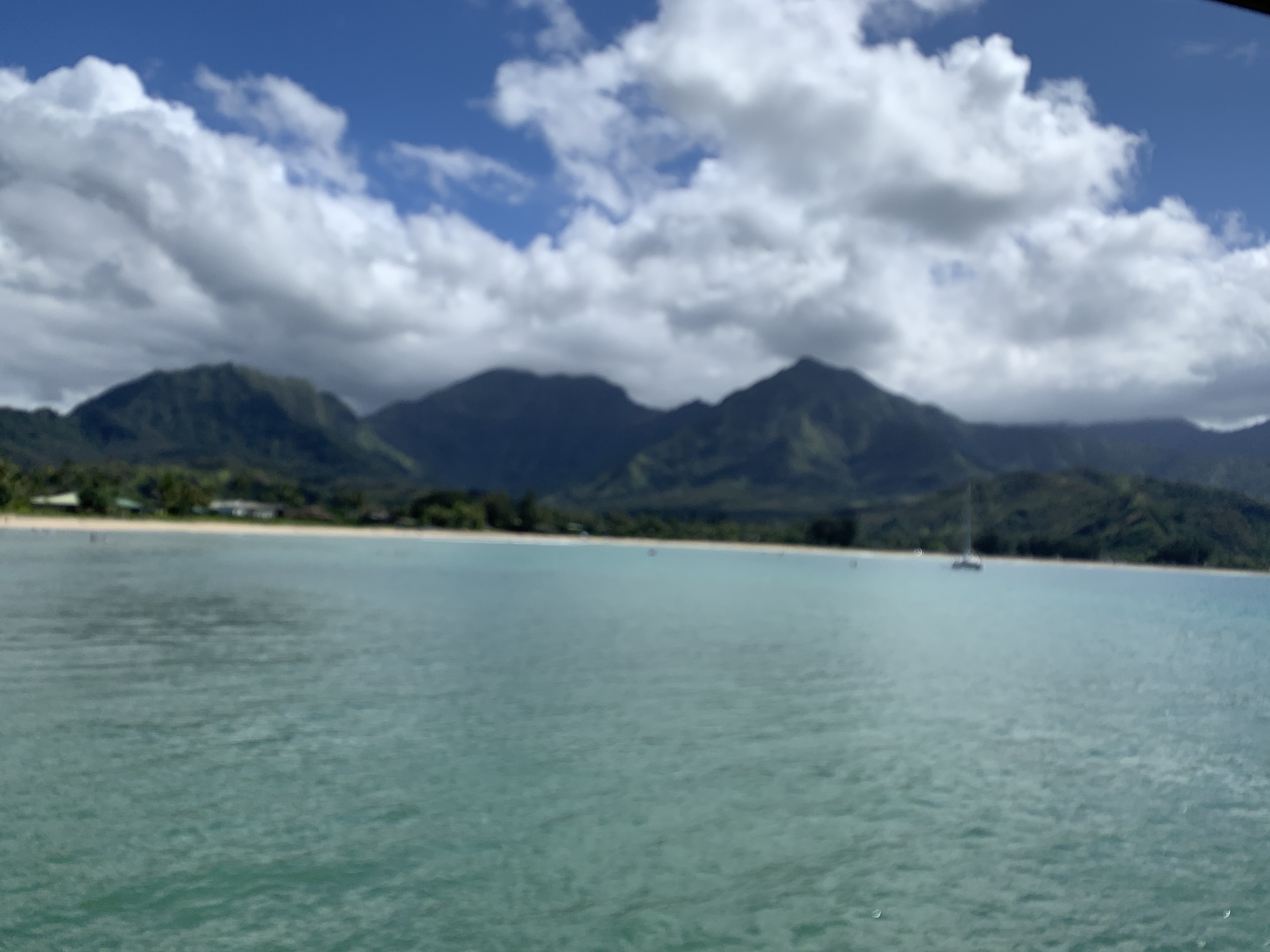 Omaha Beach. Deceptively peaceful.
We really didn't do Honfleur justice. It was cold and wet (it rained every day of our trip), and frankly we were a bit tired. So we walked, took photos, and window shopped, stopping for a delightful lunch near the old harbor. That Vieux Bassin has been painted by many famous Impressionists, including Claude Monet and native son Eugène Boudin.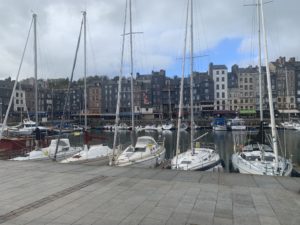 Vieux Bassin, or Old Harbor
Honfleur is in the Calvados region, named for the delicious apply brandy. We wanted to do a tasting, so we left Honfleur to visit the Calvados Experience, a Disneyesque museum/tasting venue/shopping extravaganza. The sole visitors for our English-language experience, we were taken to the entrance and directed to walk through each door when it opened. What we discovered was a multi-media interactive history of Normandy's apple brandy, centered around the life and legend of Dominique Magloire, an 1800s innkeeper known for serving excellent calvados.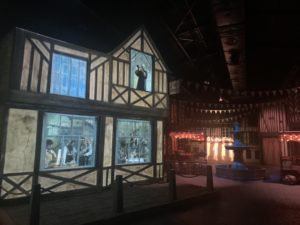 Video depicting Père Magloire serving his guests
The experience was fascinating, fun, and informative. At the end we were treated to an educational tasting, featuring the various types of calvados. And of course the exit took us through the boutique, where we selected one bottle for drinking and one for cooking (for many years I've made a chicken dish with apples and Calvados cream sauce. Delicious!). And our guide gifted us with a bottle of excellent cider.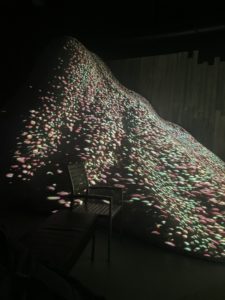 This pile of apples looked real!
The next day we had reservations to visit Mont St. Michele, but at breakfast Phil confessed that instead of driving over three hours each way in the rain, he really just wanted to stay in Rouen. So we had a restful day, venturing over to the outdoor market for cheese, bread, tomatoes, and olives. We popped open the sparkling cider and had a picnic in our room!
Now begins the gourmet section of this post. That evening we had one of my all-time favorite dinners, at CanCan. After a gracious greeting, we were seated and given a heated stone to warm our hands–genius!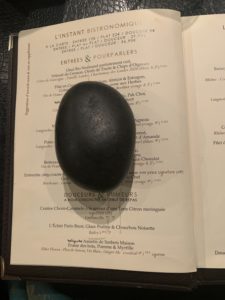 I didn't want to give up my smooth round stone!
We enjoyed a delicious amuse-bouche that I've forgotten, followed by our chosen entrees (an entrée in France is an appetizer; the main meal–aka entree in America–is called le plat). I can't remember what it was, but Phil had ordered something smoked. We were surprised when it arrived with a bed of what looked like hay on the side–until our waiter lit the hay on fire! He then covered it with a glass cloche as it smoked the contents. What a show!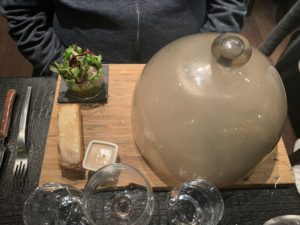 Phil's smoking appetizer
The meal was exceptional, with each course an interesting and delicious treat. My favorite was my chocolate dessert: "Cratière Choco-Caramelo à la Saveur d'une Tarte Citron Meringuée." It arrived in a small dish on a large plate, with a disc of chocolate perched on top of the dish. The waiter poured something that looked like dry ice onto the plate below, and we watched the chocolate melt into the dish. Wonderful!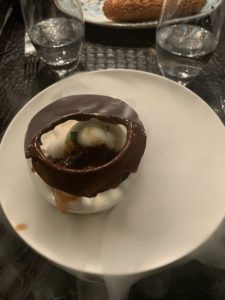 Chocolate melting into the dish
Not all of our meals were as showy, but everything we ate was delicious. The food of Normandy is the best we've ever had–from a tiny shop serving only soup and dessert, to several moderately priced places where we were greeted like old friends, to special restaurants like le Rapier and CanCan. Many dishes featured local dairy–cream and camembert–with beautiful vegetables perfectly prepared. And several times we made room for our favorite after-dinner treat, café gourmand.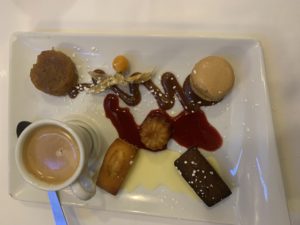 Phil's cafe gourmand one evening
Offered at most restaurants in France, a café gourmand is a cup of espresso with three or four tiny desserts. It's an opportunity to taste several desserts instead of one full-sized one. I can't handle caffeine in the evening, so usually Phil orders it and I get to taste!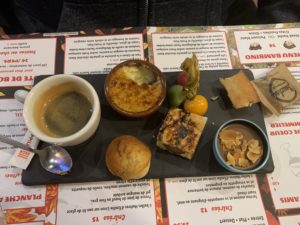 Another cafe gourmand. Phil shared!
For our last day in Rouen, we decided to walk the city, strolling everywhere and marvelling at the beautiful buildings. We also visited the Jeanne d'Arc museum, where we learned much more about this fabled heroine. Housed in the Archbishop's palace where her trial took place, the tour provides both an in-depth story of Joan of Arc's life and a detailed tour of the medieval building.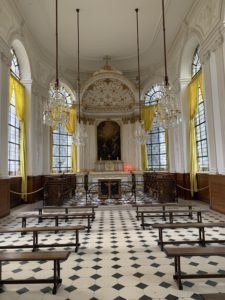 Chapel in the Archibishop's palace
We climbed roughly one million stone steps, many in a scary spiral pattern with limited headroom. At the top of the building we were rewarded with an incredible view of the street below.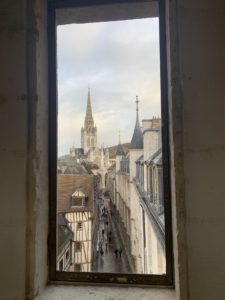 This view was worth the climb!
And then, after one more spectacular dinner and a final night in our lovely hotel, it was time to leave. We returned home feeling transformed by this experience, one we will never forget.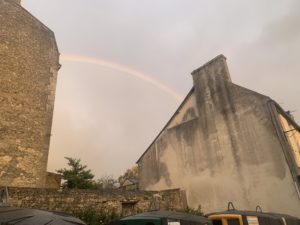 Normandy rainbow
I'll leave you with the image below (with our guide Johann passing by), of the American Cemetery monument quote that I loved: "Think not only upon their passing. Remember the glory of their spirit."