friendsgiving
Our first big party!
After returning from a fabulous trip to Normandy (I'll write about that next month), our thoughts and energy turned to preparing for our first French Thanksgiving. Our favorite holiday, Thanksgiving is an opportunity for us to bring friends and/or family together to feast, tell stories, and have fun together while reveling in our gratitude for the life we have. Since we have no family here, this would be our first Friendsgiving in Europe.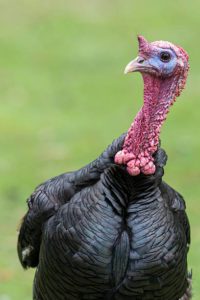 The first order of business, after issuing invitations, was the turkey. While it's easy to find thin slices, escalopes de dinde, here, I had no idea where to find whole turkeys. Fortunately, my friend Margi consulted the butcher at Les Halles, an indoor farmers' market, who confirmed he could source them. So, armed wih my terrible French, I managed to order turkey from the lovely, non-English speaking butcher, who explained to me that turkeys in France were not at all like the huge, large-breasted turkeys in the U.S. For 20 people, he said, I would need three turkeys. I paid a deposit and left, only to later receive several calls from him, confirming our plans. The funniest one was when he said his farmer had told him that Thanksgiving was on November 27th, not November 24. I assured him it was the 24th, and that I'd collect the turkeys the day before.
Phil and I arrived on November 23, a bit nervous about whether the turkeys would indeed be waiting for us; my backup plan was to serve chicken. But M. le boucher, good to his word, had them ready–WITH HEADS INTACT! "Pas de tête pour moi," I exclaimed, and he proceeded to remove the heads and cut the turkeys into pieces small enough for my oven. He even threw in a gift of sausage! He now has a customer for life.

Tables ready
With the turkey sorted, rolls made, dressing prepped, and green bean casserole (from scratch; no canned soup enters this food snob's house!) ready for the oven, we proceeded to set up. Our furnished apartment has a table for six, and we brought our garden table for six inside. Our friend Jackie loaned us a third table with folding chairs, and our friend Jo loaned us a white tablecloth, so we were all set for our 18 guests.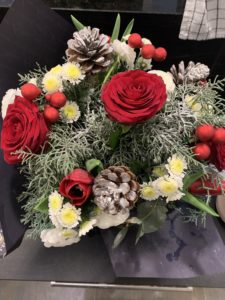 Gorgeous flowers from Gwen and Tom
Special friends Gwen and Tom couldn't come, as Gwen is down for the count with a badly broken ankle. But the day before the party, gorgeous flowers arrived from them! See what I mean when I mention our wonderful friends?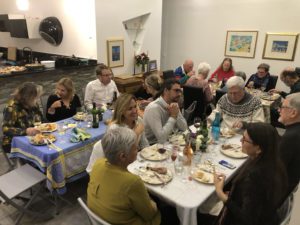 Amazing friends make for a great party!
The party was so much fun! Great food, wonderful company, and Phil's famous pomegranate martinis made the day. We had guests from the U.S., France, Scotland, Lebanon, the Czech Republic, and Sweden, and both French and English were spoken. It was a Thanksgiving we'll never forget.
The next day we stayed at home, putting the apartment back together, stuffing ourselves on leftovers, and resting. But on Saturday we were eager to get out. We attended our first session of Franglais, a language gathering where French speakers help others learn French, then enjoyed a stroll with friend Betsy. We decided to have a glass of wine, so I texted friends Anne and John, who met us at the bar near their home. After drinks we headed out to see the Coeur de Ville en Lumière. These events are held all over France, with gorgeous animated light shows projected onto monuments and buildings and set to music.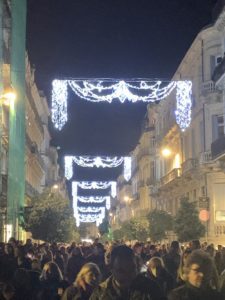 Christmas lights on Rue Foch
The light shows were incredible! The first one, Moustache le Chat, was at the Prefecture. We loved it! The second one was more serious, highlighting important women taking their rightful place among important men. My favorite moment was when Marie Curie broke the glass ceiling.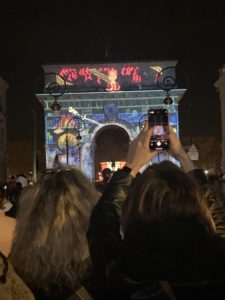 Shattering the glass ceiling
But my favorite was at the Promenade de Peyroux, where the water tower featured opera arias–and fireworks! It was a magical night.
The next day, Sunday, we decided to check out the Christmas market, which was unlike any holiday market we'd seen. Foie gras, vin chaud, gifts for everyone, and several Santa photo ops were on offer, along with food–oysters, aligot, sausages, crèpes, frites, sandwiches, and much more.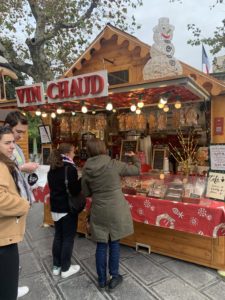 Hot wine. It's better than it sounds.
There were probably about 75 or so vendors there, selling all kinds of wares–handmade jewelry, art, knives, puzzles, preserved foods, pottery, beauty products, cashmere shawls, and much more. We only bought one small item, but we'll be back!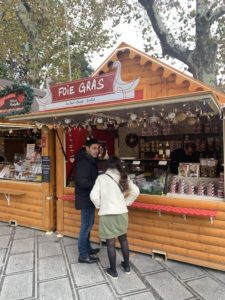 Foie Gras booth
But my favorite sight was the cotton candy booth. Apparently in France cotton candy is called "daddy's beard." Brilliant!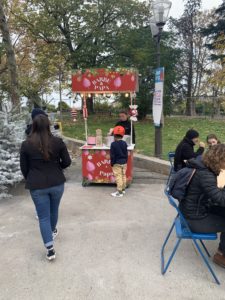 Barb de papa, aka cotton candy
And so we end this perfect Thanksgiving weekend feeling such gratitude for our lives in France. This beautiful city, Montpellier, is our home, and we are so fortunate to live here. Thanks for coming along for the ride!