on the road again!
Finishing up our pre-retirement Grand Tour
Denver was so great we (sort of) hated to leave, but it was time to continue on our journey. Before we ever even conceived of becoming Roamers, we had discussed doing a "Grand Retirement Tour" when I retired, crisscrossing the US and visiting friends along the way. Recently we realized that we've already been doing exactly that! Beginning with an Atlanta dinner with Philip and Erin, on to Raleigh with old friends Lloyd and Janet and favorite colleagues Michael and Sarah and Norm and Marie, continuing through Thanksgiving in Plymouth with our Cummings Clan, on to Phil's old friend in Savannah, Dorothy and Amy in Santa Fe and Phoenix, cousins Karyl, Matt, and Dafid, as well as dear friends Gracelyn and Ralph and Beth and Wade in California, a visit from high school bestie Patricia in Hawaii, several days in Santa Clara with Karyl and Matt, randomly running into Phil's sister Pam and husband Roger on the Oregon coast (!), fun in Portland with nephew Connor and his girlfriend April, as well as high school Wild Woman Tina, and friends Cathy and Pat, then great times in Seattle with Sue and Mitch, as well as Rob and Liz, on to Denver where we had visits from Lynn and Danny and Michael and Carmen, San Diego again with Karyl and Matt, Las Vegas with friends Pilar and Rene–WOW! We are reminded of how rich we are in friends and family.
And it didn't stop there. In the ten days of travel from Denver to Dallas, we had dinner in Kansas City with dear friends/former colleagues Deb and Mike and his wife Renee. Then we were off to Tulsa for a few days with bestie Beth and her partner Wade, where I got to help Beth's sister Jenni with a baby shower for Beth's daughter Sydney. Several of the guests were friends I'd not seen in ages, and it was wonderful to honor Syd, who's been like a daughter to me since her birth.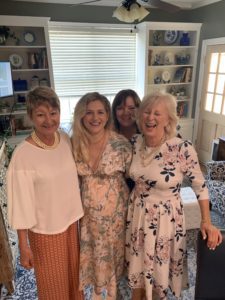 Baby shower giggles
It was a brunch shower, and I made individual fritattas and fruit salad, served with croissants I did NOT make. But the star of the show was the gorgeous petits fours that Jenni ordered. Her baker made them to match the napkins!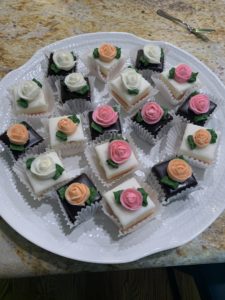 Jenni's beautiful petits fours
We loved the time we spent with Beth, Wade, Syd, Sean, and little Cora. Cora is a big fan of nicknames; Wade is Wade-o, Phil is Philio, and I'm "the other one." She cracked us all up constantly.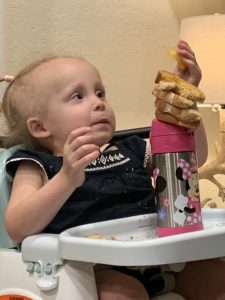 Cora's grilled cheese sandwich tower
We, of course, were very well fed in the days we spent with Beth and Wade. She's a wonderful baker, and Wade is a great chef. He runs a meat business, Luther Brown Meats, and we were treated to several of his products. We had some memorable meals with this "family by choice."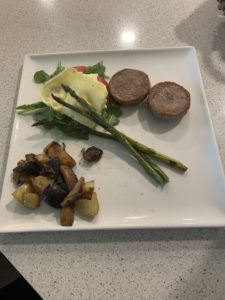 One of Wade's beautifully presented plates
While in Tulsa we also got some quality time with dear friend and Wild Woman Linda. We walked, we chatted, we lunched, and best of all, we visited Tulsa's Gathering Place, a world class public park offering exploration, beauty, gorgeous architecture, and much more. Our 50th high school reunion, originally planned for 2020, was cancelled again due to COVID, so the opportunity to spend time with my high school friend was truly a gift.
The Gathering Place: a wonderland for kids and adults!
We said goodbye to our Tulsa crew and headed to visit my brother Larry and wife Leanna, taking a slight detour to see Price Tower, the Frank Lloyd Wright skyscraper in Bartlesville, Oklahoma. Phil is a huge Wright fan, and it was definitely worth the trip to see it. After a quick lunch, we headed on to Arkansas for our visit with Larry and Lea.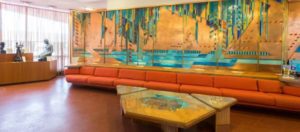 Price Tower lobby
Larry and Lea were in the throes of renovations on their beautiful lakeside home, so we spent most of our time out and about. We only had two days, but we packed a lot of fun into them, exploring new restaurants in the area, catching up on over two years' worth of chats, and generally enjoying our time together. We made a day trip to Eureka Springs, which Phil and I had never seen. Along the way, we had one of those serendipitous experiences that seem like gifts from the universe, during a visit to Martin Greer's Candies. Dr. Greer, a retired artist and professor (his father founded the company, and now his son makes the chocolates), came in to welcome us to the shop and we learned about his art career. "Care to see my studio?" he asked. Of course that was an irresistible offer, and we were not disappointed. Cartoons, paintings, animation cels–it was all there. We felt as if we'd snagged a private museum tour!
We pulled ourselves away and headed to our next stop, Thorncrown Chapel. Hidden in the woods, this beautiful small chapel is a popular wedding site. Well worth a quick visit!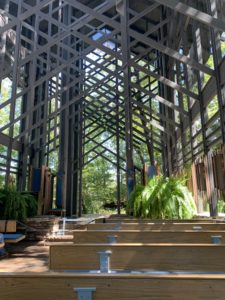 Thorncrown Chapel
From there we headed on to Eureka Springs, a quaint village full of shops and restaurants. We especially enjoyed exploring the Crescent Hotel, a beautifully preserved 1886 hotel and spa.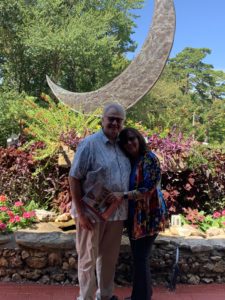 Lovebirds at the Cresent Hotel
The next morning we enjoyed breakfast at the Buttered Biscuit, a favorite from a previous trip, before saying goodbye and heading out for Dallas. We were beyond excited for this part of our trip, as our daughter and son-in-law will also be visiting from their home in Sweden. As a treat, we spent our first night (using points!) at the Adolphus. There we made friends with talented bartender Justin Wells, who recommended dinner at Billy Can Can. In fact, since he works there part time, Justin arranged for VIP treatment–reservations at the bar, where we could watch the action! We had a wonderful, top 20 meal there and were treated like royalty.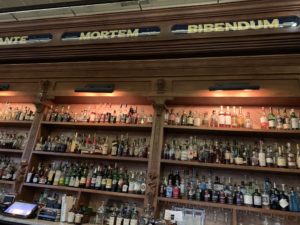 the bar at Billy Can Can: "Before Death Drink"
We each had an appetizer, main course, and dessert, and everything was exceptional! I enjoyed it so much I forgot to take pictures after the appetizer.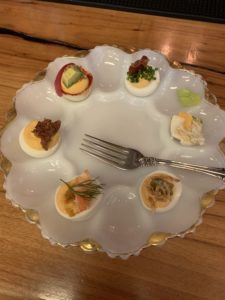 Appetizer: deviled eggs six ways
Our ten days on the road between Denver and Dallas were indeed memorable. Now we're happily ensconsed in our Dallas Airbnb, and I can't wait to share the stories!