Heading to the hills
The Roamers travel to the mountains. Lots of mountains.
Our time in Seattle finally came to an end. We bid a sad farewell to our friends and a joyful "Later, Sucka!" to our crappy apartment, grabbed a last Seattle coffee, and were on our way.
Our first stop was Medford, Oregon, where we'd stopped for a business meeting on our way up to Portland. It was smoky but fortunately not on fire, so we enjoyed an early dinner and slept fast in order to be on our way early the next morning. We then headed to San Francisco, where I had splurged (with points) on the Hotel Adagio, a Marriott Autograph Collection property that advertised a beautiful rooftop deck. Turned out, though, that the rooftop deck was only available to the guest who reserved the suite that opened on to it. So much for truth in advertising!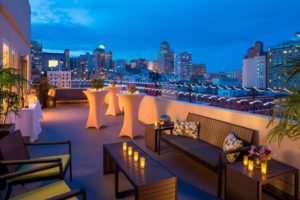 This photo might make you think you can visit the rooftop, but you'd be wrong!
Of course we still enjoyed our brief visit to San Francisco, with lots of walking (hills!), a visit to the immersive Van Gogh exhibit (great but overhyped and overpriced), and a wonderful after-dinner drink at John's Grill, one of the oldest restaurants in town. The 30-something bartender, who hailed from Argentina, regaled us with stories of the time Jack Lalane visited and punched a waiter in the stomach just to test his strength. He also introduced every 40-something waiter as his son, which cracked us up.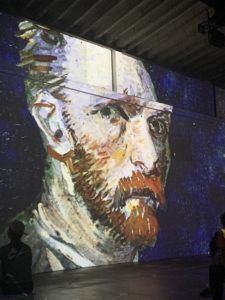 Van Gogh exhibit
Our next stop was San Luis Obispo, where we'd had lunch on our way north. It was so charming we had to return to see more of it. Again, I splurged with points on a Marriott property, and this time we were not disappointed. While we had to wait almost two hours for our room to be ready (staffing issues), we were given drink vouchers so headed to the bar to wait. After dinner in the most beautiful interior courtyard we'd ever seen, we headed back to the hotel for a delicious sleep.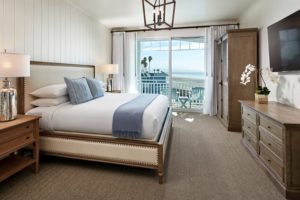 Our Vespera Resort room in SLO
The next morning we couldn't wait to hit the road, because we were headed to San Diego for another visit with cousins Karyl and Matt–and nephew Connor was there, too! As usual, their hosting would impress Pearl Mesta, and we had a wonderful, albeit too short, couple of nights with these dear ones.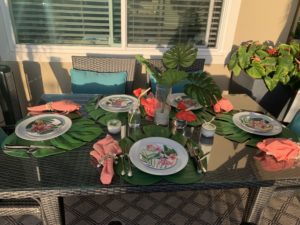 Dinner by the pool with wonderful cousins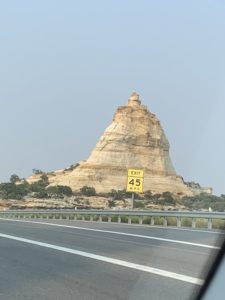 Just one of the weird sights en route to Las Vegas
Our next stop on the way to Denver was Las Vegas, a place we normally don't like. But this time we were excited to visit dear friends Pilar and Rene, whom we met as Boston neighbors. Our hotel was another splurge, the Delano, where we had a beautiful suite with two bathrooms.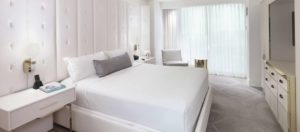 Our sweet Delano suite
Before heading to dinner at Pilar and Rene's we visited Skyfall, the bar on the 64th floor of our hotel. Naturally, we had to have Vesper martinis!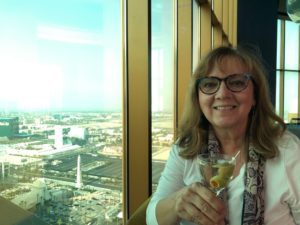 Vesper martini at Skyfall. What a view!
We had an unforgettable evening and fabulous dinner with Rene, Pilar, and their beautiful rescue dog Jet. They promised to visit us when we settle in Montpellier (well, probably not Jet), so our farewell was not so sad. Early the next morning we set out for Denver, our home for the next month.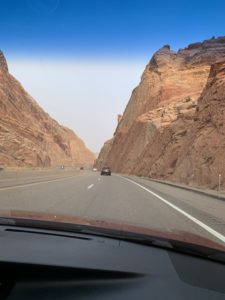 Driving to Denver
Our apartment was everything we'd hoped for, and a wonderful change from the Seattle place: affordable, convenient, in good repair, and with a dedicated parking spot. We had one day to settle in before leaving for a business conference in Coeur d'Alene, Idaho.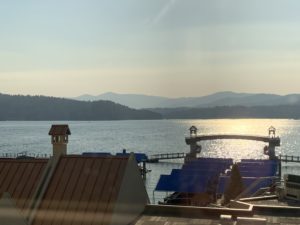 Coeur d'Alene view from our hotel room the first day
We arrived and checked in before boarding the boat for a dinner cruise, where we spent the evening getting acquainted with the other attendees and their spouses. The next day we were astonished to look out the window and see smoke from the California wildfires. It was so strong we could smell it!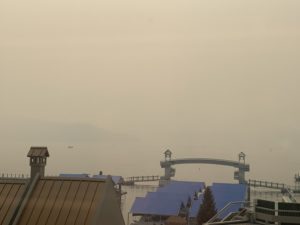 Same view, second day. Smoky!
Despite the smoke, we had a wonderful time. The town is quaint, the lake beautiful, and the hiking very nice.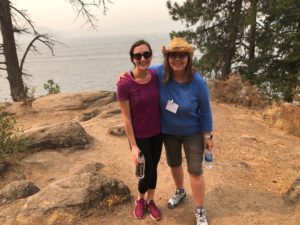 My colleague Sally and I on a hike in Coeur d'Alene
Conference over, we bade goodbye to our new CFO friends and headed back to Denver to greet our first guests.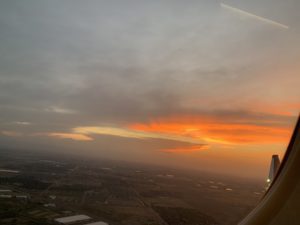 Sunset from the plane. My first business trip in 18 months!
We were excited to welcome our dear friends Danny and Lynn, who spent a couple of nights with us in Denver during their annual August "Get the hell out of Texas" trek. Danny Jones is an extraordinarily gifted artist with whom Phil has studied, and his wife Lynn was the first to welcome us to Wimberley when we were deciding to move there. They quickly became friends-who-are-family, and we had a wonderful time exploring Denver together–especially the Denver Art Museum.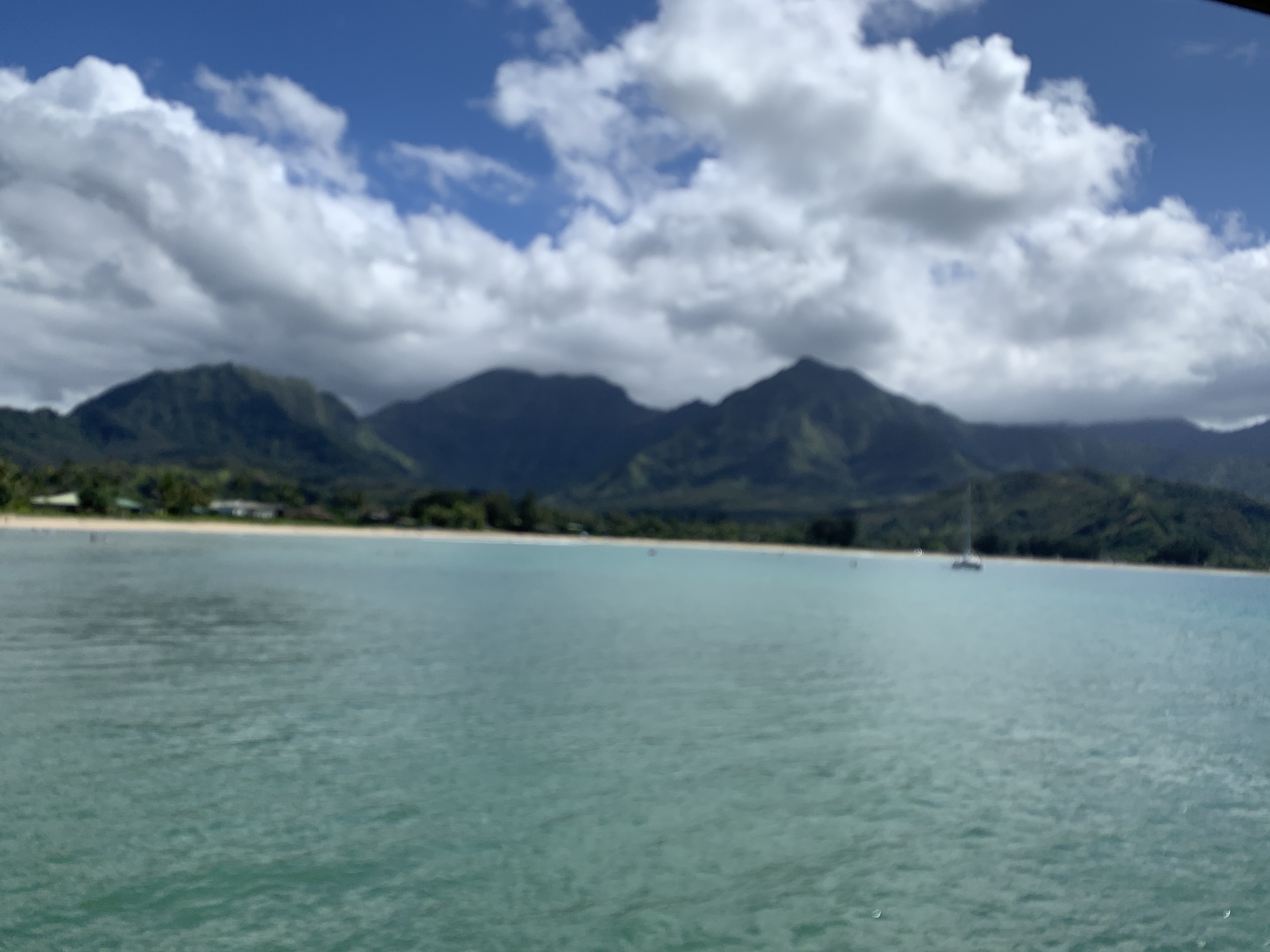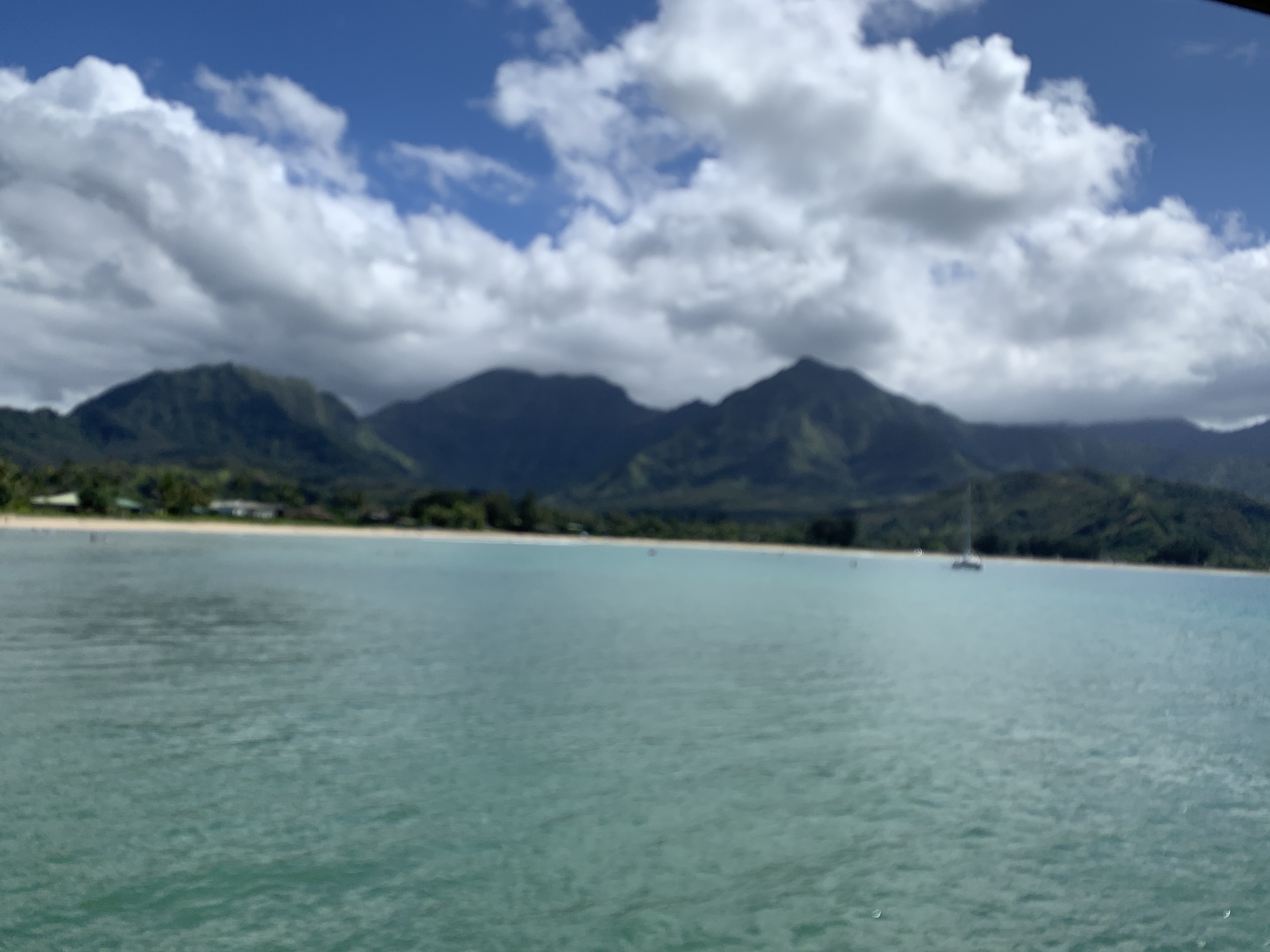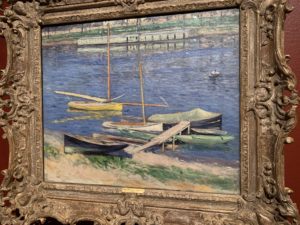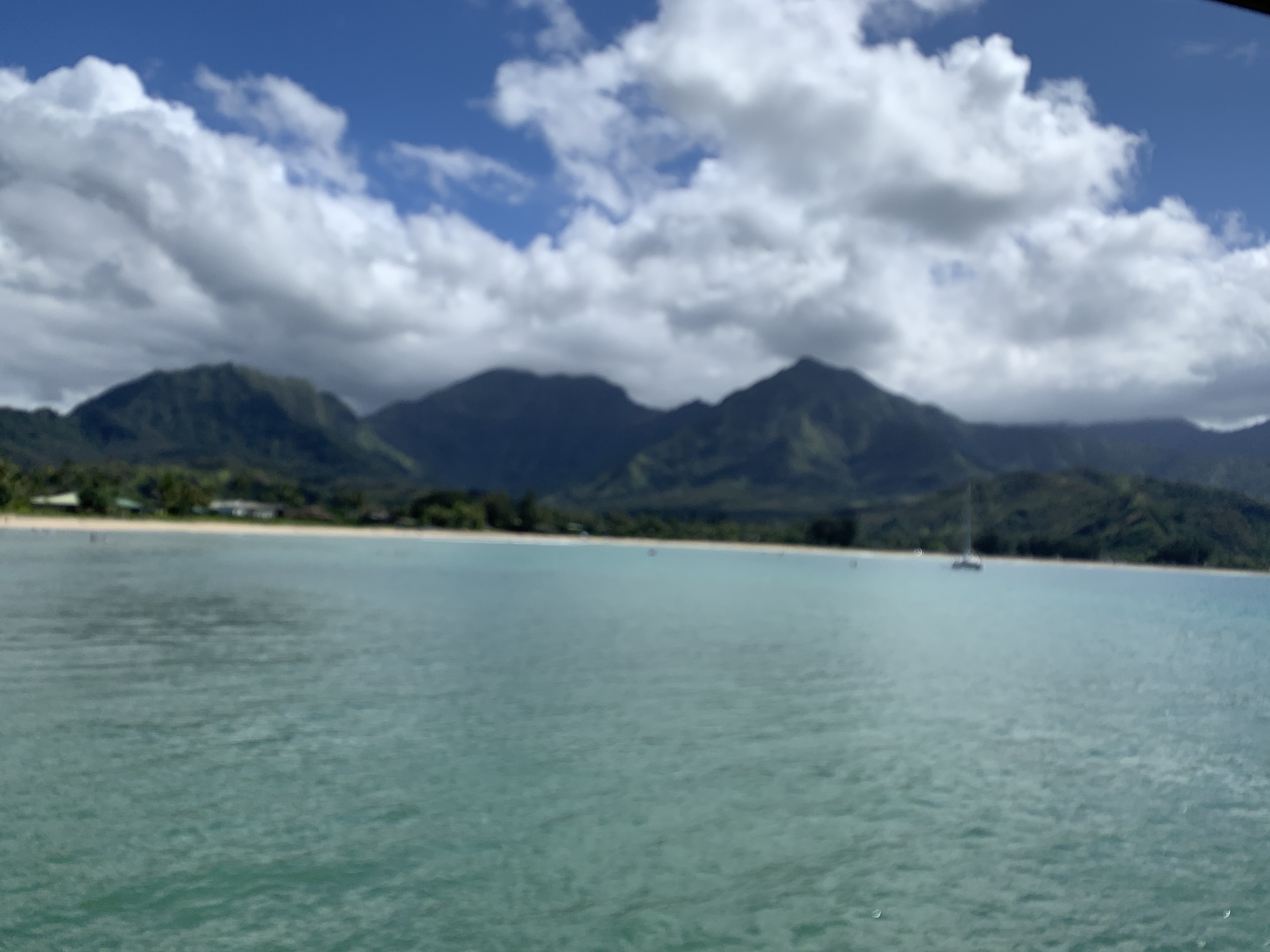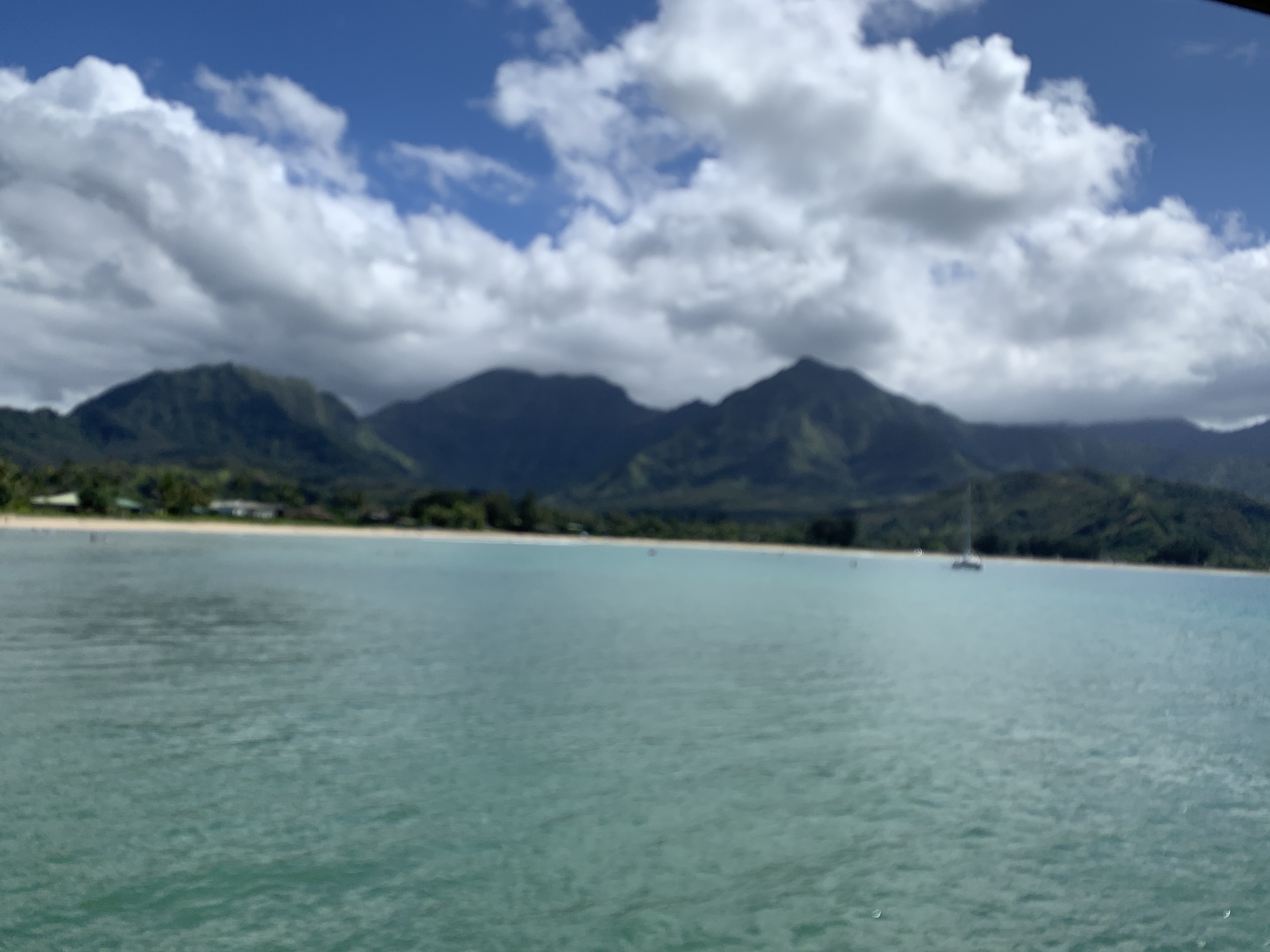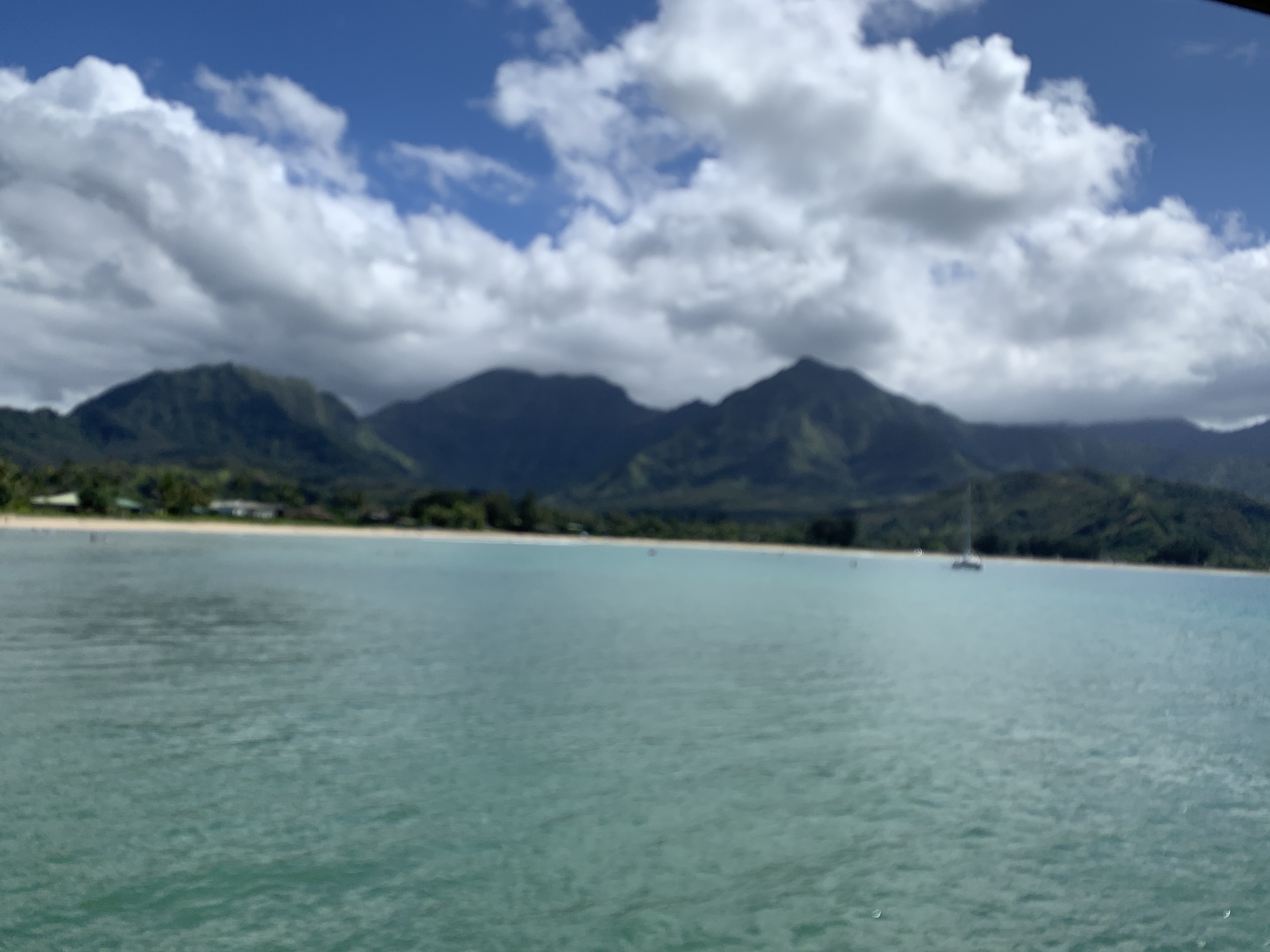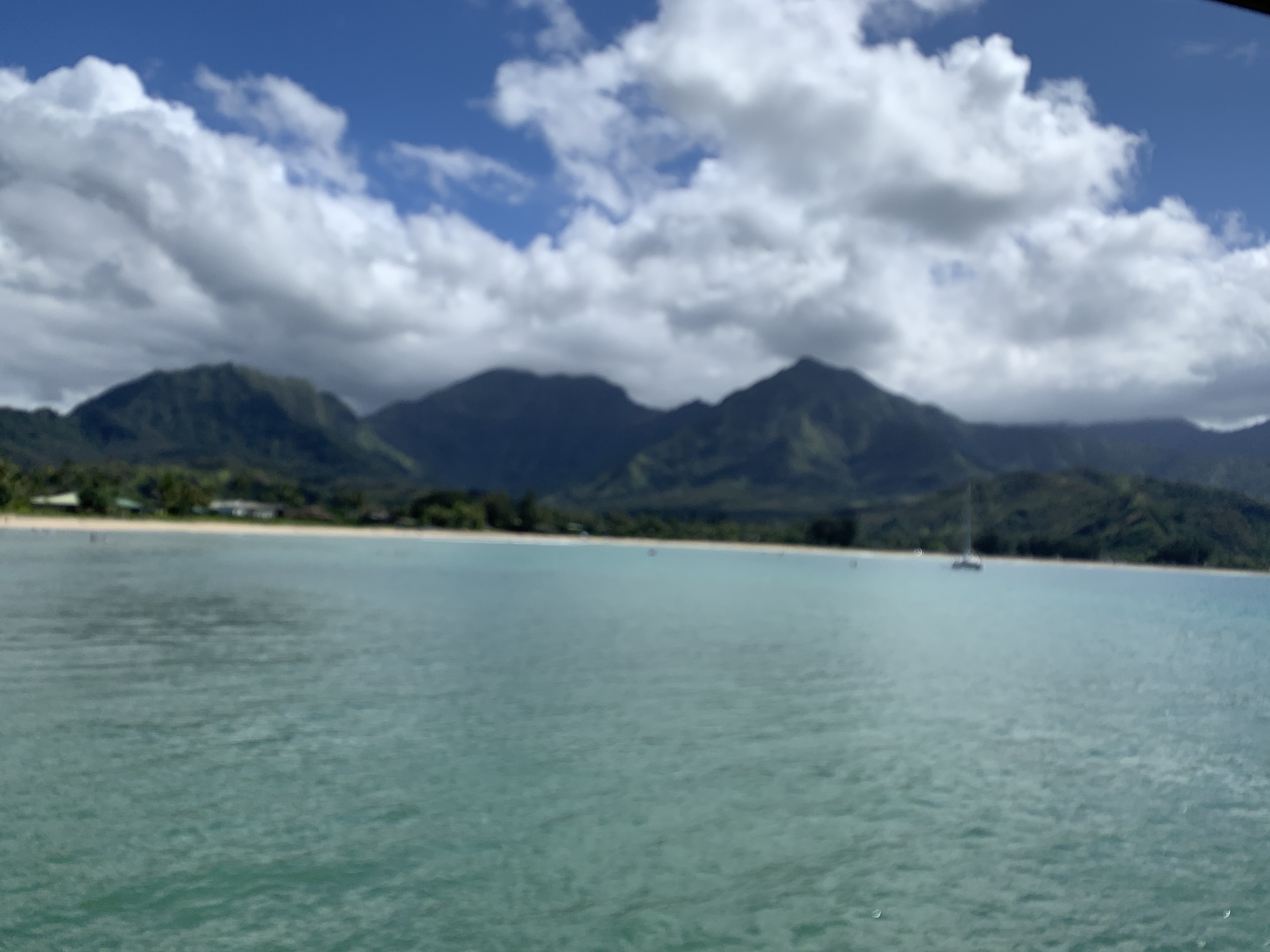 A painting on display at the Denver Art Museum
After promising to spend time together when we're in Austin, we said goodbye to Danny and Lynn. Next up was a very, very special visit. Carmen and Michael worked with us over 20 years ago, and we hadn't seen them (aside from a quick lunch with Michael in 2007) since they left Dallas for their own "Carmichael Travels" adventures. Years later, with Australian citizenship completed, they moved back to California. And they made a special trip to Denver to see us!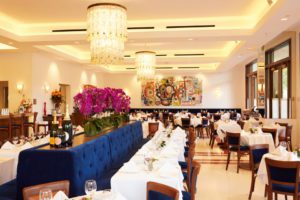 The restaurant where we had dinner with Carmen and Michael
They arrived Thursday evening to have dinner at our place, and on Friday we had a wonderful dinner at Le Bilboquet, one of the most beautiful restaurants I've ever seen. It was wonderful to pick up where we'd left off, and even better to find we enjoyed them more than ever! We hated saying goodbye but hope to see them again when we're in Dallas, where Michael works.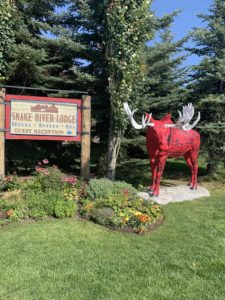 Snake River Resort, the site of our CSO retreat
The next week was my big project, the second annual Chief Strategy Officer retreat in Jackson Hole. I'd never been there before, and it did not disappoint.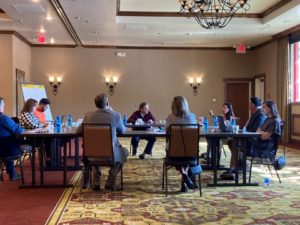 Yes, we did work while in Jackson Hole!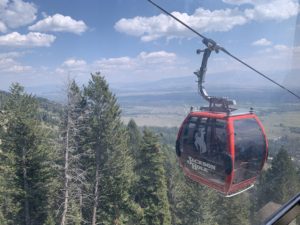 Gondola ride in the Grand Tetons
The meeting was a success, we had a wonderful time, and I was relieved that all had gone well. Time to head back to Denver! Now that our hosting and business travel were done, we had the luxury of exploring on our own.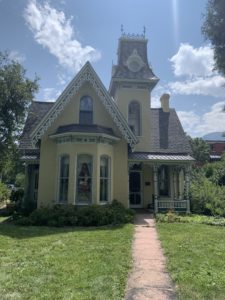 A beautiful historic house in Boulder
First up was Boulder, where I'd originally hoped to stay (no good affordable Airbnbs there!). We spent a lovely afternoon lunching, strolling, and tasting local wines.
The following weekend we made a day trip to Colorado Springs to see Garden of the Gods and Pike's Peak.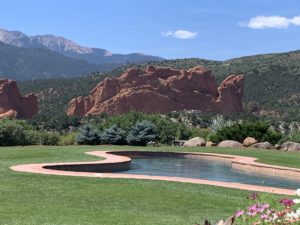 View from our lunch table at Garden of the Gods
We stopped for lunch at the Garden of the Gods Resort. What a view! But it was just a preview of what we saw as we drove and hiked the site. It's truly a not-to-be-missed experience.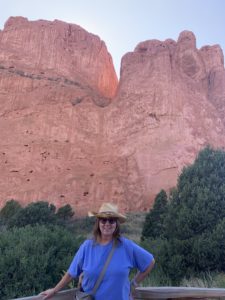 Sandy hiking at the Garden of the Gods
But wait, there's more! I drove us to the top of Pike's Peak!!! It was terrifying. And when we reached the summit and got out of the car, we had to sit right down and rest. At over 14,000 feet, the air at the summit has only half the oxygen at sea level, and we were seeing stars.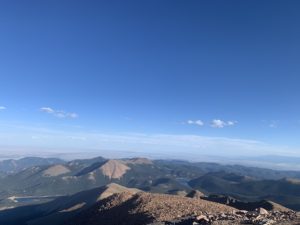 A dizzying height, indeed!
After a snack and rest, Phil drove us safely down. It was a once-in-a-lifetime experience (meaning I've done it once and never need to do it again!).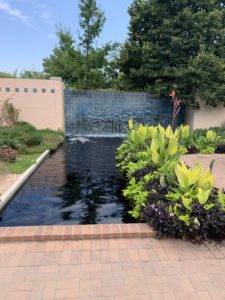 Denver Botanic Gardens water feature
The next day, with our feet firmly on the ground, we visited the Denver Botanic Gardens. This proved to be one of our favorite experiences in Denver, and possibly the most beautiful botanical gardens we've ever seen.
If you ever have a chance to visit, don't miss it!
The following weekend we decided to take a side trip to Aspen. Once again I splurged (using points) on a night at the St. Regis Aspen Resort. What a beautiful property! Our room wasn't yet ready, so of course we headed to the bar.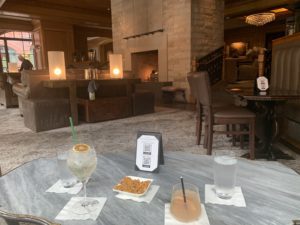 Craft cocktails at the St. Regis Aspen bar
Our room was lovely, and after settling in we went for a walk through town. We had a cocktail at the J Bar, a historic saloon in the Hotel Jerome which was the unofficial office of Hunter S. Thompson when he ran for mayor. We followed that with a lovely dinner at an Italian restaurant recommended by the bartender.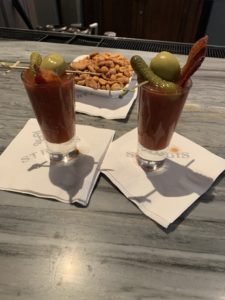 Bloody Mary tasting
The next morning we had an early breakfast and then strolled back to the hotel for a complimentary Bloody Mary tasting, which yielded the best Bloody Marys of our lives. Then we checked out and headed for Maroon Bells.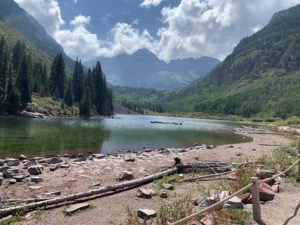 Maroon Bells
We'd been there before but had forgotten the impact of seeing those majestic mountains rising over the lake.
We'd intended to spend just one night, but we were having so much fun we decided to spend a second. We couldn't afford a room at the St. Regis, so we decided to head to Glenwood Springs, where we found a lovely B&B hosted by Stan, a retired entymologist. Stan cooks a mean breakfast!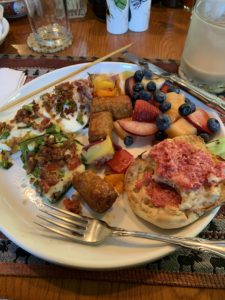 I forgot to take a picture before starting to eat!
We checked out, had a stroll around Glenwood Springs, and headed back to Denver, stopping in Vail for lunch. And now we're back in Denver, savoring our last few days here. This has turned out to be one of our favorite stays, and we highly recommend a trip to this exciting, beautiful place! As Phil remarked, "I could live here!"