seattle
The good, the bad, and the sad.
We reluctantly left France and returned (20 hour trip!) to our hot quarters in Seattle. It had cooled off a bit, so we decided to make the best of the next four weeks. To be completely honest, we never got over grumbling about our overpriced Airbnb. In addition to no a/c except for the portable unit in the bedroom, it had a hole in the bathroom, the tiniest kitchen, lots of traffic noise, and no parking. I thought I was very clever avoiding the $1000+ cost of parking nearby by finding a parking lot through Neighbor for $200. However, the outdoor, 24/7-accessible lot turned out to be a condo resident's garage space. To access it we had to walk, take a bus, walk more, and call the host's roomate (host was out of town) to come let us in and out.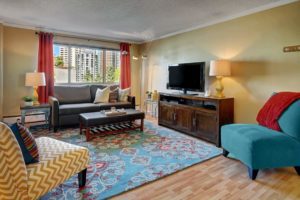 Don't be fooled by the cute photo. This was not a wonderful Airbnb.
We nonetheless settled back in to our apartment, and Phil set up his "studio." He takes over the dining table in each of our Airbnbs, and honestly, the mess doesn't bother me at all. . .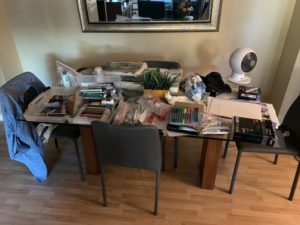 Phil's "studio"
Our first stop was Pike Place Market, where I was astonished to find these gigantic morels! I used to forage for them in Oklahoma with Phil's dad, and they're a favorite indulgence for our whole family.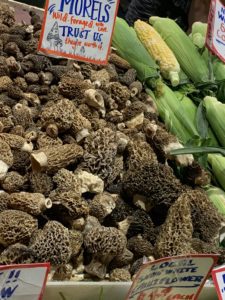 Gigantic morels!
I made them into a wonderful risotto, which we had that evening. The market, despite being a total tourist trap, has excellent local produce, meat and fish, and artisanal offerings, and it's worth fighting the crowds.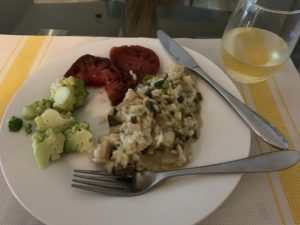 I forgot to take a picture before I started eating!
Seattle is a beautiful city, but like Portland, it's suffering right now. While we saw far fewer urban tent communities than in Portland, the people lviing on Seattle streets seemed far more damaged, with so many experiencing major mentall illness. We couldn't walk a quarter mile without encountering someone shouting obscenities or gibberish. It was sad and disheartening, and we felt helpless to make any meaningful impact.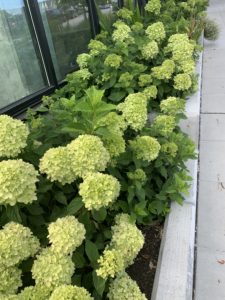 Beautiful hydrangeas blooming next to broken people.
The one positive of our overpriced, hot, shabby apartment was its location. We were at the foot of Capitol Hill and frequently trudged up that steep hill to discover funky shops, tatoo parlors, S&M supply businesses–and also some great restaurants and coffee bars.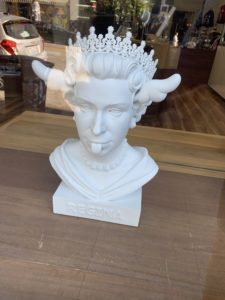 Demon Queen in a shop window
Seattle is also a wonderful city for art lovers. There is art everywhere! We enjoyed several art museums, but honestly, by just walking around the city we saw spectacular art.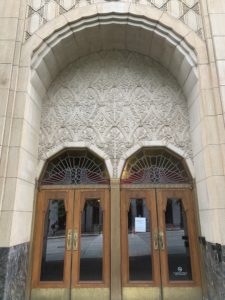 A beautiful Seattle building
We loved a special Monet exhibit at the Seattle Art Museum, "Monet at Etretat." I'd visited the museum once before with dear friend Cathy, when they were showing the Stein Collection (works owned by Gertrude Stein and her brother Leo) and was delighted to rediscover some of the permanent exhibit works I'd enjoyed years earlier.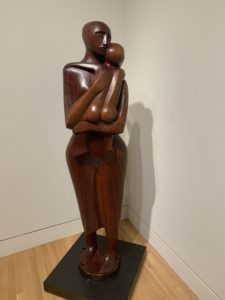 I was moved by this sculpture in the Frye Art Museum
With friends Sue and Mitch we visited the Museum of Pop Culture (the cool kids call it MoPop), located in Seattle Center, the arts, education, and entertainment center originally built for the 1962 World's Fair. There was so much to enjoy, but my favorite was the Disney Princess gowns in the "Heroes and Villains: The Art of the Disney Costume" exhibition.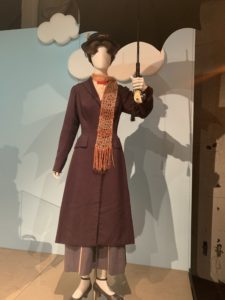 Mary Poppins costume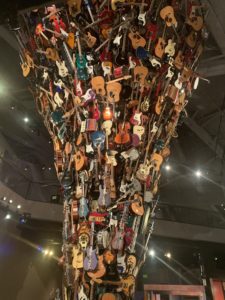 Guitar sculpture just outside the MoPop Jimi Hendrix exhibit
We of course had to sample numerous Seattle restaurants. We had a wonderful Mexican lunch with Sue and Mitch, a memorable tapas dinner with friends Liz and Rob, and a best-in-class burger with Gail & Dave and Sue & Mitch. We also dined solo; one special experience recommended by our son was the Pink Door, near Pike Place Market. With no sign and only a. . .wait for it. . .pink door to identify it, this restaurant is also a performance art piece. During our visit there was no trapeze performance, just a Zydeco band. If you have a chance to visit, don't miss it!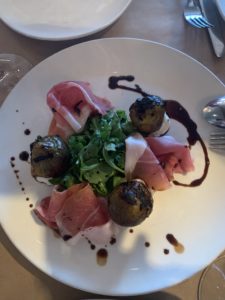 Beautiful and delicious shared appetizer at the Pink Door
After one particularly long, hot, hilly walk we were in dire need of refreshment and stopped in at Ba Bar. It's known for its pho and craft cocktails. We shared a refreshing salad and indulged in cocktails that were so good we planned to return! But we ran out of time. . .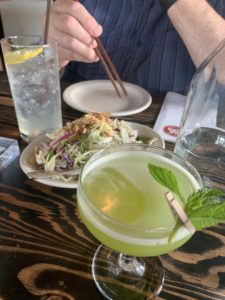 My basil cocktail with a cute clothespinned basil garnish
But by far the best thing about our time in Seattle was dear friends. We especially loved our time with Sue and Mitch, who hosted us for a delicious dinner on the deck overlooking their wonderful garden, let us park our car at their house after we gave up on our discount parking hack, invited us to join them at Shakespeare in the Park ("Midsummer Night's Dream"!), met us for long walks and restaurant meals, treated us to a special restaurant dinner celebrating their son Chris's birthday, acted as our chauffeurs, and provided advice on fun things to do. Together since junior high, they are my high school friends, and Sue is one of my "Wild Women" group, eleven high school friends who gather annually for a Wild Women's Weekend.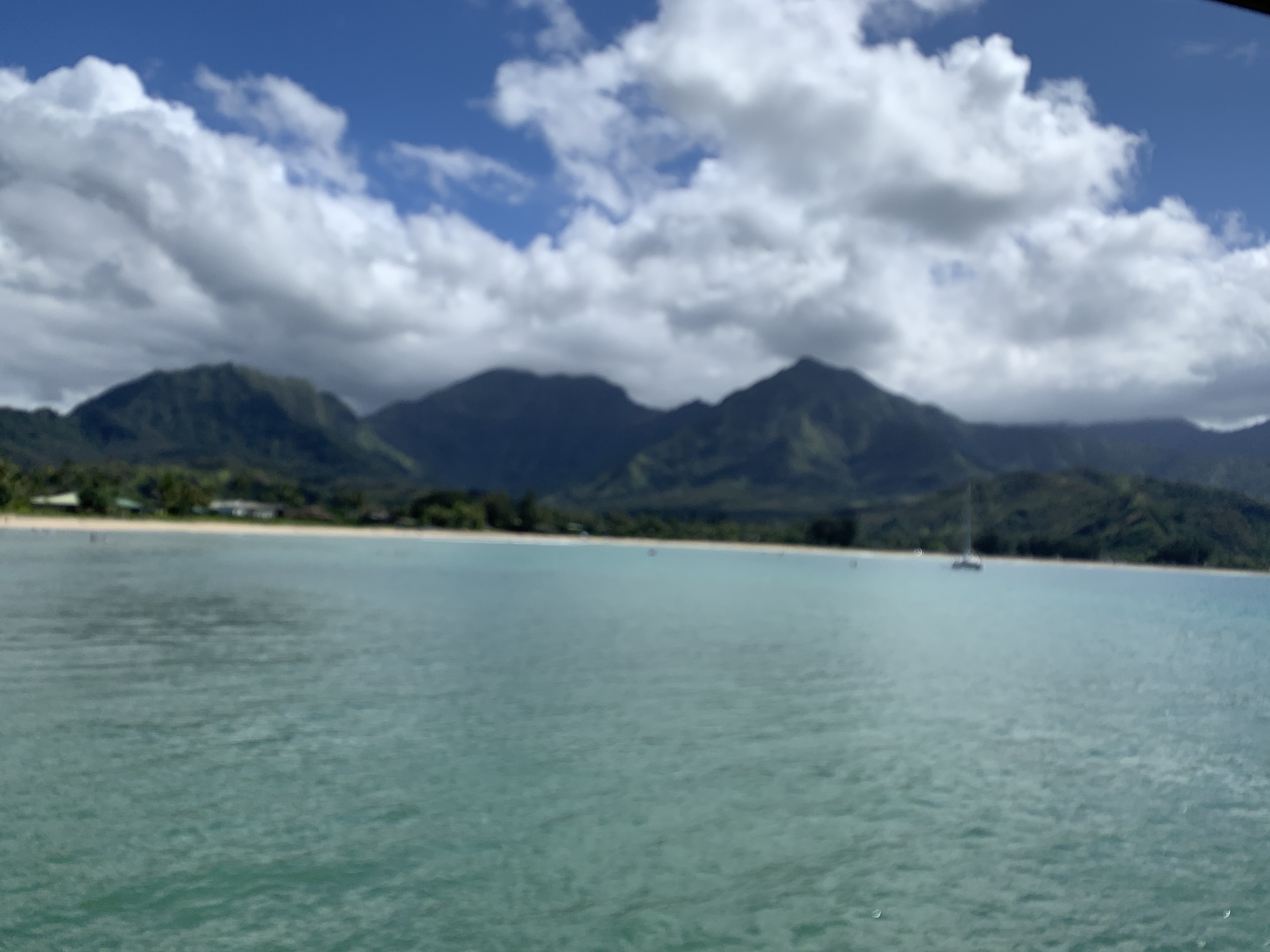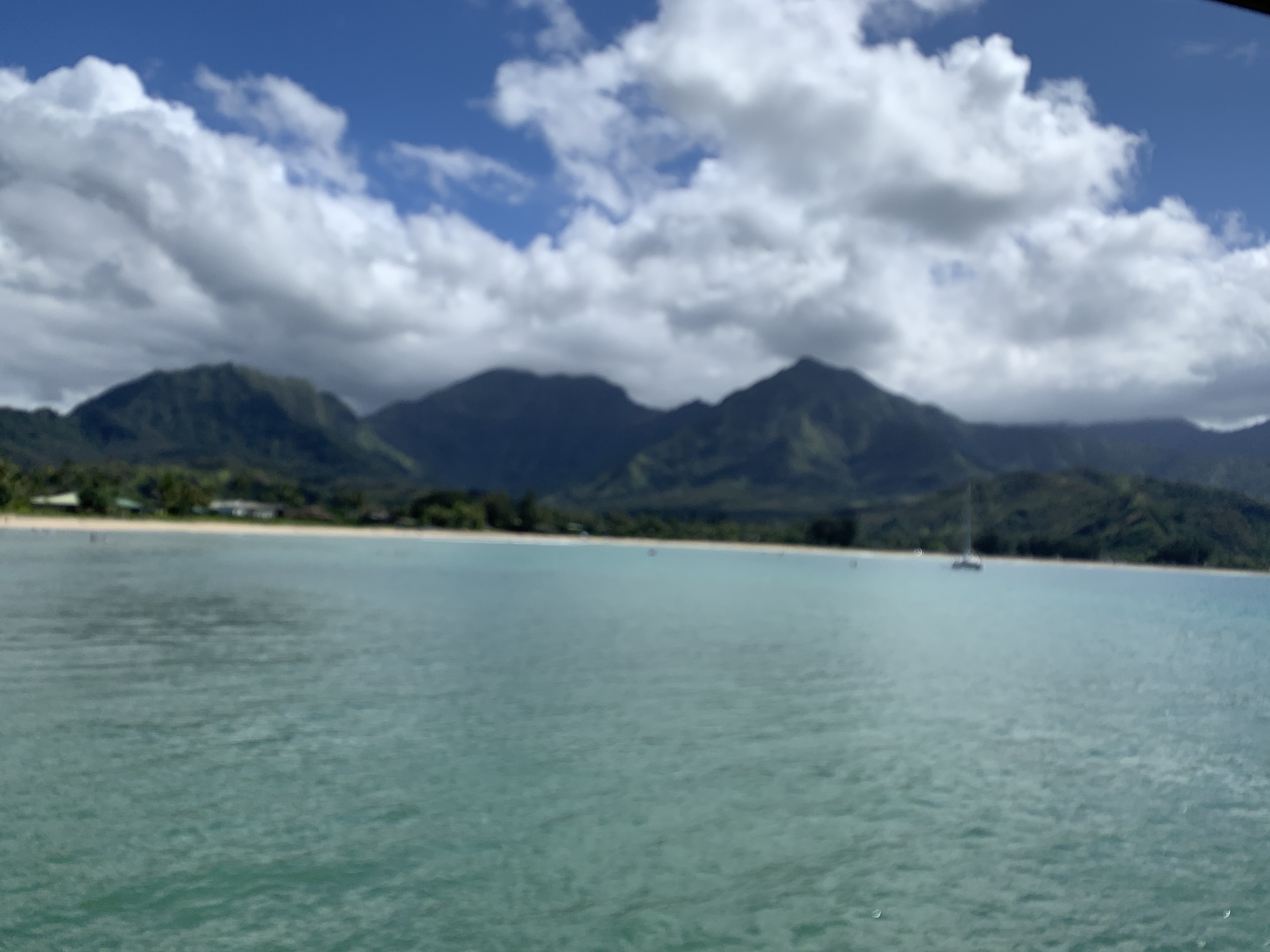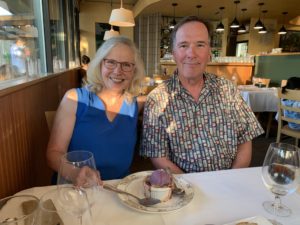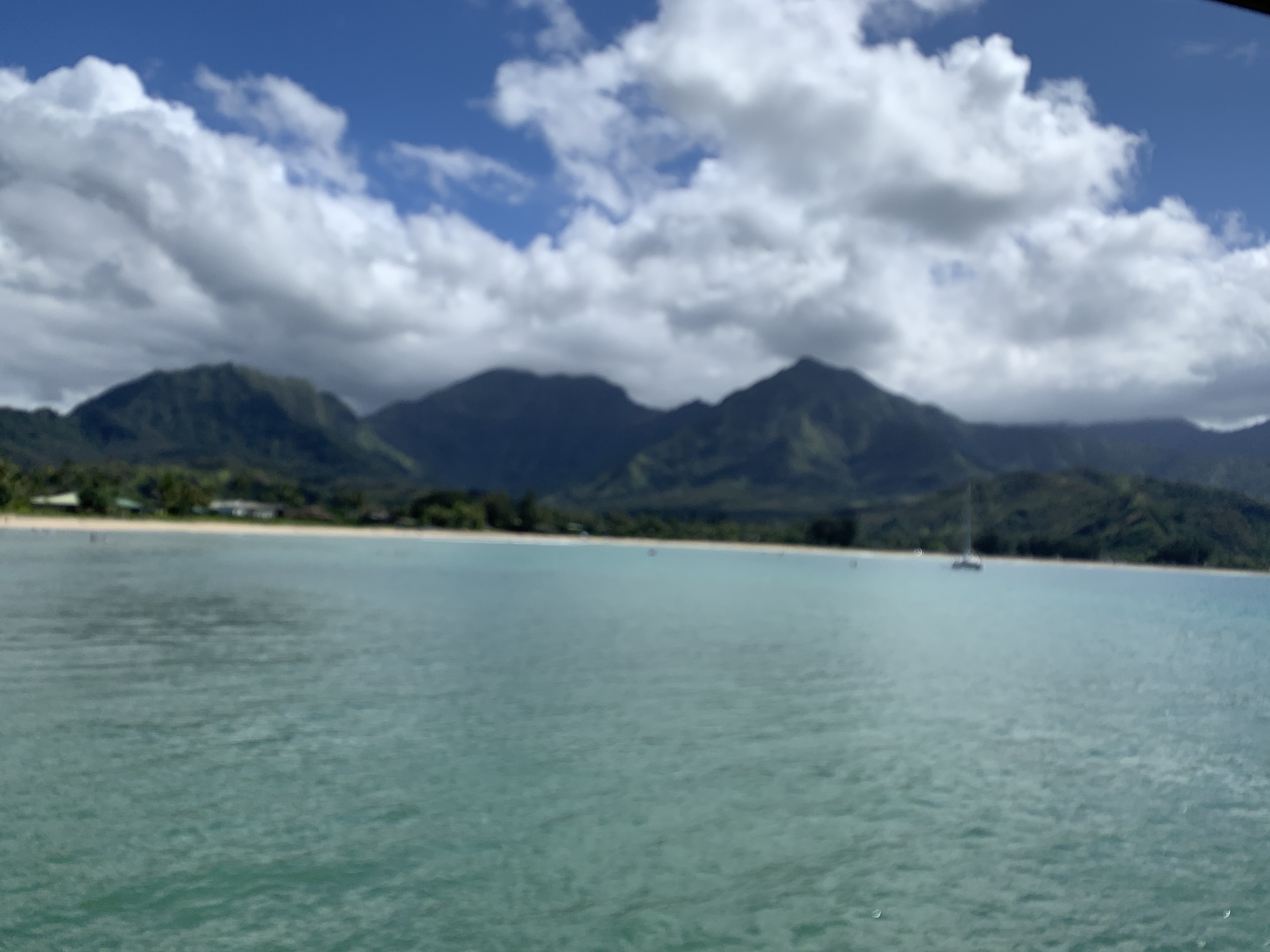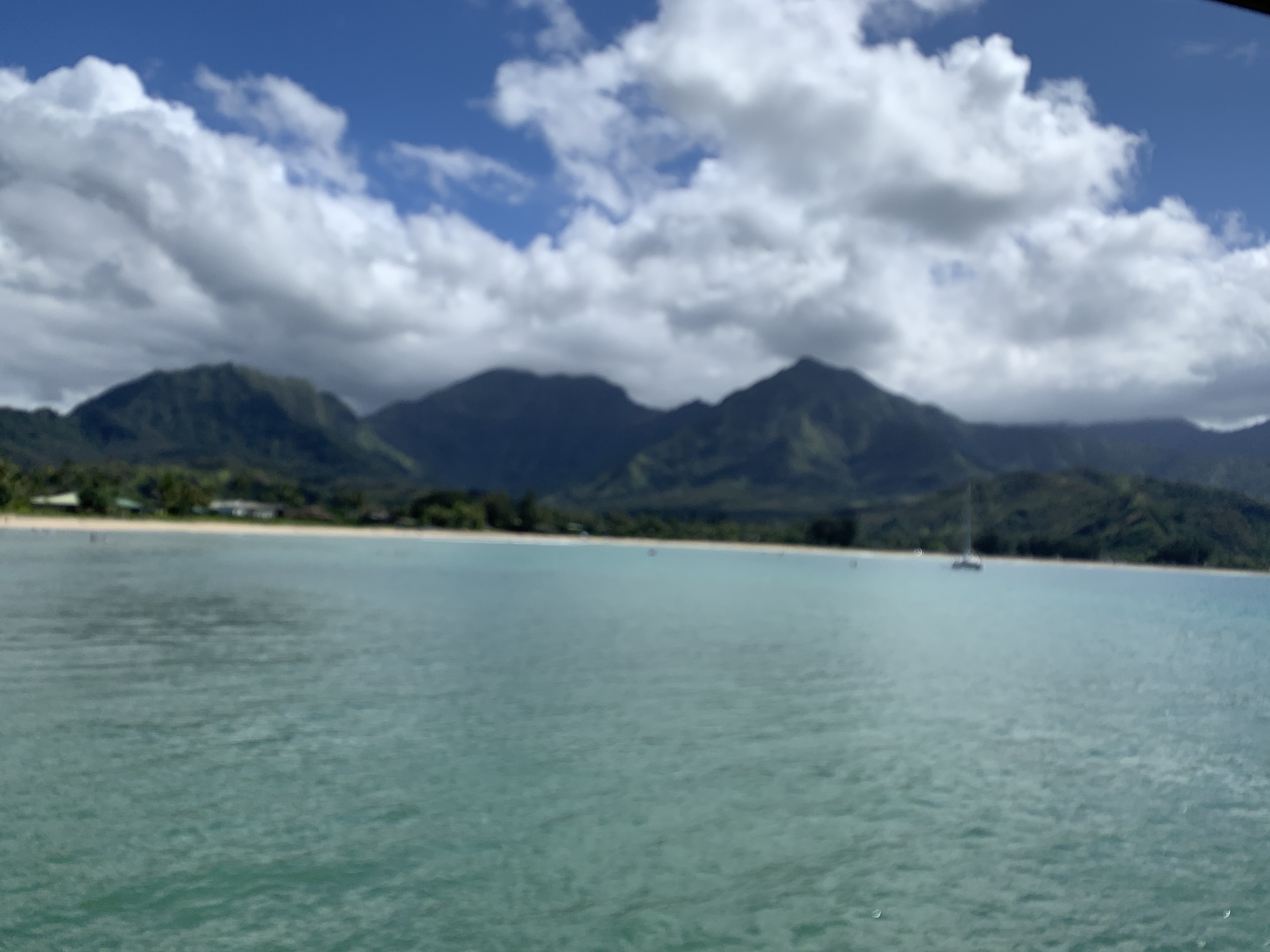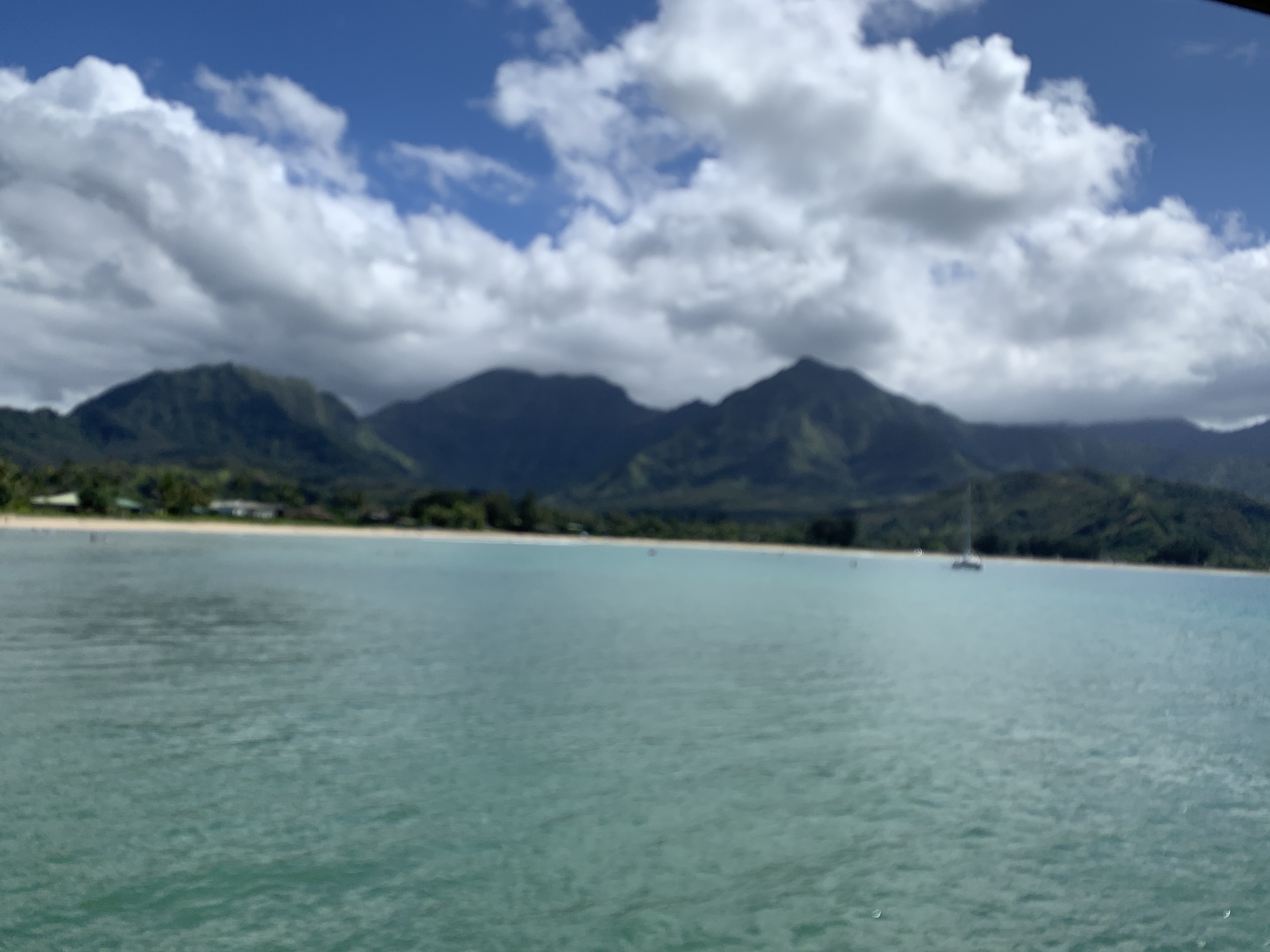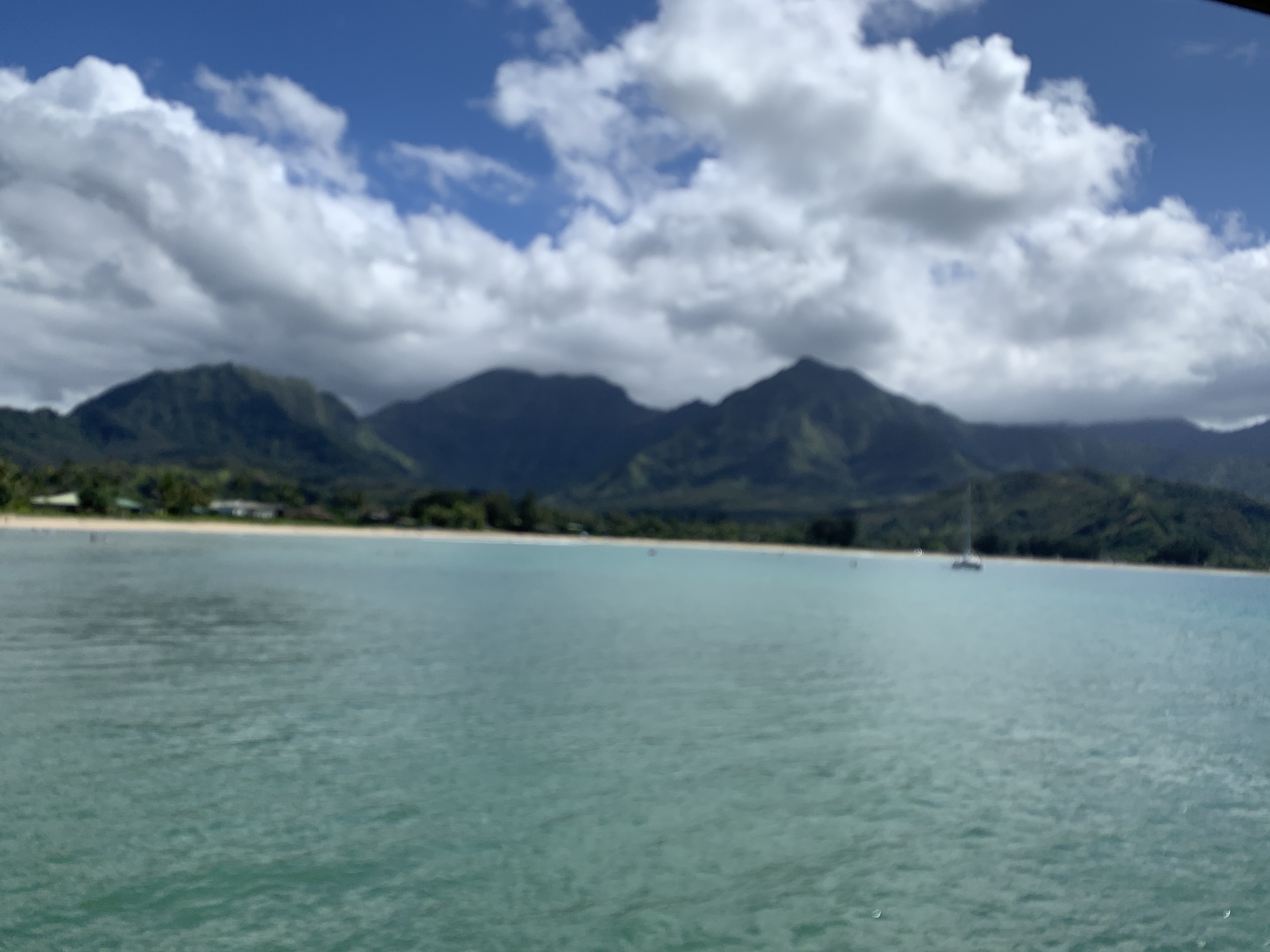 Sue and Mitch at the birthday dinner
We had some other fun times: visited two botanical gardens, took ferries to Bainbridge Island and Whidbey Island, enjoyed a glass of wine on the grounds of Chateau Ste. Michelle winery, wandered through pretty much every neighborhood in Seattle, visited possibly the best bakery in Seattle, and much more.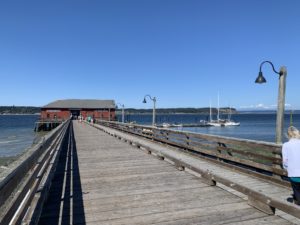 Coupeville Wharf on Whidbey Island
So while Seattle had some bad (HEAT! Remember it was 107 when we arrived–and no a/c?!) and some sad (urban stress and homelessness), our experience there reminded us just how fortunate we are. We are filled with gratitude for wonderful lifelong friends, our adventurous life, and our ability to live our best lives together. Next up: on to southern California, Las Vegas, and Denver!