Speaking of home. . .
The Roamers are making some big plans!
We love our beautiful furnished apartment–it's spacious, comfortable, affordable, and comes with a rare large private garden. But after living here almost a year, we feel the urge to have something of our own, something permanent. And yes, Montpellier has become home for us. We plan to continue Roaming, traveling as much as possible, but after our year and a half of living full-time in Airbnbs, one month at a time, we value the notion of having a place of our own. So, we've decided to buy an apartment!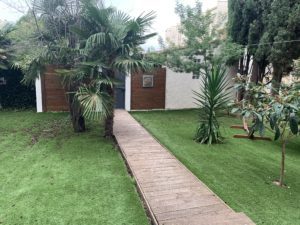 Our private garden, a rarity
There are two things, and only two things, we don't like about our current furnished apartment. First, the location is far from everything we want to be close to. Want to go to a cafe for a coffee? Walk 25 minutes. How about a quick burger? 20 minutes. A trip to a restaurant will take 35 minutes walking or slightly less time via bus. Since we have no car (yet!) we depend on public transportation, which can be inconsistent.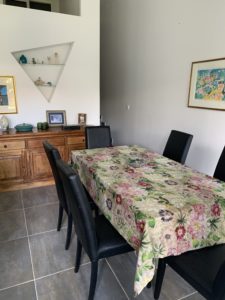 Dining at home, because no restaurants!
The other thing we don't like about our apartment is that it's hidden behind THREE locked gates! The electric driveway gate gives access to the parking area. The next, a heavy iron gate, leads to a tiny courtyard with an unoccupied casita. And the third is the entry to our private garden. Very secure, but definitely a hassle for deliveries and hosting guests!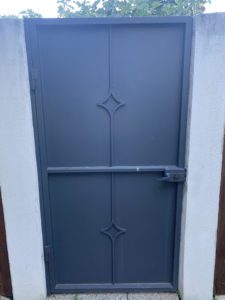 The last of three locked gates. Just try to get in!
Phil and I have had many conversations about whether to rent long-term or buy, and in the end we decided we really want to buy. Despite the damage to our funds courtesy of the stock market, the dollar is currently at equity with the euro, so it's not a bad time to buy. In an ideal world, here's what we'd like: three bedrooms, a large covered terrace, a high floor, little or no renovation needed, a walk-in shower, room for a washer and dryer, air conditioning, parking with electric car charging, and a quiet but close-to-everything location. Oh, and a great kitchen. The kitchen in our rental is perfect.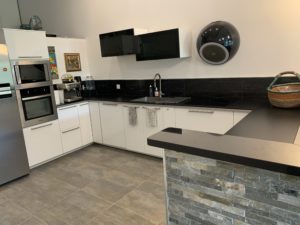 Wish we could replicate our kitchen!
We signed with Dennelle of Renestance, who represents buyers. In France there is no multilist, and agents often fiercely protect their listings–to the point that it can be difficult to even view an apartment! And agents work only on behalf of the sellers, so through Renestance we will have an expert in our corner. With Dennelle's help we've now visited six apartments: one awful, one in dire need of renovation, and several nice ones.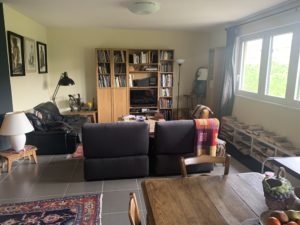 A nice possibility, but no terrace
We narrowed our search to a specific Montpellier neighborhood called Antigone. Close to everything–shopping, restaurants, train station, and l'Ecusson (the old town)–this area was created in the 80's and features neoclassical architecture. We love the leafy pedestrian lanes, multiple cafes, and fabulous outdoor and covered markets here!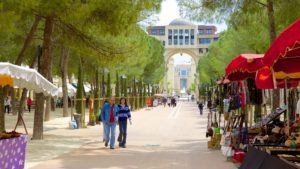 The Sunday market at Antigone
You know how in the United States people who are selling their homes stage them? And clean them? Not in France! We've been surprised at how messy the homes can be. Honestly, who wants to see someone else's detritus?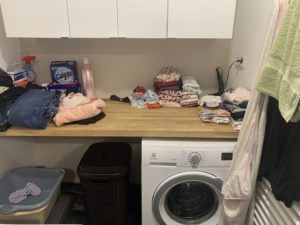 Messy laundry area in the bathroom of one of the apartments we visited
Yesterday we found what we think might be "the one." On the 13th floor, with a beautiful view, it's close to everything and has most of what we want. Stay tuned to find out what happens next!